Most Senate Republicans say they stand by McConnell's fitness to serve
He's expected to address his colleagues on Wednesday as some raise concerns.
While Senate Republican Leader Mitch McConnell's health may have raised questions outside the Senate about his fitness to serve, most GOP senators on Tuesday stood by their leader, expressing confidence in his ability to carry out his job.
"We may expect that Mitch McConnell will check out for 20 seconds a day. But the other 86,380 seconds in the day, he does a pretty darn good job," Sen. Mitt Romney, R-Utah, said. "I'm firmly behind his remaining as our leader."
"He sounds good to me, so, I'm all good with Mitch," Sen. Lindsey Graham, R-S.C., echoed to reporters.
Romney and Graham's sentiments were shared by members of the Senate Republican leadership team, even those who are seen as his possible successors to McConnell's leadership role.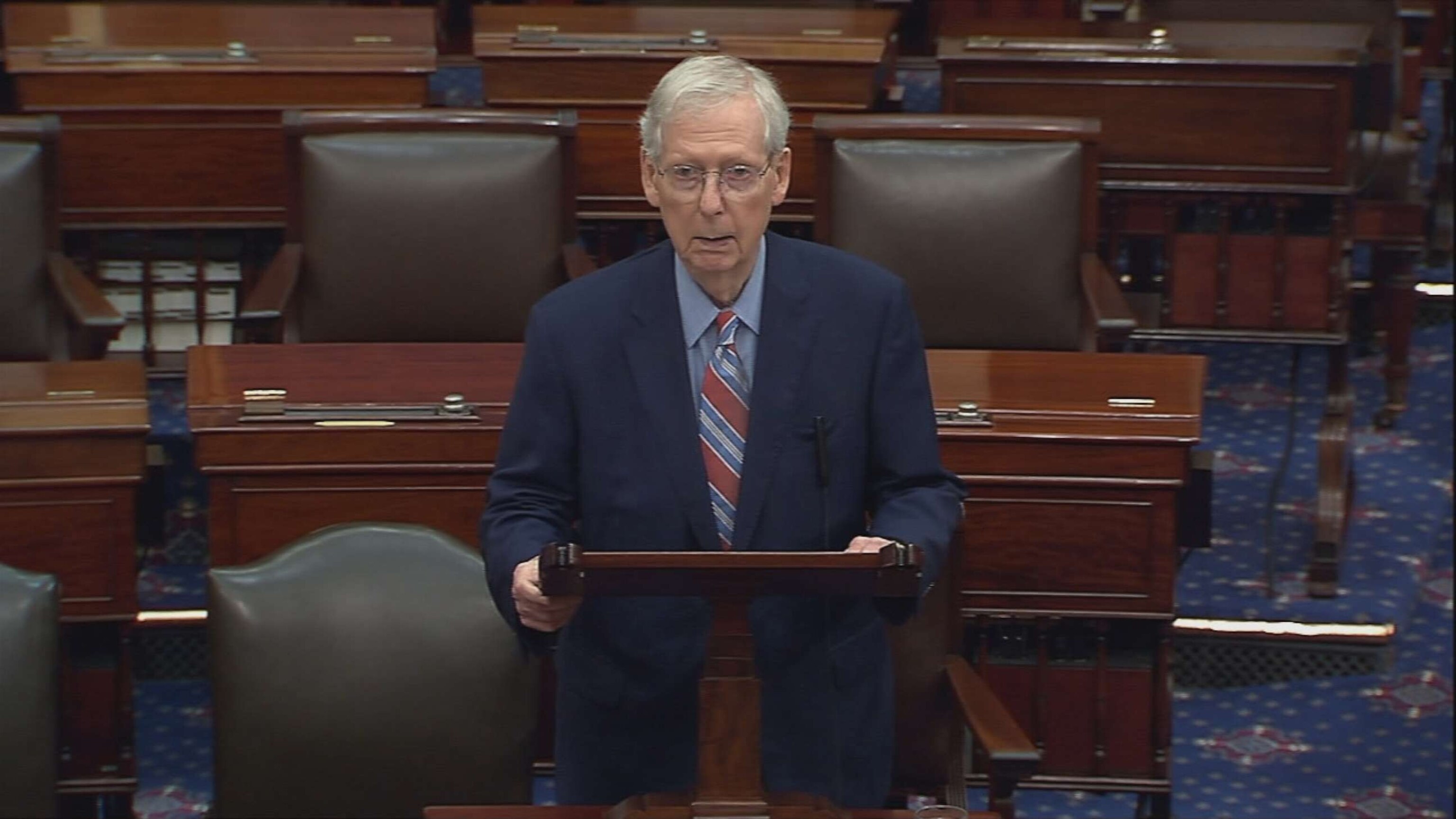 There are three men expected to jockey to become the GOP leader should McConnell step down: Sens. John Cornyn of Texas, John Barrasso of Wyoming and John Thune of South Dakota. Returning to Congress on Tuesday, all three expressed continued confidence in McConnell.
"I'm glad they were able to rule out some of the things that people had speculated might have happened, and it appears that it's harder to recover from a concussion when you're 81-years-old than maybe he thought, but he feels that he's up to the task, and I think that's the case," Cornyn said. "I want him as long as he wants the job and can do the job."
"He has my full support and the support of the conference," Thune, the Senate GOP Whip, said.
Barrasso, a physician, said he was encouraged by the report put out by Capitol physician Brian Monahan that said he found no evidence of a seizure disorder or stroke.
"I'm really happy to see that the MRI was normal to see that the EEG was normal and that he's had a neurological evaluation. The report put out today by Dr. Monahan was very encouraging and very good," Barrasso said. He added he believes McConnell has the necessary support to remain atop the Republican conference.
Sen. Steve Daines of Montana, another member of the GOP leadership team, said McConnell called him following last week's incident and was "as feisty and sharp as ever." He said he still supports McConnell serving as party leader.
Sen. Susan Collins, R-Maine, also said she spoke to McConnell the day after the incident.
"I feel that he is fully prepared and able to conduct his duties," Collins said.
Multiple senators said they expect McConnell to address the conference Wednesday at their weekly closed-door policy lunch.
Sen. Mike Rounds of South Dakota said he has confidence in McConnell, describing him as being "on top of stuff," but said he wants to hear more from him directly.
"I think any of us have at least concerns just as another member does but I talked to him personally. He shared with me what the doctors have said. But I think tomorrow Mitch will want to talk with all of us about it just to clear the air," Rounds said.
A few members raise concerns
While the overwhelming majority of Republicans remain comfortable with McConnell's leadership status, a few raised concerns.
Sen. Josh Hawley, R-Mo., said that it'd be hypocritical to be concerned about President Joe Biden's age without also being concerned about McConnell.
"I am concerned," he said. "If you're concerned about the president, then you gotta be concerned about other people in leadership. And I just -- it's a two-way street. It's not one or the other," Hawley said.
Hawley voted to support Florida Sen. Rick Scott's bid to lead the party over McConnell in the last leadership election.
Following that contentious election last year, Senate leaders implemented a new rule that allows any five Republicans to call a special conference meeting to discuss the party's leadership. It's not yet clear if there would be five such senators to force this kind of conversation.
McConnell's fellow Kentuckian, Rand Paul, meanwhile, said that while he still believes McConnell is fit to lead, he has questions about the diagnosis from Monahan. Paul is also a physician.
"I think it's an inadequate explanation to say this is dehydration. The one thing that is very clear is that when someone has a seizure doesn't always show up on the EEG," Paul said. "My personal interaction with him has been fine. And I think he's been up to the task. And so this isn't a criticism of him or anything. It's a criticism of the way it's being handled publicly."