In shift, US backs Israel fully after global outcry over Gaza violence: ANALYSIS
Other countries have demanded that Israel stop using live gunfire.
For decades, the U.S. has played the role of arbiter in the Middle East, shuttling back and forth between the Israelis and the Palestinians and their supporters to calm tensions and put out fires.
But one day after the U.S. opened its new embassy in Jerusalem and dozens of Palestinian protesters were killed in clashes with Israeli forces in Gaza, it's clear that the Trump administration stands squarely behind Israel, blaming Hamas for the violence even as other countries, including the United Kingdom, demand Israel show restraint and stop using live gunfire.
The vocal backing has undermined U.S. credibility in negotiating peace between the two sides, critics say, with Palestinian leaders still refusing to meet U.S. officials five months after Trump announced he was recognizing Jerusalem as Israel's capital.
"No country in this chamber would act with more restraint than Israel has," U.S. Ambassador to the United Nations Nikki Haley said during a Security Council meeting Tuesday, admonishing others for criticizing the country. "The violence comes from those who reject the existence of the state of Israel in any location," not Israel itself, she said.
The U.S. went so far as to block a U.N. Security Council statement that would have called for an independent investigation of Monday's violence, a Security Council diplomat confirmed to ABC News.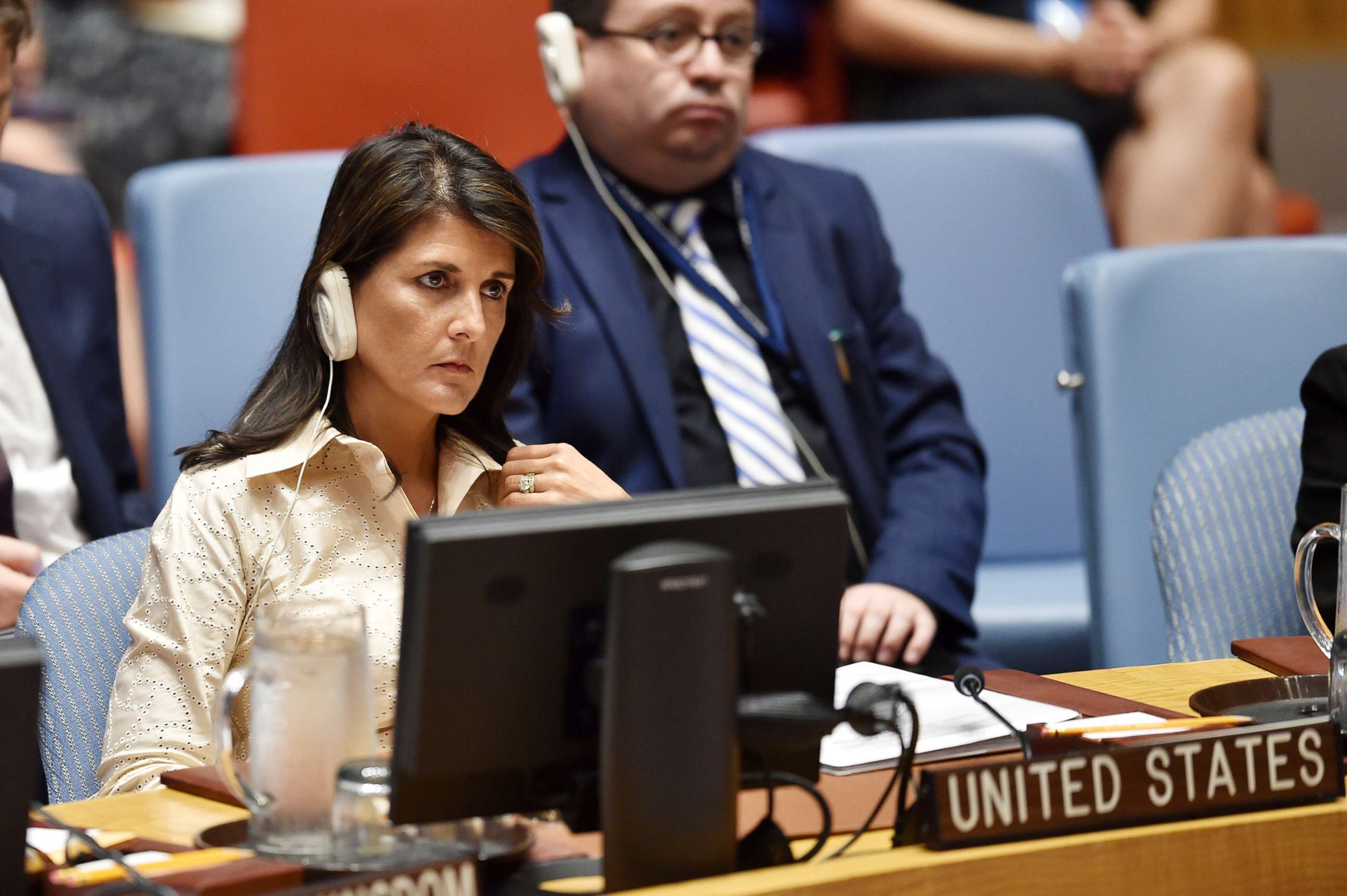 Haley's comments doubled down on what the White House and State Department said Monday when deputy press secretary Raj Shah placed blame for at least 60 Palestinians killed by Israeli soldiers on Hamas, the Palestinian organization that governs Gaza and that the U.S. considers a terrorist organization.
"The responsibility for these tragic deaths rests squarely with Hamas," Shah said during the White House briefing.
The State Department was initially silent on the issue, with Secretary of State Mike Pompeo ignoring a reporter's question about the violence during his only public event of the day.
Later, a department spokesperson told ABC News in a statement, "There is no justification for the recklessness and cynicism Hamas has shown in urging people to engage in violence that exposes them to terrible risk. As the Secretary has said, Israel has a right to defend itself."
The deadly protests Monday were the culmination of weekly demonstrations leading up to the U.S. embassy opening, where Palestinians organized by Hamas had rallied at the fence that divides Israel from Gaza.
But while many countries called out Hamas's provocations, they almost all also called on Israel to curb its use of live ammunition.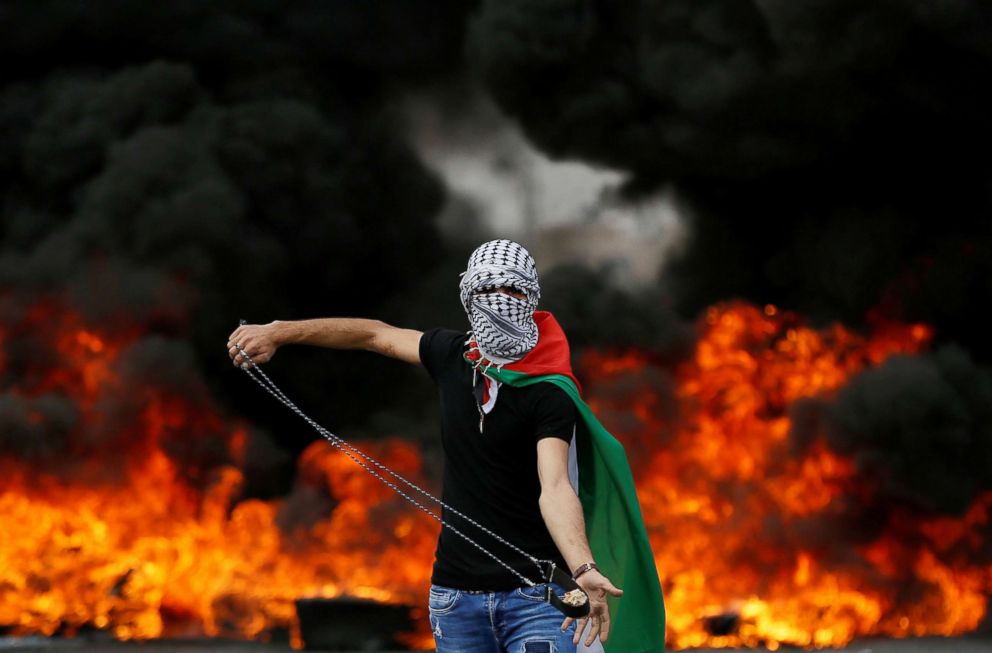 "Israel security forces must exercise maximum restraint in the use of live fire. Hamas and the leaders of the demonstrations have a responsibility to prevent all violent actions and provocations," Farhan Haq, the deputy spokesman for U.N. Secretary-General António Guterres, said in a statement.
The United Kingdom, the U.S.'s closest ally, had the same message and tied the violence to the U.S. embassy move. "There are some people who've been provoking that violence, but on the other hand there's got to be restraint in the use of live fire, and as you know the position of the United Kingdom is we don't agree with the decision of the U.S. team to move their embassy. We continue to think that that's playing the wrong card at the wrong time," he said Monday alongside the French Foreign Minister Jean Yves Le Drian.
Other U.S. allies went further, with Turkey and South Africa expelling the Israeli ambassador to their countries until further notice, according to both countries' foreign ministries. Turkey also recalled their ambassadors to the U.S. and Israel for consultations, the Turkish embassy in Washington confirmed Monday. Ireland also summoned the Israeli ambassador, Israel's foreign ministry said.
Trump administration officials have repeatedly said that this embassy move will make peace more likely because, as President Trump has tweeted, the issue of Jerusalem is now off the table.
"Recognizing reality always enhances the chances for peace," National Security Adviser John Bolton told ABC News Chief Global Affairs Correspondent Martha Raddatz Sunday on "This Week."
While State Department officials have taken pains to assert that the U.S. has not determined the final status of Jerusalem's boundaries or ruled out recognizing East Jerusalem as the Palestinians' capital, much of that seems to be out the window now.
Sen. Lindsey Graham, a close ally of Trump's on foreign policy, told Fox News at the embassy opening, "This actually makes peace more likely because we're now firmly behind Israel," eschewing any doubt about where the U.S. now stands. He continued, "I have no animosity against the Palestinians. I'd like a two-state solution. But they've got to unite. People are dying in the streets today in Palestine, there's nothing new about that. What would be new is to work with Israel, not create violence."
But instead of bringing Palestinians in for talks, the U.S. stance seems to be alienating them further and making peace less likely.
"Jerusalem isn't off the table now; it is the table in a move totally untethered from U.S. national interests," tweeted Aaron David Miller, the Vice President and Director of the Middle East Program at the Woodrow Wilson Center in Washington who served as an Arab-Israeli negotiator under five U.S. presidents of both parties. "Is there a single positive element from yesterday?"
ABC News's Kirit Radia, Jordyn Phelps, and Ben Gittleson contributed to this report.