— -- Mayor Steve Benjamin of Columbia, South Carolina, said he plans to introduce a city ordinance that would ban "bump stocks and trigger cranks" like the ones used in the deadly Las Vegas massacre last month.
"I believe in responsible gun ownership, and I believe in common sense," Benjamin said in a statement announcing the ordinance on Wednesday. "That's why I've decided to do what our federal and state governments are either unable or unwilling to do.
"The simple fact is that automatic weapons have been illegal in this country for more than 30 years, and the only purpose these devices serve is to circumvent that law multiplying firing rates tenfold to approximately 400-800 rounds per minute and turning a semi-automatic firearm into a mass murder machine," he added.
He did not layout a timeline for the ordinance, but he is set to hold a news conference at 3 p.m. Thursday to provide more details on the plan.
Benjamin's statement echoed similar ones made by some South Carolina legislatures who have advocated for a statewide ban.
Earlier this month, South Carolina Reps. Leon Stavrinakis, Michael Sottile and Gary Clary said they had drafted a bill to ban bump stocks for the legislature to consider when it reconvenes in January. Stavrinakis is a Democrat, while Sottile and Clary are Republicans.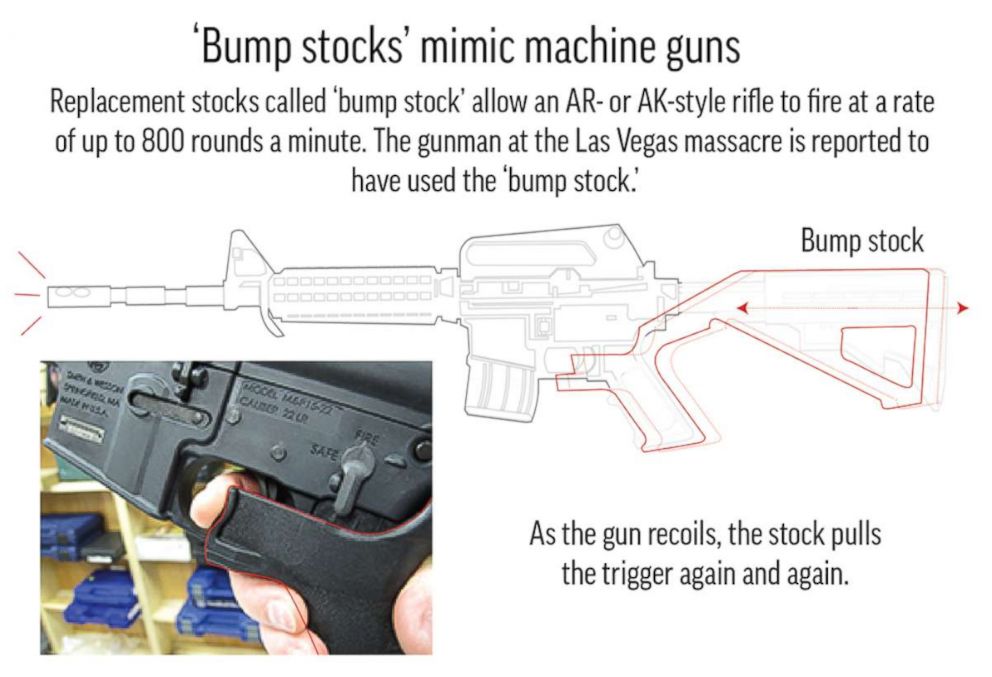 "Simply put, the use of bump stocks is a loophole that allows legal firearms to replicate illegal ones," Stavrinakis said in a press release last month when he announced the forthcoming bill. "As we have so unfortunately now learned, in the wrong hands, bump stocks can be a tool for mass murder.
"These devices can turn our community into a killing field where neither civilians nor law enforcement has a chance in the line of fire."
Benjamin's announcement came less than two months after 64-year-old Stephen Paddock opened fire Oct. 1 from the 32nd floor of Las Vegas' Mandalay Bay hotel and casino, killing 58 people and injuring hundreds of others.
Paddock used bump stocks, which allow semi-automatic rifles to mimic fully automatic weapons, to modify some of the weapons used in the attack. The modification enabled him to fire as many as nine rounds per second, according to one estimate, in an attack that lasted between nine and 11 minutes.
Last month, the Bureau of Alcohol, Tobacco, Firearms and Explosives (ATF) confirmed that Paddock had 12 bump stocks attached to rifles in his hotel room.