After battling rumors he'd be leaving the State Department for more than half his tenure, Rex Tillerson has finally left the building for good – and he took a parting shot as he did so Thursday.
Interested in
Trump Administration?
Add Trump Administration as an interest to stay up to date on the latest Trump Administration news, video, and analysis from ABC News.
"This can be a very mean-spirited town," he said to laughs and then applause, as he smiled. "But you don't have to choose to participate in that," he added, to more applause.
"Each of us gets to choose the person we want to be and the way we want to be treated and the way we will treat others," he added.
Tillerson delivered the remarks in the lobby of the State Department in Washington, packed with hundreds of employees. But after a rocky 13 months in office, many more employees are angry about a hiring freeze, vacancies, and stalled redesign project that marked his time in office.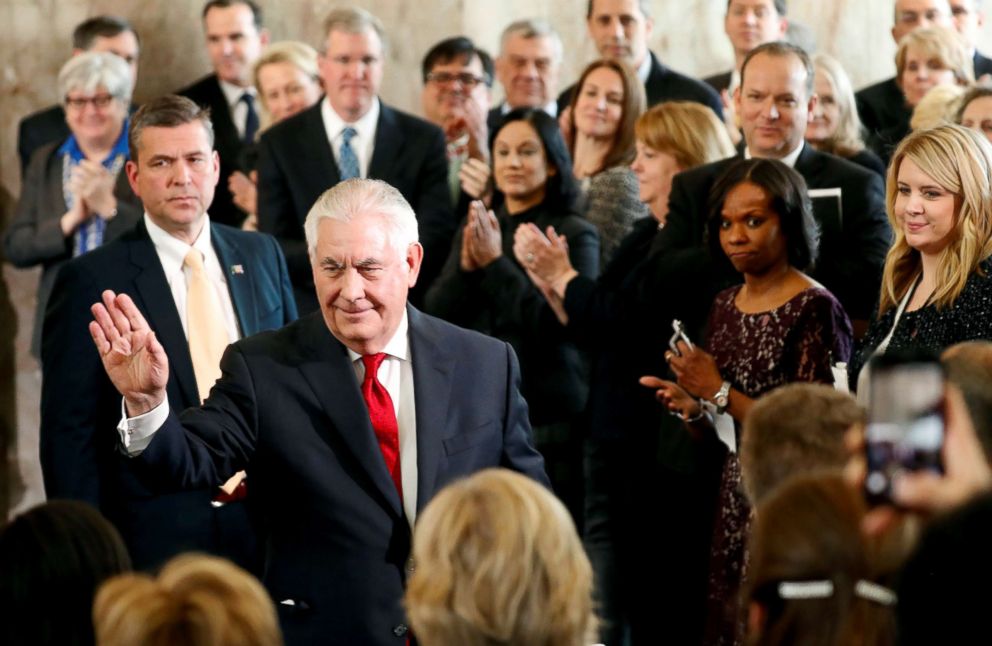 The former ExxonMobil CEO will retain the title of secretary of state until the end of the month, but his deputy John Sullivan, who has been granted Tillerson's authorities and is in charge of the agency, will become acting secretary April 1. CIA director Mike Pompeo was formally nominated for the role on Tuesday, but his confirmation process will not begin until April.
Thursday, however, was Tillerson's last in the building, and he has already been processed out of State systems, like access to classified information, according to State Department spokesperson Heather Nauert. Tillerson and Pompeo met Monday for two hours to brief the potential replacement on his role, and Tillerson has offered to be in touch and provide assistance if needed, Nauert added. It's unclear whether Tillerson remains on the payroll or retains security until April 1.
In his address, the nation's top diplomat stuck to many of his familiar lines from his town hall speeches to embassy staff around the world – about values like respect, safety, and accountability that he tried to instill.
But he also talked about personal integrity in a striking way, especially in contrast to his firing by presidential tweet.
"Never lose sight of your most valuable asset, the most valuable asset you possess: Your personal integrity," he said. "Not one of you was gifted it. You were born with it. It belongs to you, and always has and will belong to you and you alone. Only you can relinquish it or allow it to be compromised. Once you've done so, it is very, very hard to regain it. So guard it as the most precious thing you possess."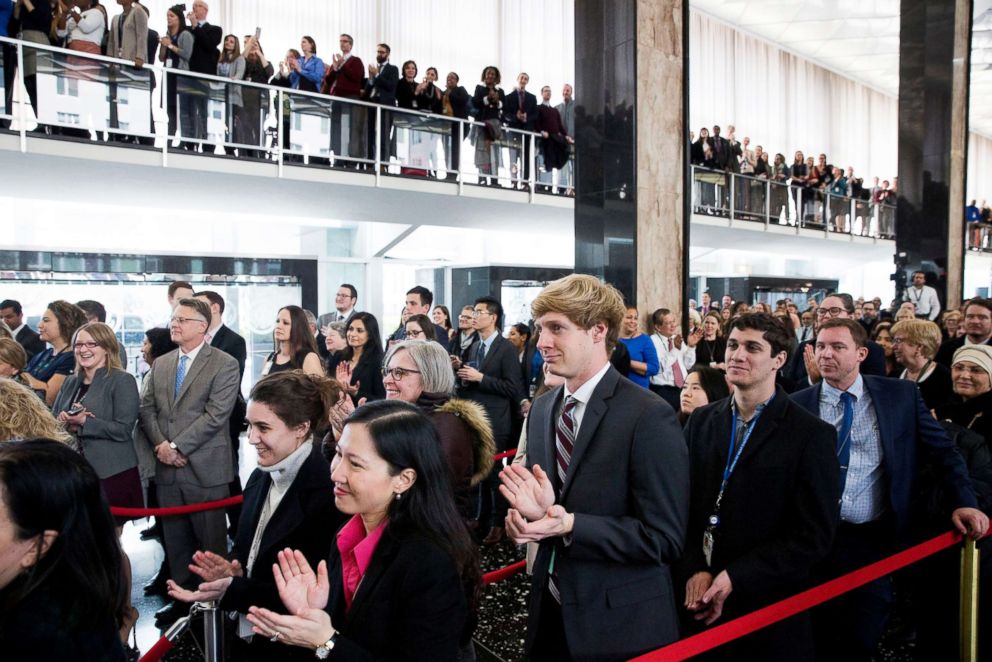 Tillerson clashed often with President Donald Trump, with whom he disagreed on many top foreign policy issues including the Iran nuclear deal, the Paris climate accord, talks with North Korea, international trade, and the Gulf dispute in the Middle East. After months of rumored resignations or firings, Trump finally canned his chief diplomat in a tweet on March 13.
Tillerson and his staff maintain that he did not know he was being fired until the tweet came. The White House has said that chief of staff John Kelly called Tillerson while he was in Nairobi, Kenya, on a tour of Africa to inform him of the president's decision four days earlier.
The press-averse Tillerson told an audience of college students one week before his firing that he accepted the job after more than 41 years at Exxon because he missed the Vietnam draft by three numbers while his father and uncle both served in the military.
"I hadn't really done anything yet. It's my time to serve," he said on March 6. Nauert added during the State Department briefing Thursday that serving in that way helped Tillerson "fill a hole."
"Sir, I would just like to say that we wish you all the happiness, success, joy in your new life and thank you for your service as you now return to normal life," she added.
As he signed off to staff, Tillerson got a bit emotional, his voice catching as he said with a wave, "God bless you all, your loved ones, and God bless America."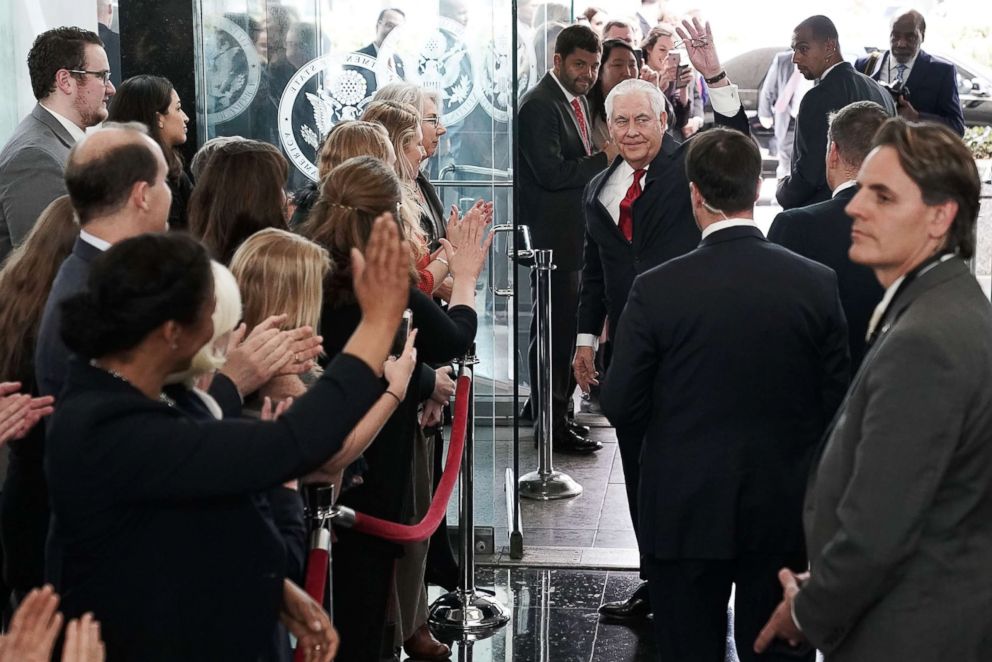 He exited through the crowd, shaking dozens of hands along a rope line to sustained applause from staff. He gave a final wave inside to a responding chorus of cheers, before walking outside to a receiving line of top aides, many of whom he hugged goodbye.
He got into a waiting black car and one final motorcade – to the airport and back to Texas, where he will celebrate his birthday Friday.
Among those in the audience Thursday were former Under Secretary of State for Public Diplomacy and Public Affairs Steve Goldstein – who was fired the same day as Tillerson after he released a statement that countered the White House narrative on Tillerson's firing – as well as former senior communications aide R.C. Hammond, who left in December, and chief of staff Margaret Peterlin and deputy chief of staff Christine Ciccone, who are leaving with Tillerson.