Fresh off generally good reviews for her handling of the Democratic response to President Trump's State of the Union earlier this month, former Democratic Georgia gubernatorial candidate Stacey Abrams visited a party gathering in Washington, D.C., Friday amid new speculation about her political future and a possible campaign for the U.S. Senate in 2020.
Abrams spoke at the Democratic National Committee's (DNC) winter meeting, issuing a rallying cry to her fellow Democrats and urging them to focus on the issue she has focused heavily on in the month following her electoral defeat: voter suppression.
"We have to talk about voter suppression the way we talk about the Kardashians, relentlessly, sometimes unnecessarily so," Abrams said.
Abrams also reflected on her historic 2018 bid, becoming the first African-American woman to become a major political party's nominee for governor.
"In the deep, deep south, a black woman was at the top of the ticket, and we changed the electorate," Abrams said to applause in the room from her fellow Democrats, "My point is that if I can do it anybody can do it."
The speech comes amid Friday's news that President Trump has declared a national emergency in order to procure funding for a wall to be constructed along the U.S.-Mexico border.
"There is no emergency. It is a falsehood and it is entirely a political stunt," Abrams said Friday. "Hopefully he will find that this stunt has the same effect as the last one did, which is to illuminate the lack of empathy that he has for Americans and the lack of understanding and respect he has for our body politic."
The speech to top Democrats comes as Abrams continues to mull a potential run for the U.S. Senate in 2020 against GOP Senator David Perdue.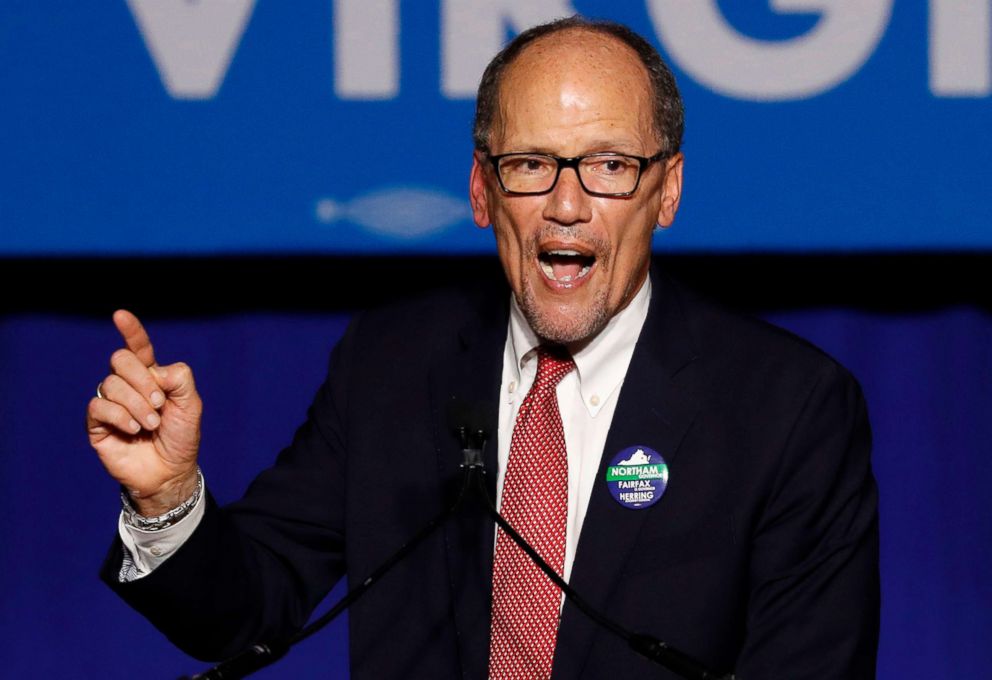 Abrams, the former Minority Leader of the Georgia House of Representatives, met last month with Senate Minority Leader Chuck Schumer, D-N.Y., and Nevada Senator Catherine Cortez-Masto, who chairs the Democratic Senatorial Campaign Committee (DSCC), and told a local radio station in Georgia that she has given herself until the end of March to decide the next steps in her political career.
Asked Friday by the New Yorker's Jelani Cobb during a conversation at the Brookings Institution about a potential senate bid in 2020, Abrams harkened back to her legal career.
"Are you gonna run for Senate?" Cobb asked.
"I do not know. You want more?" Abrams responded.
"In interviewing, one of the things that we were taught we were taught was don't say anything, ask a question and then just be quiet," Cobb said.
"In law we were taught to say what you need to and stop talking," Abrams answered.
Abrams expanded on her work combatting voter suppression during he appearance at Brookings, and discussed the work she's done after since her defeat in a race she never formally conceded and threatened legal action over.
"Voter suppression isn't simply saying you can't vote. Voter suppression is both a physical activity, but it's also a psychic effect," Abrams said Friday, "Telling people their votes won't count, telling people that the system is rigged has the act of actually stopping people from trying to us it."