Tax Day protesters across the US demand that Trump release his tax returns
Thousands rallied in over 200 Tax Day events around the country.
— -- Thousands of protesters at Tax Day marches Saturday in cities from Washington, D.C., to Denver to Los Angeles are calling on President Trump to release his tax returns.
Trump is the first U.S. president and the first major party nominee in four decades to refuse to release his full tax returns to the public.
Organizers said the protests, dubbed the Tax March, were scheduled in nearly 150 cities, and stemmed from the women's march that took place the day after Trump's inauguration.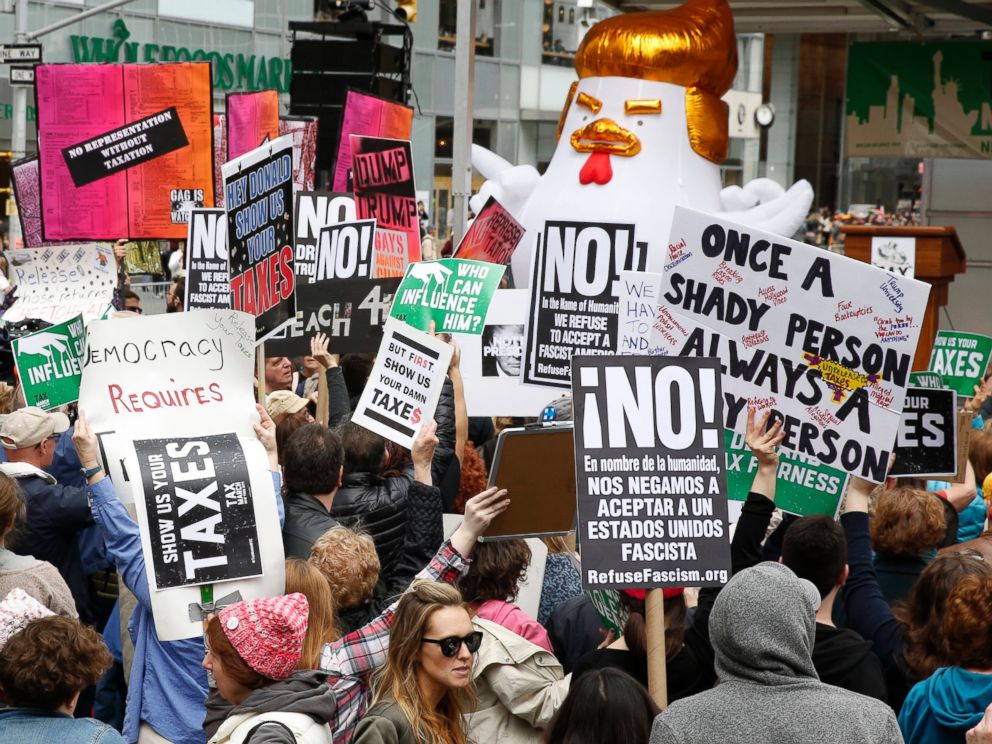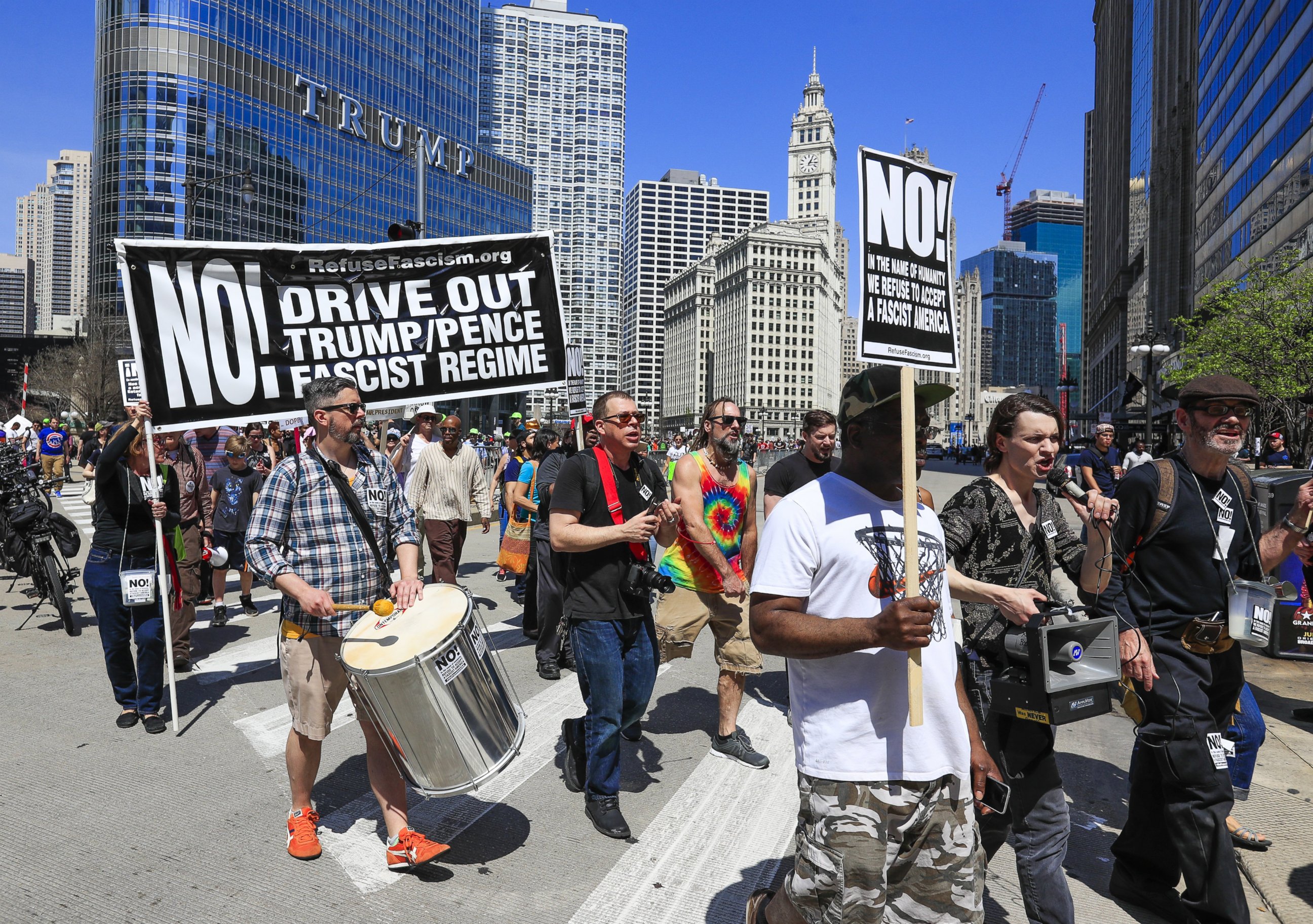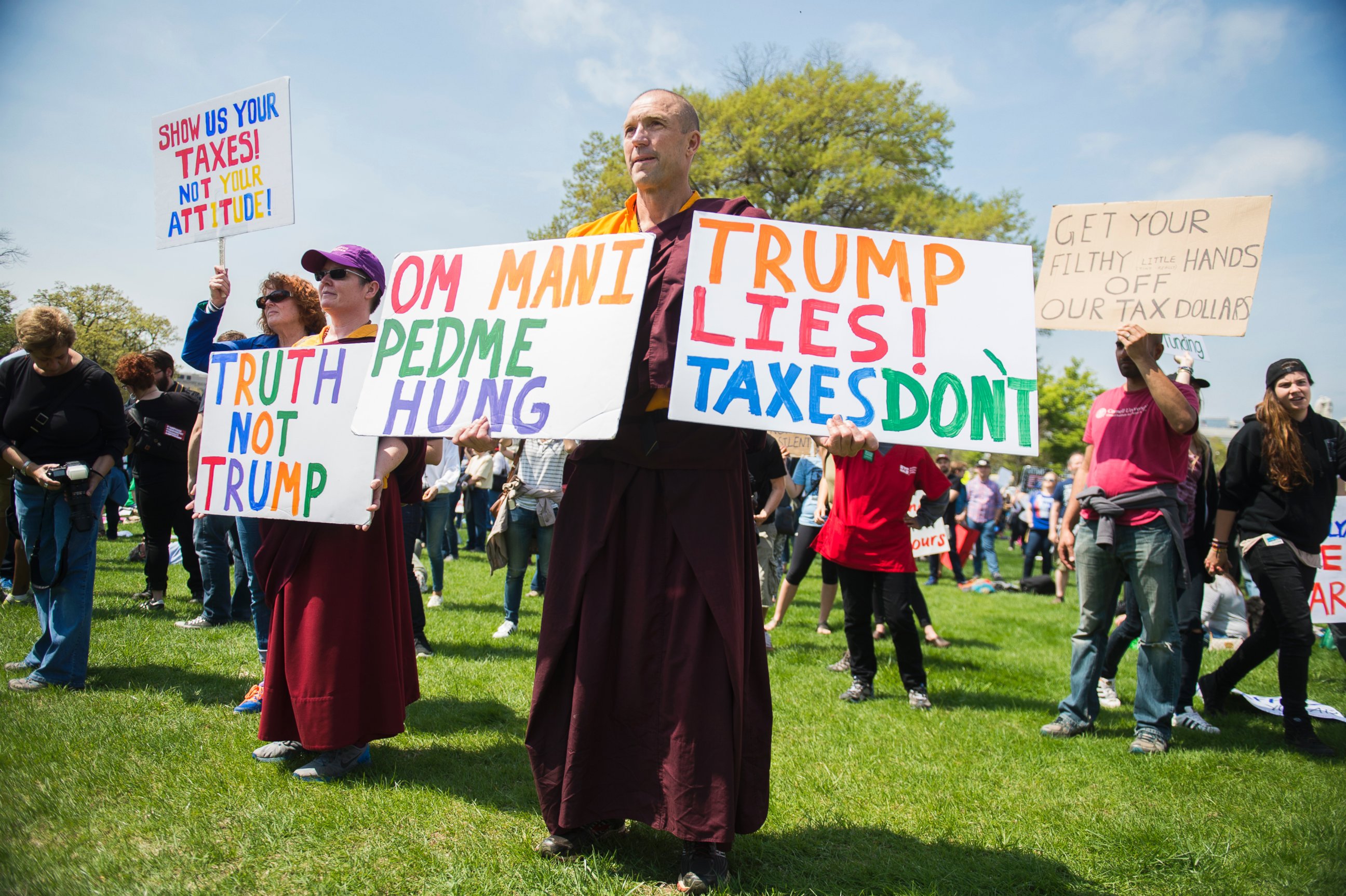 As a candidate, Trump said he wasn't releasing his tax returns because he was under audit. He later said that voters don't care.
"We do care. We want to see his taxes," said Ann Demerlis, who was among hundreds who marched in Philadelphia from City Hall to an area in front of historic Independence Hall.
"It's possible that he can now show his taxes, because his current taxes are not being audited," said Demerlis, who carried a sign saying, "Follow the Money."
Trump's break with precedent has raised questions about possible conflicts of interest.
Senate Democratic leader Chuck Schumer of New York has said Trump's refusal to release his returns could hinder Republicans' prospects for a rewrite of the tax code. And Democratic U.S. Sen. Elizabeth Warren of Massachusetts on Friday posted an online video urging Congress to force Trump to release the returns.
Republicans have rebuffed Democrats' efforts to get the House Ways and Means Committee to act. It has legal authority to obtain confidential tax records, and could vote to make them public.
In Washington, D.C., on Saturday, the march began with a rally at the U.S. Capitol, where Sen. Ron Wyden called on Trump to "knock off the secrecy." The Oregon Democrat said the people have "a basic right to know whether the president pays his fair share."
The march was set to pass by the Trump International Hotel on Pennsylvania Avenue and concludes at the Lincoln Memorial.
While most of the events were peaceful, clashes broke out during a rally in Martin Luther King Jr. Civic Center Park in Berkeley, California, and police there said 20 people were arrested, with additional arrests expected. The charges include arrests for assault with a deadly weapon and several other felony assaults.
There were large fights and objects being thrown, including fireworks, police said. Eleven people were injured, seven of whom were transported to local hospitals.
This year's National Tax Day, the IRS filing deadline for 2016 tax returns, is on Tuesday.
ABC News' Maia Davis, MaryAlice Parks, Sarah Shales and Morgan Winsor contributed to this report.