— -- The new public alliance between Sen. Ted Cruz and Gov. John Kasich has added yet another surprising element to the ever-evolving presidential race.
The two Republican candidates have confirmed that they are being strategic about upcoming races and organizing their efforts to try to avoid competing against one another in certain states, focusing on putting their strongest foot forward against Donald Trump instead.
Kasich's campaign manager confirmed that they're going to target New Mexico, which holds its primary on June 7, while Cruz said today his attention is all on Indiana, which has its primary next Tuesday.
Such an approach is undeniably unique, especially given the public nature of their partnership. But whether it will work is an open question.
Strategic Planning
Kasich's team was the first of the duo to confirm their plan, with chief strategist John Weaver explaining the goal in a Sunday news release.
"Our goal is to have an open convention in Cleveland, where we are confident a candidate capable of uniting the party and winning in November will emerge as the nominee," Weaver said in the statement.
He went on to detail how the winner-take-all nature of Indiana affected their decision to "give the Cruz campaign a clear path" in that state.
"In turn, we will focus our time and resources in New Mexico and Oregon, both areas that are structurally similar to the Northeast politically, where Gov. Kasich is performing well," Weaver said.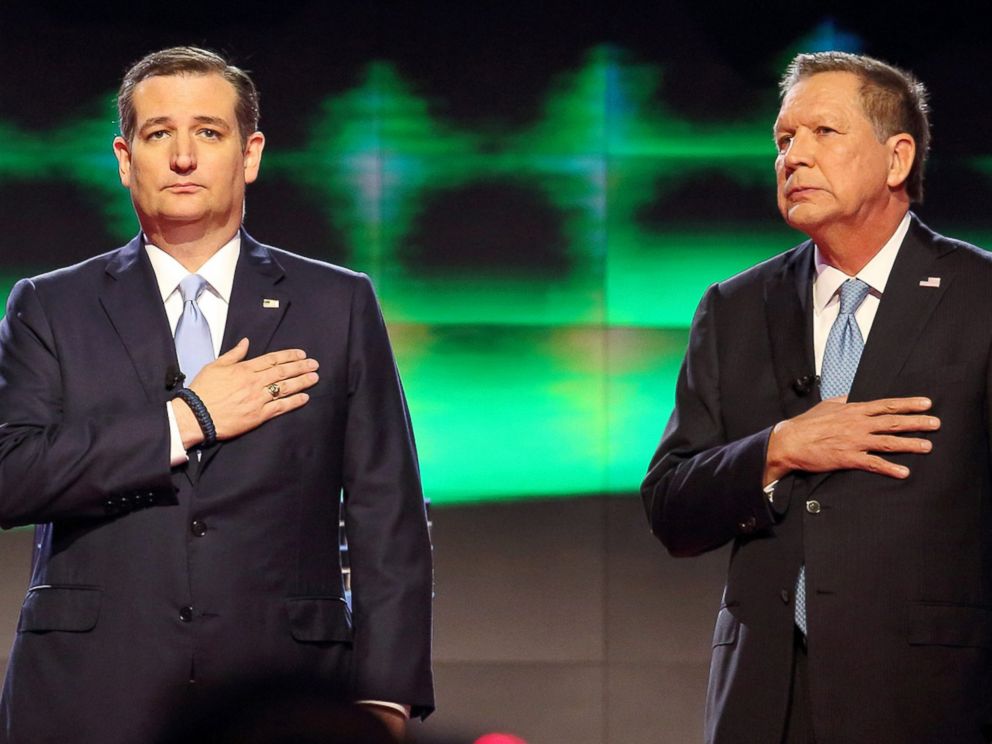 A Cruz campaign source then confirmed to ABC News that they coordinated with Kasich's team on Weaver's release and the strategy behind it.
Kasich made it clear today, however, that he isn't completely throwing in the towel in Indiana. He said he would still want his supporters in Indiana to vote for him and not Cruz.
"I've never told them not to vote for me," Kasich told reporters at a Philadelphia diner today when asked about his Indiana supporters. "They should vote for me."
"I mean, this is a matter of resources, and we're running a national campaign, and we want to have our resources where we think they could be used most effectively," Kasich added
But the Texas senator this morning told conservative radio host Laura Ingraham that he thinks it is "very important" for Kasich to move out of the Indiana race "because the object has always been to nominate the strongest Republican to defeat Hillary Clinton in November."
Support From Trump's Other Enemies
Outside groups that have made it their mission to keep Trump out of the White House have roundly supported the move, and are calling for their supporters to do the same.
The #NeverTrump movement put out a statement Sunday saying organizers were "happy" to see the alliance and stressed the importance of getting to a second ballot at the Republican National Convention in July. That will only happen if one of the candidates does not accumulate 1,237 delegates beforehand or does not get that many delegates on the first ballot.
"We've seen from victories in places like Ohio and Wisconsin that when #NeverTrump forces unite behind the one alternative that's better suited to that state that we can beat Trump decisively," the group's statement said.
Gov. Kasich won in his home state of Ohio and Cruz won in Wisconsin.
Tim Miller, an adviser to the Our Principles PAC, which is also working against Trump, also expressed optimism about the plan.
"Voters will have to make decisions for themselves but we'd encourage those who don't want a standard-bearer that is not conservative, doesn't respect the Constitution, and has no chance against Hillary Clinton to support the candidate best able to beat him in their state," Miller told ABC News.
Dealing With the Delegates
While the plan could keep Kasich from winning any delegates directly in the Indiana primary, he could be looking for a win from Hoosiers further down the line.
Trump's Response
Unsurprisingly, Trump was not thrilled about the Cruz-Kasich alliance.
"It is sad that two grown politicians have to collude against one person who has only been a politician for ten months in order to try and stop that person from getting the Republican nomination," Trump said in a response issued by his campaign.
"Collusion is often illegal in many other industries and yet these two Washington insiders have had to revert to collusion in order to stay alive," he said, going on to reiterate his earlier assertions that the Republican Party process is rigged and corrupt.
He made similar statements on Twitter as well, but with more exclamation points.
ABC News' Jessica Hopper, Candace Smith, Ben Gittleson and Jim Hill contributed to this report.