— -- Sen. Tim Kaine formally accepted the Democratic nomination as vice president Wednesday, saying that he trusts Hillary Clinton with the life of his son, who is in the military, lacing into Donald Trump.
"I never expected to be here," he said.
He was officially nominated as the party's nominee after a voice vote on the floor of the convention this afternoon. Clinton announced last Friday that Kaine, a sitting Senator for Virginia, would be her running-mate.
Kaine addressed the audience in Spanish briefly when he brought up the year he spent as a volunteer with Jesuits in Honduras, saying that there was an emphasis on "faith, family and work."
Much like former President Bill Clinton's speech last night, Kaine talked about how he met his wife, Anne, in college, using the speech as an opportunity to introduce himself to a national audience.
And in another similarity to Clinton's speech about his wife, Kaine described the "battles I have fought my entire life," citing his work as a civil rights lawyer.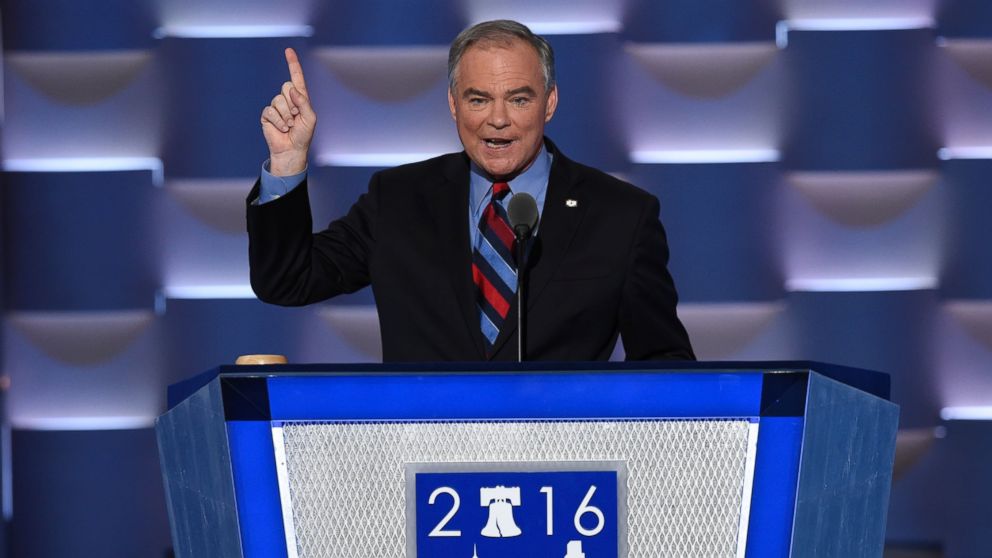 Kaine played the roll of attack dog at times, saying that voters should check if candidates have passion for the work that they do.
"Hillary's passion is kids and families. Donald Trump has a passion too: himself," Kaine said.
He also said that Trump is not to be trusted.
"Trump is a guy who promises a lot but he's got away of saying the same two words every time he makes his biggest hugest promises: believe me!" Kaine said, before launching into an imitation of the real estate mogul.
"'Believe me?' Here's the thing. Most people, when they run for President, they don't just say "believe me." They respect you enough to tell you how they will get things done," he said.
In wrapping up his remarks, Kaine paid tributes to select Democratic presidents past, adding Hillary Clinton's name at the end.
"Thomas declared all men equal, and Abigail remembered the women. Woodrow brokered peace, and Eleanor broke down barriers. Jack told us what to ask, and Lyndon answered the call. Martin had a dream, Cesar y Dolores said si se puede, and Harvey gave his life. Bill built a bridge into the 20th Century, and Barack gave us hope," he said. "And now Hillary is ready. Ready to fight, ready to win, ready to lead!"