— -- U.S. Attorney General Jeff Sessions' meetings with the Russian ambassador during the campaign continue to cause problems for him months after they were disclosed publicly.
Recent comments by President Donald Trump suggest that Sessions' recusal created a strain between the two men, and although Trump made his feelings known in a candid interview, Sessions responded last week by saying that he intends to stay on at the Department of Justice.
This is far from the first time Sessions' contact with the Russia ambassador while he was part of the 2016 campaign has affected his standing.
Here is a rundown of what is known about Sessions' involvement with the Trump campaign, the timing of his meetings with the Russian ambassador to the United States and several other key instances where members of Trump's inner circle have been publicly questioned about their connections with Russian officials.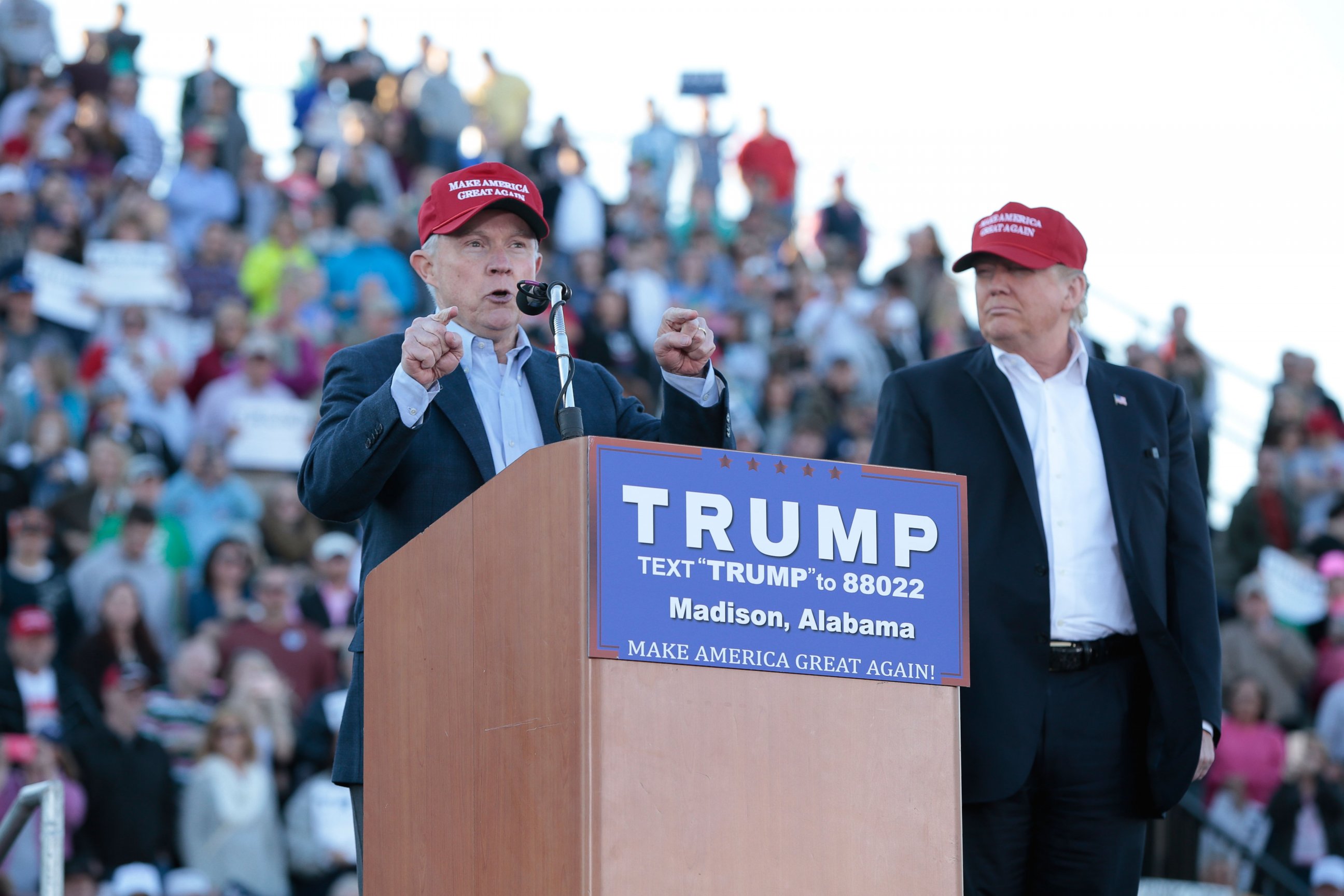 Feb. 28, 2016: Sessions becomes the first sitting U.S. senator to endorse Trump's presidential bid.
March 3, 2016: The Trump team named Sessions as the chairman of his National Security Advisory Committee. In the statement announcing the appointment, Trump said it is "an honor" to have Sessions on the team, and Sessions detailed how he could help.
"I am grateful for the opportunity to recommend and facilitate discussions among exceptional and experienced American military and diplomatic leaders to share insight and advice with Donald Trump, regardless of their political views," Sessions said in that statement.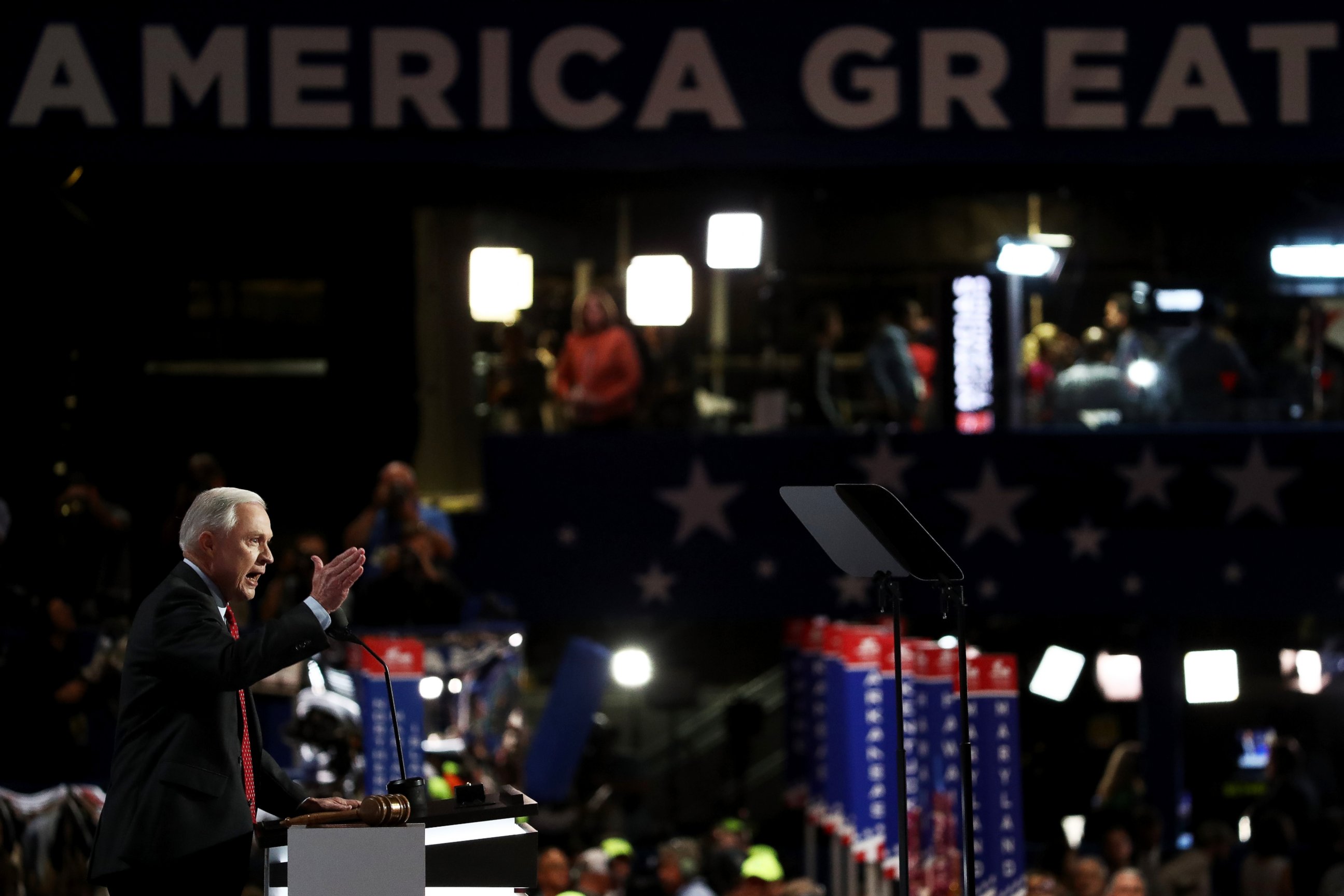 Mid-July, 2016, on the sidelines of the RNC: Sessions spoke at an event hosted by the Heritage Foundation, a conservative think tank, held during the Republican National Convention. After his speech, Sessions spoke to a small group of ambassadors after giving a speech and Russian ambassador Sergey Kislyak was among them.
A DOJ official told ABC News that this second interaction was a brief encounter after a public event attended by a number of ambassadors.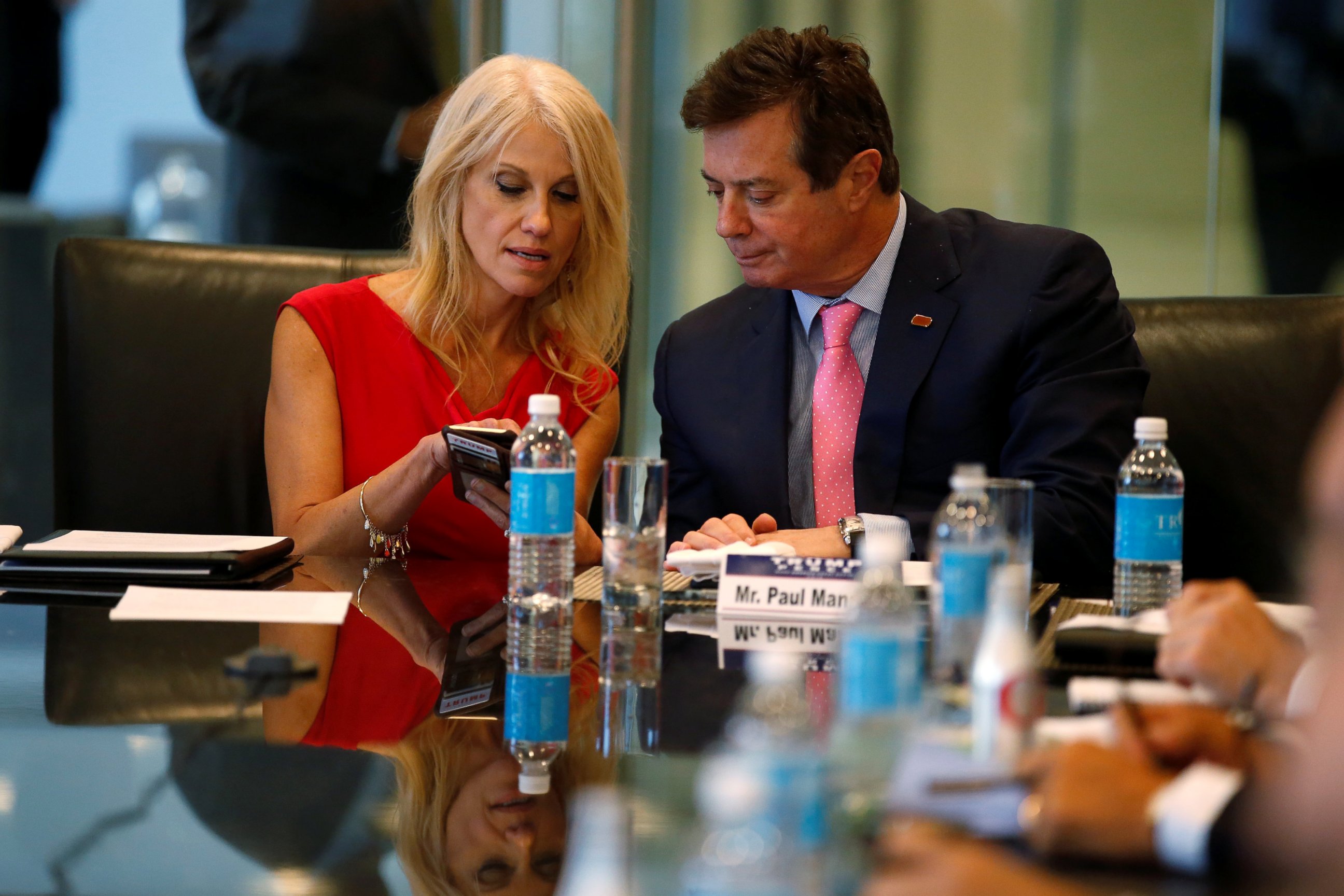 Aug. 19, 2016: Trump's then-campaign chairman Paul Manafort resigned following the hiring of new leadership and reports questioning Manafort's ties to Russia. Ukrainian officials said that Manafort's name appears in "black accounts" linked to the country's former pro-Russian president.
Sept. 8, 2016: Sessions meets with ambassador Kislyak in Sessions' office in Washington.
A DOJ official emphasized to ABC News that this meeting with the Russian ambassador was listed publicly and attended by staff.
Spokeswoman Sarah Isgur Flores released a statement noting that Sessions' meeting with Kislyak was one of many that he held in his capacity as a member of the Armed Services Committee.
"Last year, the senator had over 25 conversations with foreign ambassadors as a senior member of the Armed Services Committee, including the British, Korean, Japanese, Polish, Indian, Chinese, Canadian, Australian, German and Russian ambassadors. He was asked during the hearing about communications between Russia and the Trump campaign -- not about meetings he took as a senator and a member of the Armed Services Committee," Flores said.
The focus of the various meetings that Sessions had with the ambassadors would not be about the election, but sometimes the ambassadors would make superficial comments about the election, a DOJ official said.
Nov. 8, 2016: Trump wins the election.
Nov. 18, 2016: Sessions announced as Trump's pick for U.S. attorney general.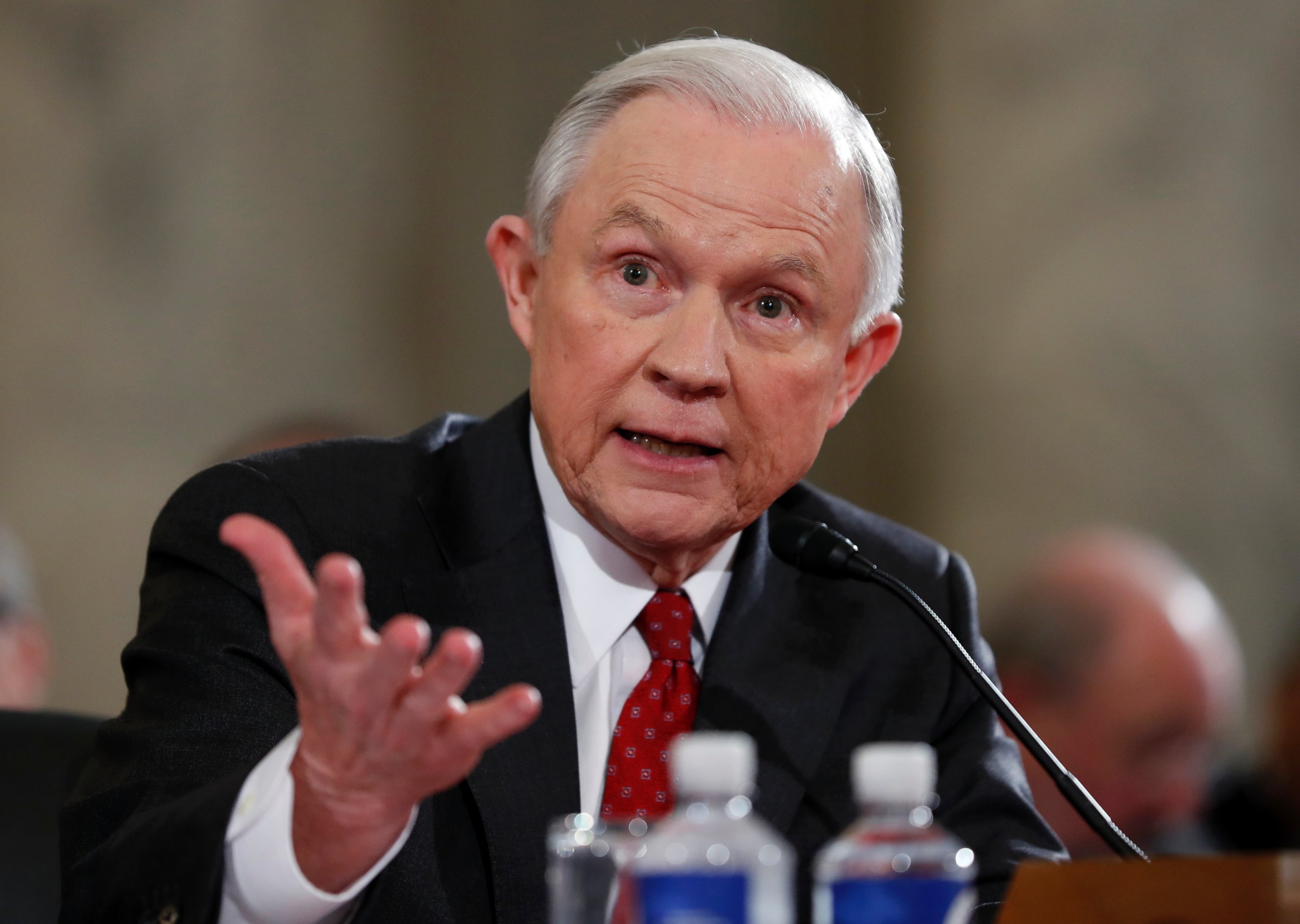 Jan. 10, 2017: At the Judiciary Committee confirmation hearing, the topic of Russia came up when Sessions was questioned by Sen. Al Franken, D-Minn. Here is the relevant part of that exchange:
Franken: "If there is any evidence that anyone affiliated with the Trump campaign communicated with the Russian government in the course of this campaign, what will you do?"
Sessions: "Senator Franken, I'm not aware of any of those activities. I have been called a surrogate at a time or two in that campaign and I didn't have -- did not have communications with the Russians, and I'm unable to comment on it."
Jan. 20, 2017: Trump is sworn in as president.
Feb. 9, 2017: Sessions is sworn in as attorney general.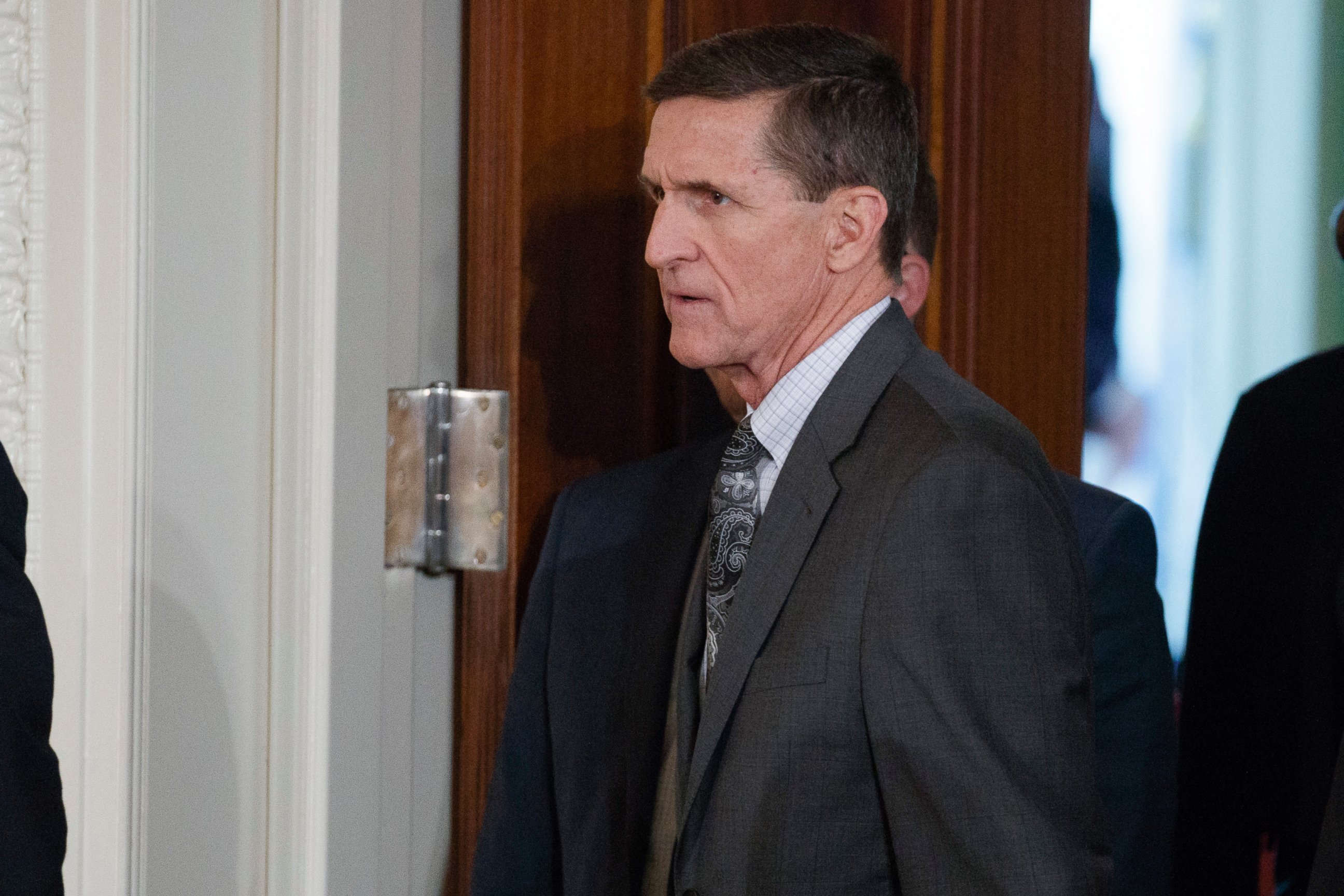 Feb. 13, 2017: Then-National Security Adviser Michael Flynn is asked to resign after it becomes public that there were discrepancies in his account of his interactions with Russian officials during the transition. He previously told Vice President Mike Pence that he had not discussed sanctions with Ambassador Kislyak during their calls after the election -- and Pence went on to say as much during televised interviews.
It was later revealed that the White House had been notified by the acting-attorney general that sanctions were discussed during the calls. Click here to see a full timeline of Flynn's saga.
Feb. 15, 2017: Sources familiar with the matter confirmed to ABC News that in the time leading up to the presidential election, U.S. authorities were looking into communications between several Trump associates and suspected Russian intelligence officials.
The New York Times first reported that according to several current and former U.S. officials, several Trump associates inside and outside the campaign -- including former campaign chairman Paul Manafort -- had repeated contact with senior Russian intelligence officials in the year before election.
Manafort told ABC News on Feb. 15 that the report published in the Times is "completely ridiculous."
"No, never, I never spoke to the Putin government and I never had any involvement with anything like this," Manafort said.
"I have never knowingly spoken to Russian intelligence officers, and I have never been involved with anything to do with the Russian government or the Putin administration or any other issues under investigation today," Manafort said.
March 1, 2017: News breaks that Sessions met with the Russian ambassador twice in 2016, which appears to contradict his statement during his confirmation hearing.
A White House official responded to ABC News, dismissing the claims as an attempt to deflect from Trump's "successful" address to a joint session of Congress on Tuesday, Feb. 28.
"This is the latest attack against the Trump Administration by partisan Democrats. General Sessions met with the ambassador in an official capacity as a member of the Senate Armed Services Committee, which is entirely consistent with his testimony. It's no surprise Senator Al Franken is pushing this story immediately following President Trump's successful address to the nation," the White House official said.
Democrats call for Sessions to resign. Among them is House Minority Leader Nancy Pelosi, who said that that Sessions "lied under oath."
March 2, 2017: Sessions speaks briefly to NBC and makes quick remarks about the ongoing situation.
"I have not met with any Russians at any time to discuss any political campaign and those remarks are unbelievable to me and false and I don't have anything else to say about that," he said as he was seen getting into a car.
When asked whether he would recuse himself from being involved in the DOJ's investigation into Russian involvement in the election, Sessions said, "I've said that whenever it's appropriate I will recuse myself. There's no doubt about that."
In a statement released March 2, Sessions said he had met with "relevant senior career department officials" in the previous several weeks to discuss whether he should recuse himself and, "having concluded those meetings today, I have decided to recuse myself from any existing or future investigations of any matters related in any way to the campaigns for president of the United States."
Later that day, he held a news conference reiterating his decision.
He defended his earlier actions during the confirmation hearing, saying that his reply to Sen. Franken "was honest and correct as I understood it at the time."
"In the end, I have followed the right procedure, just as I promised the committee I would," Sessions said of the decision to recuse himself.
"A proper decision, I believe, has been reached," he said.
June 6, 2017: ABC News learns that Sessions had recently offered to resign as Trump continued to express frustration with the attorney general's decision to recuse himself from the election-tampering investigation.
During the day's White House press briefing, press secretary Sean Spicer, in response to questioning on whether Trump has confidence in Sessions, said, "I have not had that discussion with [President Trump]."
June 13, 2017: Sessions testified in front of the Senate Intelligence Committee, and issued a sweeping denial of any personal involvement in Russian interference in the 2016 presidential campaign.
"I have never met with, or had any conversation with, any Russians or any foreign officials concerning any type of interference with any campaign or election in the United States," Sessions told the Senate Intelligence Committee. "Further, I have no knowledge of any such conversations by anyone connected to the Trump campaign."
The attorney general explained that he had met with "a senior ethics official" at the Justice Department in February as media reports emerged questioning his involvement in the investigation, given his role in Trump's campaign. Sessions said from that moment, until the announcement of his recusal March 2, he "did not access any information about the investigation."
"I have no knowledge about this investigation as it is ongoing today beyond what has been publicly reported," said Sessions, who later explained that he never received a briefing or read the reports on the intelligence community's conclusion that there were attempts to meddle in the election.
Sessions said the move to step away from oversight of the probe was not because of his actions or meetings with the Russian ambassador; instead, he pointed to his position as chairman of the Trump campaign's national security committee.
"I recuse myself not because of any asserted wrongdoing or any belief that I may have been involved in any wrongdoing in the campaign, but because a Department of Justice regulation… required it," Sessions said. "That regulation states in effect that department employees should not participate in investigations either came pain if they served as a campaign adviser."
July 19, 2017: Trump had a sit-down interview with The New York Times, during which he launched into a blistering rebuke of Sessions and his decision to recuse himself from anything relating to presidential campaigns, including, most notably, the 2016 campaign.
"Sessions should have never recused himself, and if he was going to recuse himself, he should have told me before he took the job, and I would have picked somebody else," Trump said in the interview.
When asked whether Sessions gave the president a "heads up" before the recusal, Trump said: "Zero."
"So Jeff Sessions takes the job, gets into the job, recuses himself. I then have — which, frankly, I think is very unfair to the president. How do you take a job and then recuse yourself? If he would have recused himself before the job, I would have said, 'Thanks, Jeff, but I can't, you know, I'm not going to take you.' It's extremely unfair, and that's a mild word, to the president. So he recuses himself. I then end up with a second man, who's a deputy," Trump said, referring to Rod Rosenstein.
July 20, 2017: Asked today for his reaction to Trump's comments, Sessions maintained that he will remain at his position "as long as that is appropriate."
"We in this Department of Justice will continue every single day to work hard to serve the national interest, and we wholeheartedly join in the priorities of President Trump," he said at a news conference today.
"I have the honor of serving as attorney general, it's something that goes beyond any thought I would have ever had for myself. We love this job, we love this department, and I plan to continue to do so as long as that is appropriate," he said.
July 24, 2017: Trump posted a tweet that included an apparent slight against Sessions, writing: "So why aren't the Committees and investigators, and of course our beleaguered A.G., looking into Crooked Hillarys crimes & Russia relations?"
Sessions did not immediately respond to the tweet.
July 25, 2017: For the second day in a row, the president aired his frustration with his attorney general and took aim again at his Democratic rival.
"Attorney General Jeff Sessions has taken a VERY weak position on Hillary Clinton crimes (where are E-mails & DNC server) & Intel leakers!" Trump wrote in a tweet.
Sessions did not immediately respond to the tweet.
Later that day, during a joint news conference with Lebanese Prime Minister Saad Hariri, Trump said that he is "disappointed" with Sessions.
Trump said that he wants Sessions "to be much tougher on the leaks from intelligence agencies, which are leaking like rarely have they ever leaked before at a very important level."
"We will see what happens. Time will tell. Time will tell," he added.
July 26, 2017: Sessions went to a meeting at the White House that the president did not attend. In a morning tweet Trump slammed his attorney general for not replacing the acting FBI director.
"Why didn't A.G. Sessions replace Acting FBI Director Andrew McCabe, a Comey friend who was in charge of Clinton investigation but got big dollars ($700,000) for his wife's political run from Hillary Clinton and her representatives. Drain the Swamp!" Trump wrote in two tweets.
That meeting came shortly after a U.S. official told ABC News that Sessions' chief of staff, Jody Hunt, recently informed White House Chief of Staff Reince Priebus that Sessions has no plans to resign from his post, despite growing pressure from Trump.
White House press secretary Sarah Sanders later told reporters that Trump has "been very clear" about his feelings on Sessions.
"He's obviously disappointed but also wants the attorney general to continue to focus on the things that the attorney general does. He wants him to lead the Department of Justice. He wants to do that strongly. He wants him to focus on things like immigration, leaks and a number of other issues," Sanders said.
She went on, "You can be disappointed in someone but still want them to continue to do their job and that's where they are."
ABC News' Pierre Thomas and Katherine Faulders contributed to this report.