— -- Vice President Joe Biden is still undecided about the 2016 race, but as he's traveled across the country the past week on official business, there have been a number of moments when it sounded like he was already on the campaign trail.
Here's a look at eight times the VP looked and sounded like a presidential candidate -- from running a Labor Day parade route in Pittsburgh to touting his foreign policy experience in Florida.
WHEN HE JOKES ABOUT RUNNING
Vice President Joe Biden plays coy when he's asked whether he's running in 2016 -- something every eventual candidate does at some point.
"I'm gonna run part of the parade!" Biden said in Pittsburgh on Monday when he was asked if he has the rationale to run for president.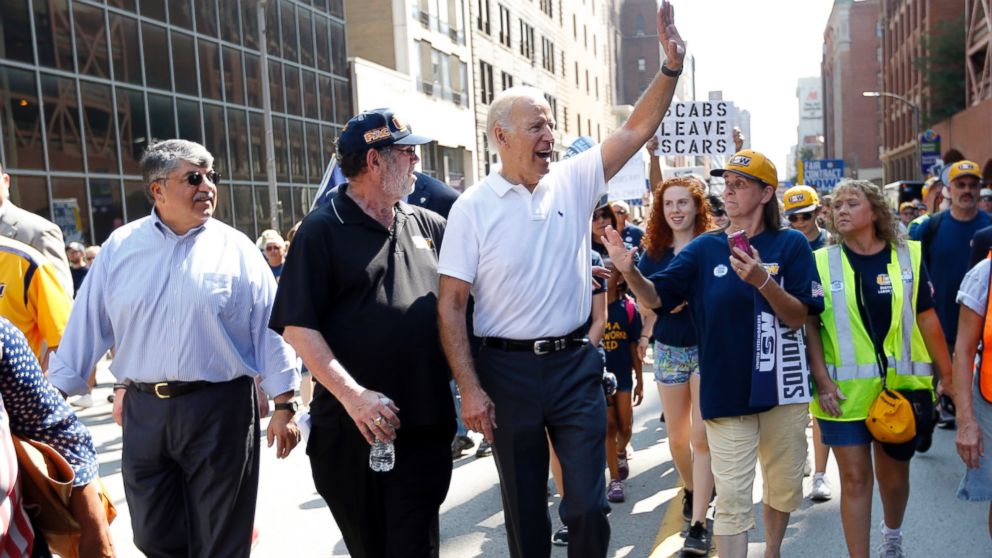 WHEN HE ASKS FOR VOTES, EVEN IF HE'S NOT RUNNING
Biden slipped into candidate mode while speaking at the United Steelworkers Union Building on Monday, almost accidentally saying he was looking for votes.
"I've taken too much of your time up. ... Back home in Delaware if you make somebody stand on a concrete floor for more than 15 minutes you lose all of their votes. I don't want to lose your vo--," he said before catching himself. "I don't want to lose your friendship."
WHEN HE SAYS HIS WIFE HAS THE FINAL SAY ON 2016
When voters ask whether he's running, Biden says the decision's up to his wife.
"You've got to talk to my wife about that. I've got to talk to my wife about that," he said smiling.
WHEN HE LITERALLY RAN THROUGH A LABOR DAY PARADE
Biden was in full campaign (and Biden being Biden) mode Monday as he zig-zagged across the Labor Day parade route in Pittsburgh, schmoozing with babies and potential voters.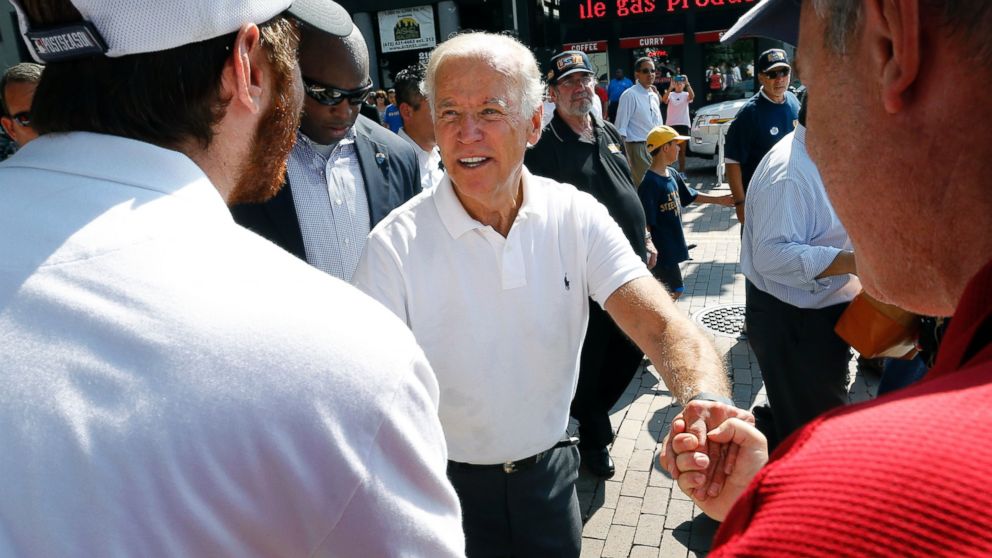 Some people broke into chants of "Run Joe Run" as he ran through the parade.
WHEN HE CALLS HIMSELF 'MIDDLE CLASS JOE'
Biden often touts his middle-class upbringing as evidence he's committed to protecting the middle class -- like he did in two speeches in Pittsburgh on Monday.
"You know in DC I'm known as middle-class Joe, and in DC they say it not as a compliment," Biden said Monday.
"I'm hot. ... I'm mad. I'm angry," Biden said as he talked about the state of the middle class. "The level playing field doesn't exist. Our job is one thing all of you -- to make sure every parent can look their kid in the eye, knowing they've put in a full day's work and say, 'Honey it's going to be OK.' That's what labor's about. That's what unions are about."
WHEN HE TOUTS HIS FOREIGN POLICY EXPERIENCE
In Davie, Florida, last week, the VP described his vast foreign policy experience as he talked about the Iran nuclear deal.
"I've traveled, as of today, 992,894 miles," as vice president, Biden said on Thursday. "I've met with virtually every major leader in the world. I know these guys. I know them better than anybody in the administration, because I've been hanging around so long."
WHEN HE THANKS HIS EARLY SUPPORTERS
Biden acknowledged those who helped him in his early campaigns -- including a steel workers union.
"The only reason I'm standing here is back in '72 when I was 29 year old kid ... I couldn't get help anywhere. ... But I won, I won because of the steelworkers. We have an expression where I grew up, you go home with them that brung you to the dance," he said.
WHEN HE CALLS PENNSYLVANIA 'HOME'
Biden has spent the majority of his life in Delaware, but he also recognizes the importance of his roots in Pennsylvania, a key battleground state in presidential elections. He often reminds people he was born and spent the first decade of his life in Scranton, Pennsylvania.
"It's home. It's Pennsylvania," the VP said along the parade route in Pittsburgh on Monday.