— -- While President Donald Trump says he believes Russian President Vladimir Putin is sincere when he denies that Russia sought to interfere in the 2016 U.S. election, the president said he personally believes the conclusion of the U.S. intelligence community -– and not Putin -– that Russia did in fact meddle in the election.
"I believe he believes that," Trump said of Putin's denials during a joint press conference with Vietnam's President Tran Dai Quang at the presidential palace in Hanoi and expressed surprise that there was any confusion about what he meant after previously telling reporters that Putin "means it" when he says he didn't meddle.
Trump went on to say he personally accepts the opinion of the U.S. intelligence agencies "as currently led" by his appointees, in spite of Putin's denials.
"I'm with our agencies, especially as currently constituted with their current leadership," Trump said. "I believe in our intel agencies, our intelligence agencies ... as currently led by fine people, I believe very much in our intelligence agencies."
The president's statement, with the caveat that he trusts the intelligence as currently led, is one of his clearest comments to date on accepting the consensus conclusions reached by the U.S. intelligence agencies in a report published earlier this year on Russia's attempts to influence the U.S. election.
Several of the president's top intelligence leadership testified before Congress earlier this year and said they accept the conclusion of the initial report that Russia sought to influence the U.S. election.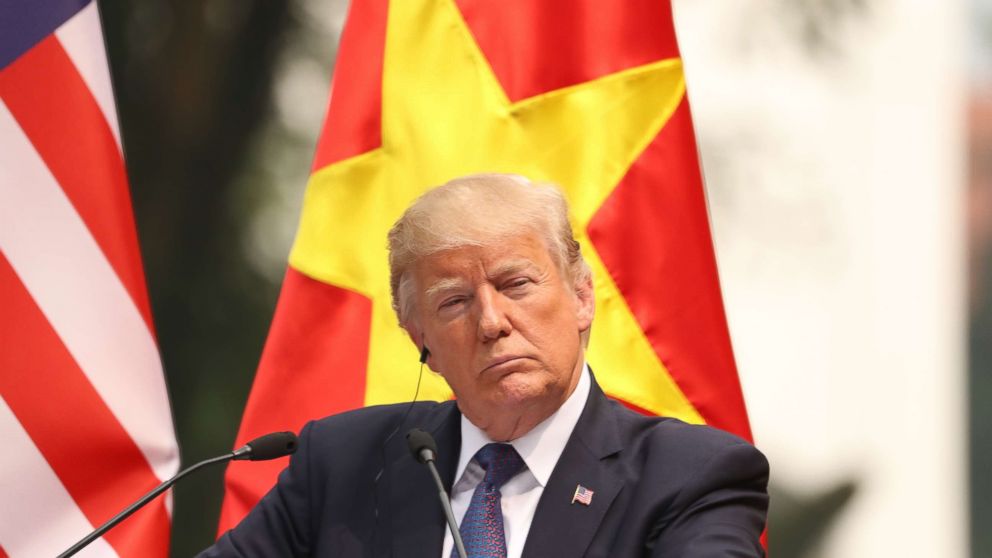 The president's initial comments to reporters aboard Air Force One early Saturday that Putin "means it" when he denies any interference received criticism at home, including from some Republicans, who raised questions about whether the president accepted Putin's word over that of the U.S. intelligence community.
"There's nothing 'America First' about taking the word of a KGB colonel over that of the American intelligence community," Sen. John McCain, R-Ariz., said in a statement. "Vladimir Putin does not have America's interests at heart. To believe otherwise is not only naive but also places our national security at risk."
In his latest remarks Sunday, the president went on to express his belief that "it's very important to get along with Russia," as well as China, especially as it relates to confronting North Korea.
"What I believe is that we have to get to work. And I think everybody understood this that heard the answer," he said. "We have to get to work to solve Syria, to solve North Korea, to solve Ukraine, to solve terrorism."