— -- For political junkies who are sick of the presidential horse race — and for those who just can't get enough of it — there is plenty of action below the top of the ticket, starting with a slate of close swing-state races that could determine which party controls the Senate next year.
The results in those races will be crucial in determining the next president's ability to translate his or her agenda into legislation — and Congress' ability to turn those bills into laws — not to mention other key responsibilities, like confirming Supreme Court nominees.
Republicans have long been playing defense in the 2016 Senate contests, with 24 GOP-held seats in play, at least 10 of which are in swing states, compared with Democrats' 10. Democrats need a net gain of four or five seats, depending on who wins the White House, to retake Senate control.
Senate Majority Leader Mitch McConnell acknowledged the rough terrain for his party during an end-of-term press conference in late September.
"It's pretty obvious this was going to be a really challenging cycle for us. And we have a lot of incumbents who are up in purple states," he said. "It's sort of like a knife fight in a phone booth."
Republicans have tried to minimize the damage of having the volatile Donald Trump at the top of their ticket by trying to ignore him, instead highlighting down-ballot candidates' accomplishments in the states they're seeking to represent.
"Republican senators are talking to voters like they're running for sheriff. Every message is highly targeted and purposefully local," National Republican Senatorial Committee spokeswoman Andrea Bozek wrote in an email.
Case in point: Sen. Rob Portman in Ohio, whose campaign ran several ads focusing on his work combating the prescription drug and heroin addiction crisis in his state. He has maintained steady leads against his Democratic opponent, former Gov. Ted Strickland, so far insulating himself from the much closer race between Trump and Clinton in the Buckeye State.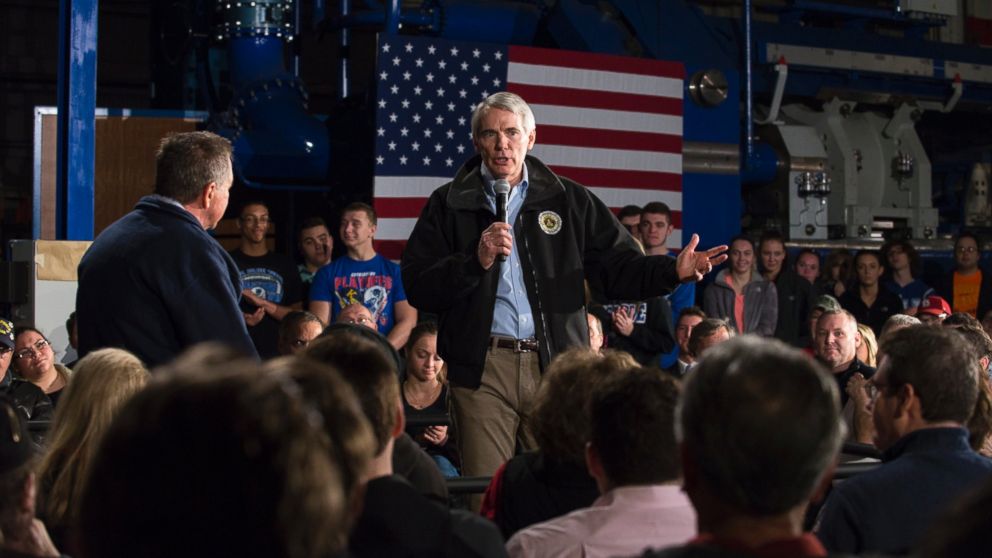 But the Trump effect has managed to seep into some critical races despite Republican candidates' discipline in ignoring questions about him on the trail and despite the fact that many of them, like Sens. John McCain and Kelly Ayotte, rescinded their endorsement of him after a 2005 video emerged of Trump making lewd comments about women.
New Hampshire's Ayotte suffered a Trump-related setback after saying during a debate that she would "absolutely" encourage children to look at him as a role model, though she quickly walked back those comments.
Since that flub earlier this month, at least one poll has shown Ayotte trailing Democratic Gov. Maggie Hassan, although several other surveys showed the race in a virtual tie.
And while up until recently, former North Carolina state Rep. Deborah Ross has focused on hitting her opponent Richard Burr, the chairman of the Senate Intelligence Committee, as a consummate Washington insider instead of as a Trump ally, her campaign has changed its tone lately, releasing one ad Friday that notes that Burr is an adviser to Trump.
"It's imperative for our campaigns to highlight how their Republican opponents have failed people in their states," Democratic Senatorial Campaign Committee spokeswoman Sadie Weiner said in an email. "A part of that includes their support for Donald Trump as they were complicit in helping build the party of Trump."
Another factor that could help Democrats in the battle for Senate control is that the Clinton network has turned its attention to down-ballot races.
Last week the Clinton campaign contributed $2.5 million each to the Democratic Senate and House campaign committees — a tiny fraction of the $100 million it has made in contributions this cycle — and pledged $6 million for mail and digital ads in seven battleground states, including Ohio and New Hampshire.
"Since the start of the campaign, Hillary Clinton has been committed to winning races up and down the ballot. Every Republican who put their party ahead of the good of the country to back Donald Trump, even if they try a last minute political conversion, should be held accountable," Clinton spokesman Jesse Ferguson said in an email.
The top Clinton super PAC, Priorities USA, also shifted some resources to Senate races, a reflection of its confidence in a victory at the top of the Democratic ticket.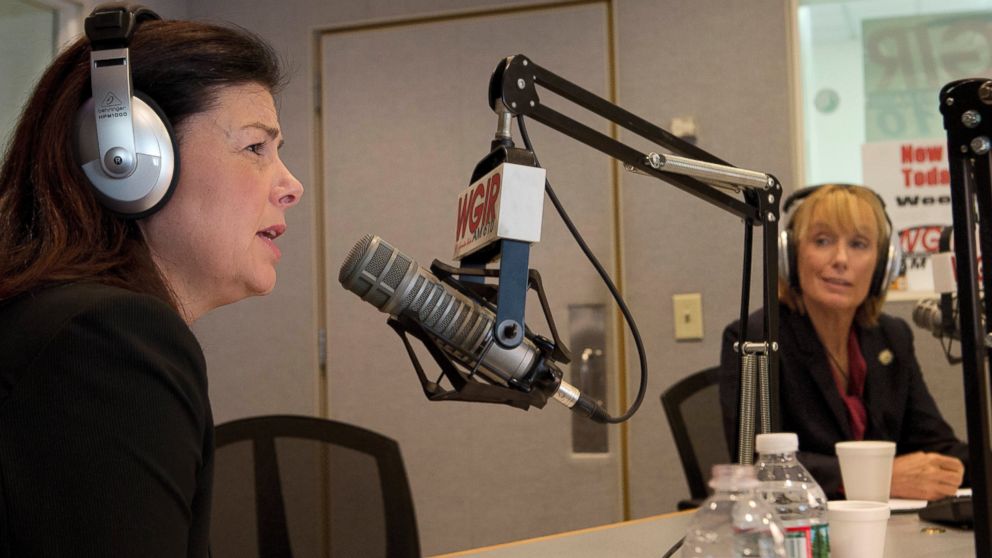 As part of that effort, it released a new ad Thursday in New Hampshire — one of the only ads there that explicitly ties Ayotte to Trump — playing the debate moment when Ayotte said he would be a good role model.
"For months and months of this," a narrator says, followed by clips of Trump's most eyebrow-raising comments — "Kelly Ayotte stood by him. But now she's running away, trying to save her political career."
While the Clinton campaign and Priorities are legally barred from communicating or coordinating, they seem to share a strategy for winning the Senate: explicitly tie Republican candidates to their presidential nominee.
Clinton campaign spokeswoman Jen Palmieri indicated as much during a press gaggle on the campaign plane, saying, "These are leaders of the Republican Party that legitimized Donald Trump's candidacy."