— -- Donald Trump stoked speculation about his potential vice presidential pick once again by giving Newt Gingrich a big shout out at a campaign event in Cincinnati tonight.
"Newt has been my friend for a long time. And I'm not saying anything, and I'm not telling even Newt anything, but I can tell you, in one form or another, Newt Gingrich is going to be involved with our government," he said. "That I can tell you."
Trump said Gingrich, the former Speaker of the House is "smart" and "tough."
"He gets it. And he says I'm the biggest thing he's ever seen in the history of politics," Trump said. "Now, Newt is going to be involved, if I can get approval from his wife. That may be tough, but that's okay."
The former Speaker of the House was on hand to introduce Trump at tonight's event, and the pair hosted a brief Facebook Live video shortly before the start of the event.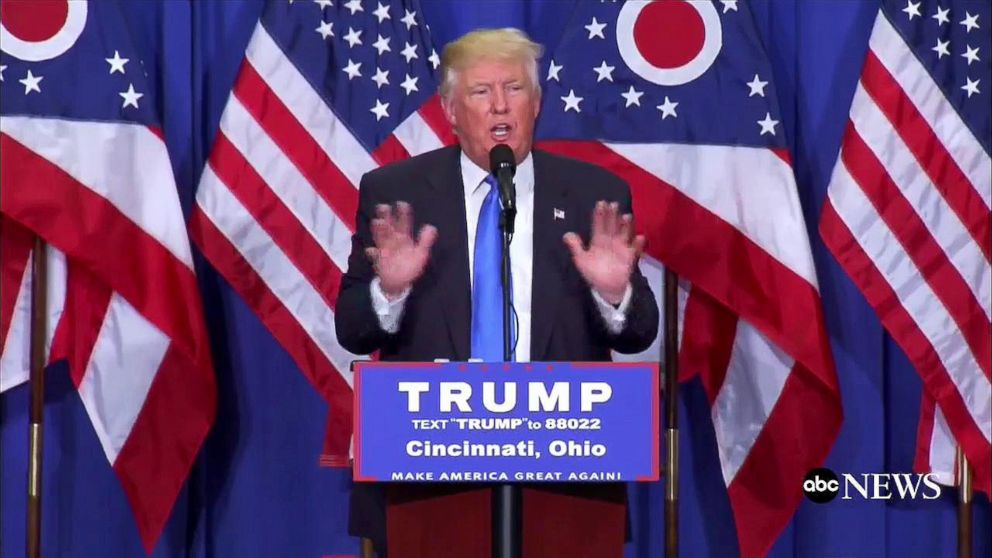 During his introduction, Gingrich said that Trump "is going to kick over the table" in Washington, should he be elected. The former Speaker, known for his contentious relationship with then-President Clinton, seemed to relish attacking his old foes.
"I cannot imagine a more vivid proof of corruption than the steps that go from the Bill Clinton accidental airport meeting to the Saturday of the 4th of July weekend interview ...to the attorney general this afternoon announcing with great surprise that she accepts the FBI director's total sellout of the American system," Gingrich said.
"Is there a single person here who believes that if you had done what Hillary Clinton had done then you would not be prosecuted?" Gingrich asked.
Trump returned the favor by saying that "Newt gets it."
"I'm not saying it's Newt, but if it is Newt, nobody's going to be beating him in those debates," Trump said.
The rest of Trump's speech touched on a wide range of issues, including Attorney General Loretta Lynch's decision not to press charges against Hillary Clinton relating to her email controversy. Trump said that decision marked another sign of how it is a "rigged system."
Trump also touched on the scandal surrounding a Tweet that his social media director shared that featured a six-pointed star that some interpreted as a Star of David, prompting accusations of anti-Semitism.
"When I looked at it I didn't think anything," Trump said.
"My boy comes home from school, Barron, he draws stars all over the place. I never said 'That's the Star of David, Barron, don't!'" he said. Trump said that he wishes he staff never deleted the controversial tweet.
He was also staunch in his defense of another of his controversial remarks, defending his praise of dictator Saddam Hussein.
"I don't love Saddam Hussein. I hate Saddam Hussein, but he was damn good at killing terrorists," Trump said.
"I said last night it's the Harvard. It's the Harvard University. It's the Harvard of terrorism. That's where you want to learn to be a terrorist, you go into Iraq. Boom, you're a terrorist. Boom!"