— -- Some ethics experts take issue with Donald Trump's claim that he will donate any profits his company reaps from foreign government officials staying in his hotels during his presidential term to the U.S. Treasury.
The president-elect has at least nine hotels in the U.S. and several hotels and licensed hotel deals abroad.
During his news conference Wednesday, he said he will be taking steps to separate himself from his namesake brand but not shutting down any business operations, meaning that people — including representatives from foreign governments or Americans trying to curry favor with the president — could still stay at his hotels.
Sheri Dillon, a partner for the law firm Morgan, Lewis & Bockius, which was tasked with handling the separation between him and his businesses, said Trump is not violating any rules by keeping his hotels open.
"Paying for a hotel room is not a gift or a present, and it has nothing to do with an office. It's not an emolument. The Constitution does not require President-elect Trump to do anything here, but just like with conflicts of interest, he wants to do more than what the Constitution requires," she said Wednesday.
"He is going to voluntarily donate all profits from foreign government payments made to his hotels to the United States Treasury. This way, it is the American people who will profit," Dillon said.
The Bureau of the Fiscal Service, which is run by the Treasury Department, declined to comment to ABC News specifically on this situation but confirmed that citizens may contribute gifts to reduce the public debt.
Questions were raised about officials from Bahrain moving their Bahrain Day celebrations to the Trump International Hotel in Washington from the Ritz Carlton in December.
Trump leases the building from the federal General Services Administration, which suggested that the president-elect would be violating the terms of the lease — prohibiting elected officials from being party or benefiting — if he didn't divest from the property.
In a statement released Wednesday, the GSA said it is "seeking additional information" about changes in the Trump Organization. "We will review this new organizational structure and determine its compliance with all the terms and conditions of the lease."
At the time, Rep. Elijah Cummings, the ranking Democrat on the House Oversight Committee, said that he was "concerned."
Richard Painter, formerly the chief ethics lawyer for President George W. Bush and now a professor at the University of Minnesota, told ABC News that "with respect to conflicts of interest, none of them are addressed by the plan."
"He should not be owning that hotel," Painter told ABC News, referring to Trump and his recently opened development in the Old Post Office on Pennsylvania Avenue. "He has one place on Pennsylvania Avenue in Washington, D.C., that he's in charge of for the next four years if he does the job properly. And he should not be running a hotel, owning a hotel. There are lobbyists booking rooms — they want the president to come over and attend while they're paying him money for his hotel. This is going to get very close to the bribery and gratuity statutes. He needs to sell the hotel."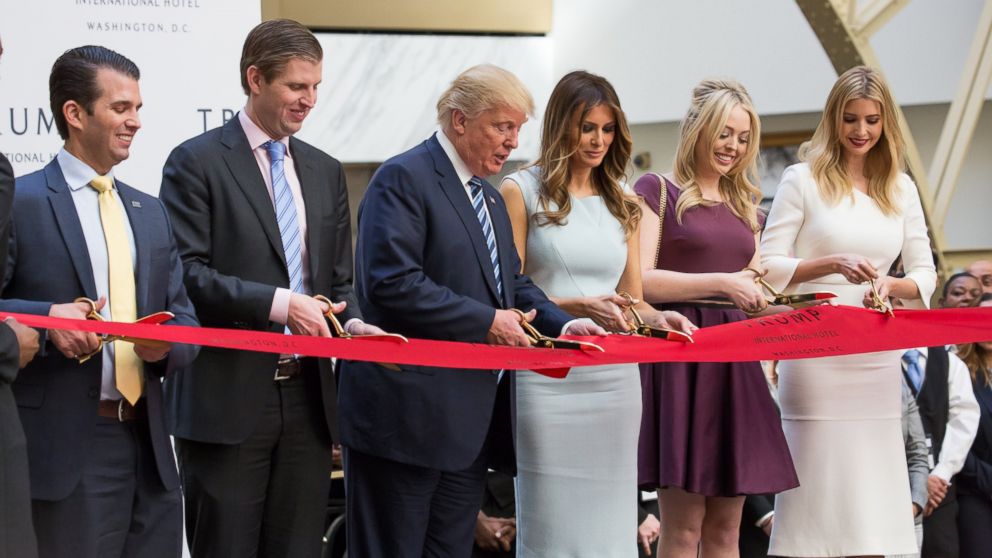 Matthew T. Sanderson, a member in the political law and exempt organizations practice groups of Caplin & Drysdale, said that it was unrealistic to expect Trump to totally divest from his company.
While Sanderson said the president-elect "could have done much more here to address his conflicts of interest," the decision to donate hotel profits earned from foreign governments was a good move.
While early on in the news conference Dillon said that "Trump-owned, -operated, -branded golf clubs, commercial rental properties, resorts, hotels, rights to royalties from pre-existing licenses of Trump marks, productions and goods — so things like Trump Tower, Mar-a-Lago, all of his other business assets, 40 Wall Street — will all be in the trust," she later said that he would be the one directing the profits from foreign government stays in his hotels to the Treasury Department.
She also said Trump's two eldest sons — Donald Trump Jr. and Eric Trump — would be running the business with a longtime Trump Organization employee, Allen Weisselberg. The trio "will make decisions for the duration of the presidency without any involvement whatsoever by President-elect Trump," she said.
Donald Trump Sr. would not be privy to any new information about new deals, according to Dillon, and "he will only know of the deal if he reads it in the paper or sees it on TV."
Steven Schooner, a government procurement law expert who teaches at George Washington University, has been a leading critic of conflicts posed by Trump's D.C. hotel and — consistent with other ethics experts ABC News has interviewed — said the plans Trump announced on Wednesday do not resolve the potential conflicts.
Regarding the D.C. hotel, Schooner said the Trump team's "value for value" defense is a "gross oversimplification."
"That works if this is just another hotel and people are making an arm's-length decision to stay there for an objective reason, but people are choosing it because he's the president-elect," Schooner said.
"If [Trump] really cared about being above reproach, he could walk away" from the hotel, Schooner said.
Danielle Brian, the executive director of the Project on Government Oversight, said that it seems unlikely that Trump will find out about business dealings from outside sources.
"Firewalls work in businesses, not in families," she told ABC News. "Trump claims he'll only learn about his businesses from the newspapers, but it's hard to believe that family dinner conversations will be restricted to the weather."
ABC News' Zunaira Zaki and Lauren Pearle contributed to this report.