Evansville, IN -- President Donald Trump rallied a crowded and enthusiastic arena in Evansville, Indiana, for over an hour on Thursday night with his campaign's greatest hits.
After a politically bruising two weeks, the president seemed buoyant and appeared to let out steam in front of a supportive crowd by knocking his foes like Hillary Clinton, Nancy Pelosi and the media. But Trump also expressed his frustrations with the Justice Department and the FBI, and threatened to "get involved" if things do not change.
"Our Justice Department and our FBI, they have to start doing their job and doing it right and doing it now. People are angry," Trump said, calling them a "disgrace."
"At some point," he added, "if it doesn't straighten out properly -- I want them to do their job -- I will get involved and I'll get in there if I have to have to."
Earlier in the day, Trump told Bloomberg News in an interview that he views the special counsel investigation as "illegal" and criticized Attorney General Jeff Sessions. Still, he said Sessions' job would be safe until the midterm elections.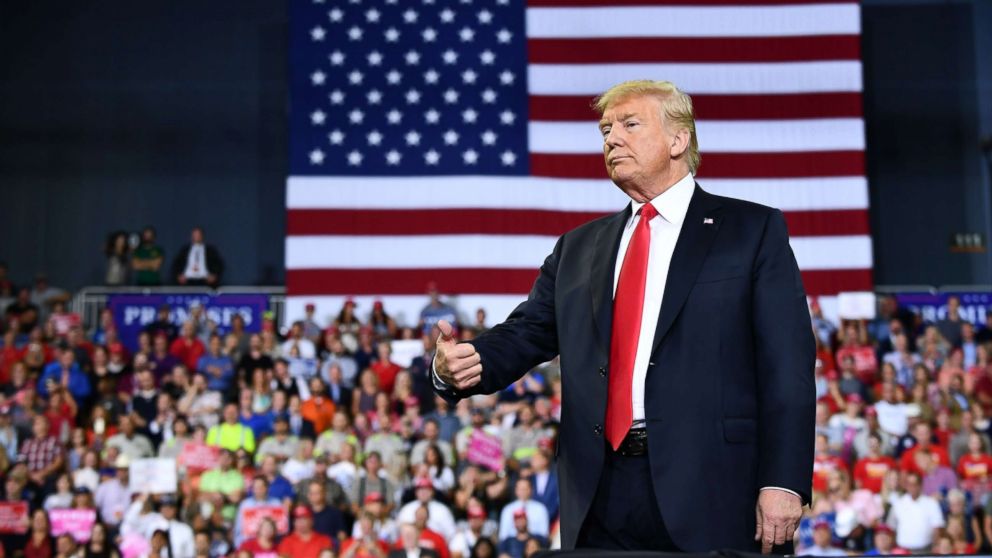 The 11,000-seat Ford Center was filled top to bottom with supporters cheering on the president as he boasted about his Space Force, the economy, employment numbers and ongoing trade negotiations with Canada.
"This country is tired of being ripped off by other countries!" Trump said. "We are doing some great deals with other countries also," he added. "They are getting done one by one."
But the purpose of the Make America Great Again rally was also to boost Indiana's Republican candidates.
Trump brought Mike Braun, a wealthy Indiana businessman and former state legislator who's running against sitting Democratic Sen. Joe Donnelly in the midterms, up to the stage as a sign of support.
"A vote for Mike's opponent, Sleepy Joe, is a vote for Chuck Schumer, Nancy Pelosi and who else? Maxine Waters," Trump said, inviting the crowd to join him in shouting Waters' name.
Trump's last appearance in Indiana was only two days after Braun won in a tough Republican primary.
But in a state where Trump won by double digits against Hillary Clinton, both Braun and Donnelly have tried to show their support for the president. The Republican and Democratic Senate candidates both recently released ads touting Trump achievements.
After the rally, Donnelly released a statement saying: "I was unable to watch President Trump's rally tonight, as I was headed back to Washington for Senator McCain's memorial services. We're always happy to have President Trump in Indiana, but Hoosiers still want a senator who always puts them first before any politician or political party. They know that's what I've been for them, and it's what I'll continue to be as their Senator next year."
It was Trump's first "Make America Great Again" rally since the death of Sen. John McCain of Arizona. In past rally speeches, the president would consistently call out McCain for his 'no' vote against an Obamacare repeal last year.
But this time, Trump made no mention of McCain's vote or the senator, whose casket and widow were met by Secretary of Defense Mattis in Washington, right as the rally began.