LONDON -- President Trump apologized to British Prime Minister Theresa May Friday and called the explosive interview in which he criticized her "fake news."
In a wide-ranging news conference alongside the British leader, Trump also took a shot at European countries -- saying their immigration laws were "changing the culture" of their countries.
"I didn't criticize the prime minister. I have a lot of respect for the prime minister," President Trump said, going on to criticize the story, which he said did not include his comments of praise for May and suggesting the White House may release a full recording of the interview.
The president added that he apologized to May privately about the negative headlines and that May brushed off the dust-up.
"They didn't put it in the headline," referring to the explosive story in The Sun Thursday. "I wish they would've. When I saw her this morning, I said, 'I wanted to apologize.' She said, 'Don't worry, it's only the press.'"
Beyond the apology, Trump went on to praise May.
"I said tremendous things. Fortunately, we tend to record stories now so we have it for your enjoyment if you would like it. We record when we deal with reporters. It's called fake news and we solve a lot of problems with the good old reporting instrument," Trump said.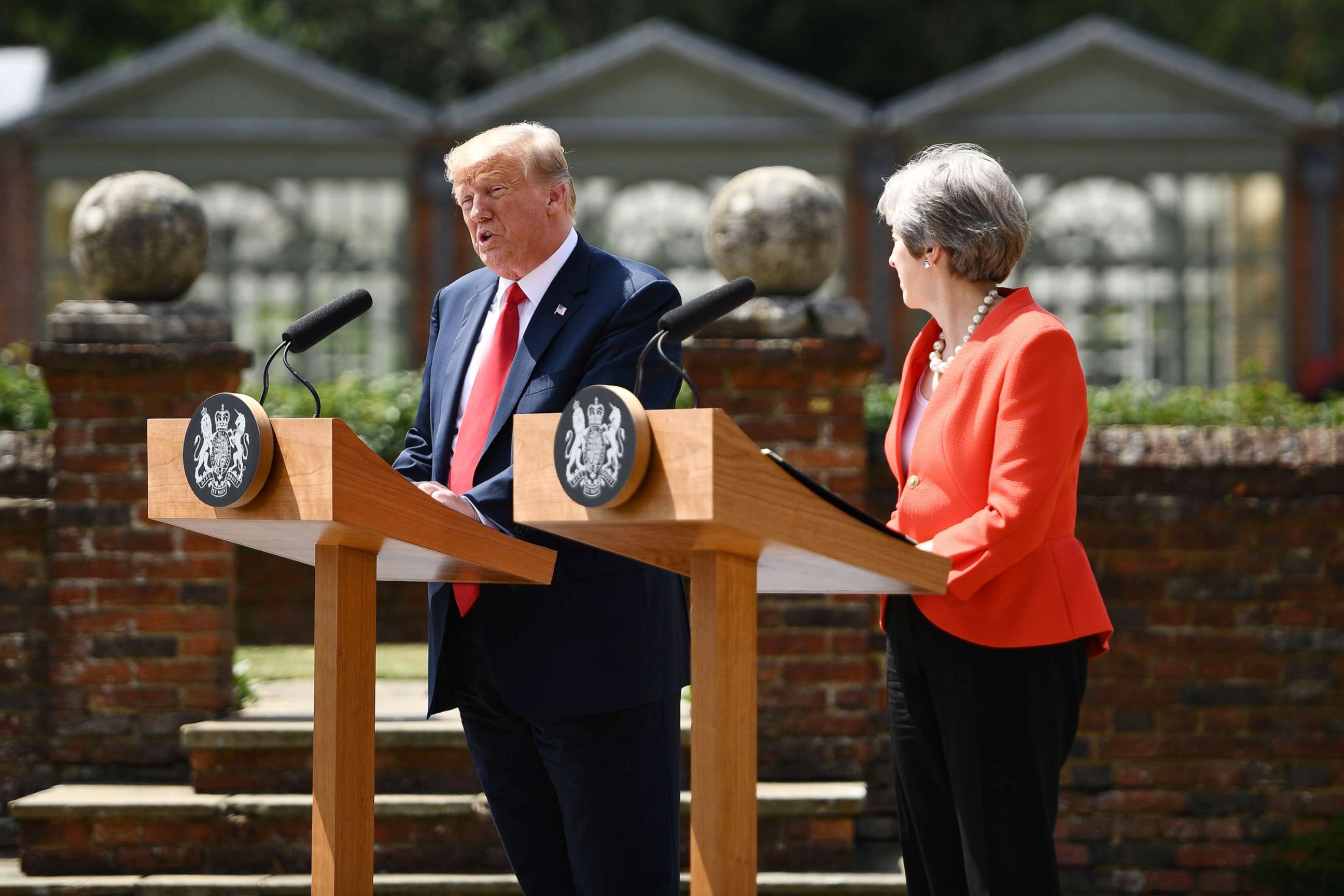 Later in the press conference, the president continued his ongoing feud with the media by refusing to take a question from a CNN reporter.
In the article, published Thursday evening, Trump was critical of May's handling of Britain's efforts to exit the European Union, telling the paper that May did not listen to his advice and suggested that if May persists in her "soft" Brexit plan, it will jeopardize any potential trade deal between the United States and Britain.
"If they do a deal like that, we would be dealing with the European Union instead of dealing with the UK, so it will probably kill the deal," Trump said in the interview.
But on Friday, the president struck a friendlier tone and said the U.S. will be okay with whatever plan May pursues so long as it's possible for the U.S. to make trade deals.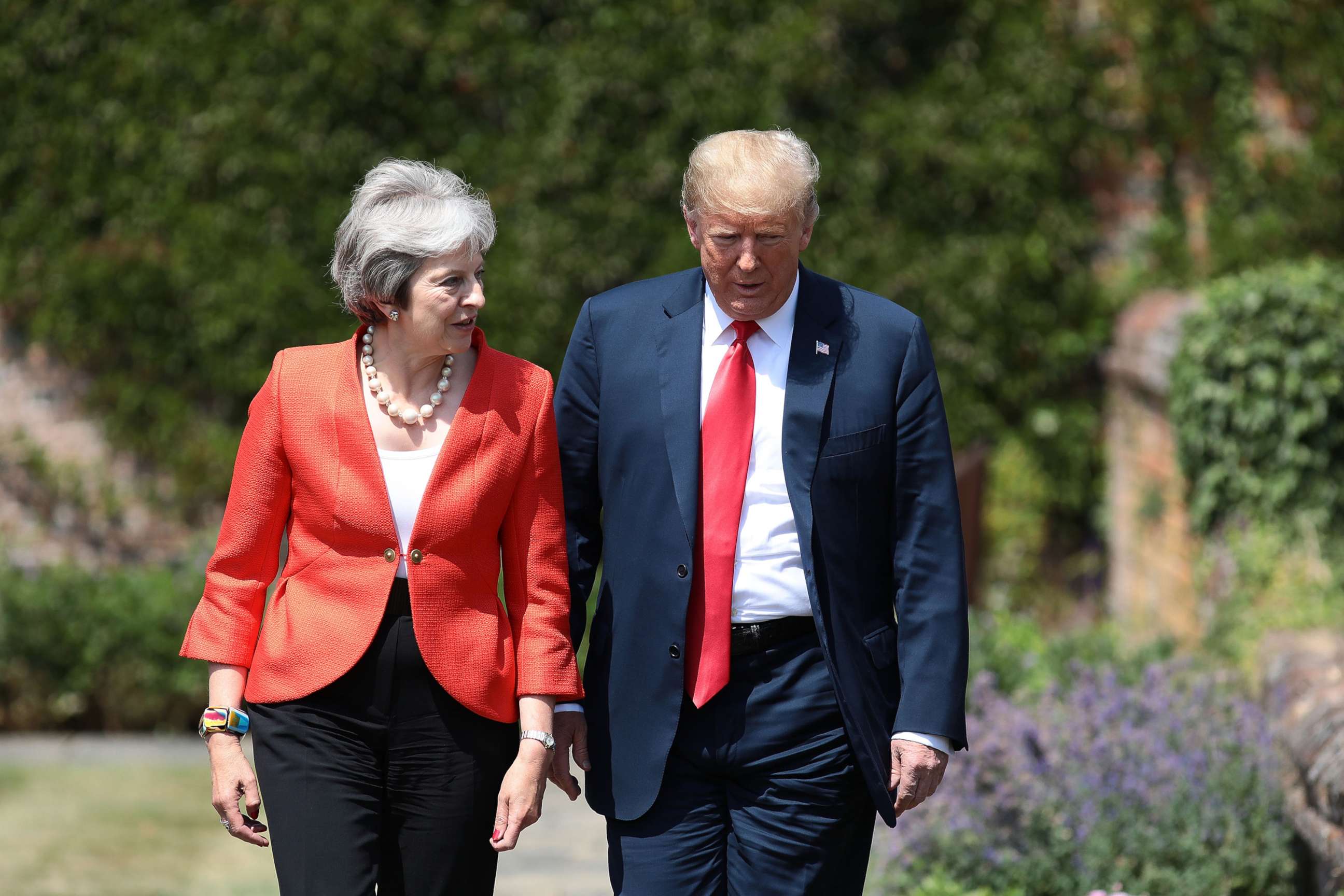 "She's going to make a decision as to what she will do. The only thing I ask of Theresa is that we make sure we can trade, that we don't have any restrictions, because we want to trade with the UK, and the UK wants to trade with us. We are by far their biggest trading partner. We have a tremendous opportunity to double, triple, quadruple that."
Still, Trump defended that he has praised Boris Johnson, who just this week resigned from May's cabinet in protest of her "soft" Brexit plan and is regarded as a rival within May's Conservative Party, in his interview with the Sun and insisted that his complimenting Johnson is unrelated to his admiration for May.
"I said he'd be a great prime minister. He's saying good things about me as president. He thinks I'm doing a great job. I am doing a great job, just in case you haven't noticed but I do think Boris Johnson would be a great prime minister," Trump said. "I also said this incredible woman right here is doing a fantastic job, a great job."
The president also criticized German Prime Minister Angela Merkel and other European leaders for their countries' immigration laws.
"I think it's been bad for Europe. I know Europe very well and it's been tough," he said of immigration. "We've seen some terror attacks. I just think it's changing the culture and is very negative for Europe and Germany -- I have a great relationship with Angela Merkel, but it's hurt Germany and other parts of Europe.
He went on to lash out at immigration laws back home, too.
"We have very bad immigration laws," Trump said about American immigration policy. "We're doing very well considering the fact that we don't have immigration laws."
May then commented that the UK has "a proud history of welcoming people who want to contribute to our society."
Whatever conversations Trump and May may have had behind the scenes regarding the president's protocol-breaching comments on May in The Sun interview, the two leaders showed no signs of strain in their relationship before cameras on Friday.
May, in a nod to the "special relationship" between the United States and the United Kingdom, rolled out the red carpet for Trump throughout his first official visit to the UK, kicking off with a black-tie gala at Blenheim Palace.
The president characterized the U.S.-U.K. "special relationship" Friday as being "the highest level of special" following his time visiting with May over the last two days.
"I would give our relationship with the UK, and now, after these past two days with your prime minister, I would say the highest level of special. Am I allowed to go higher than that? I'm not sure. It's the highest level of special," he said.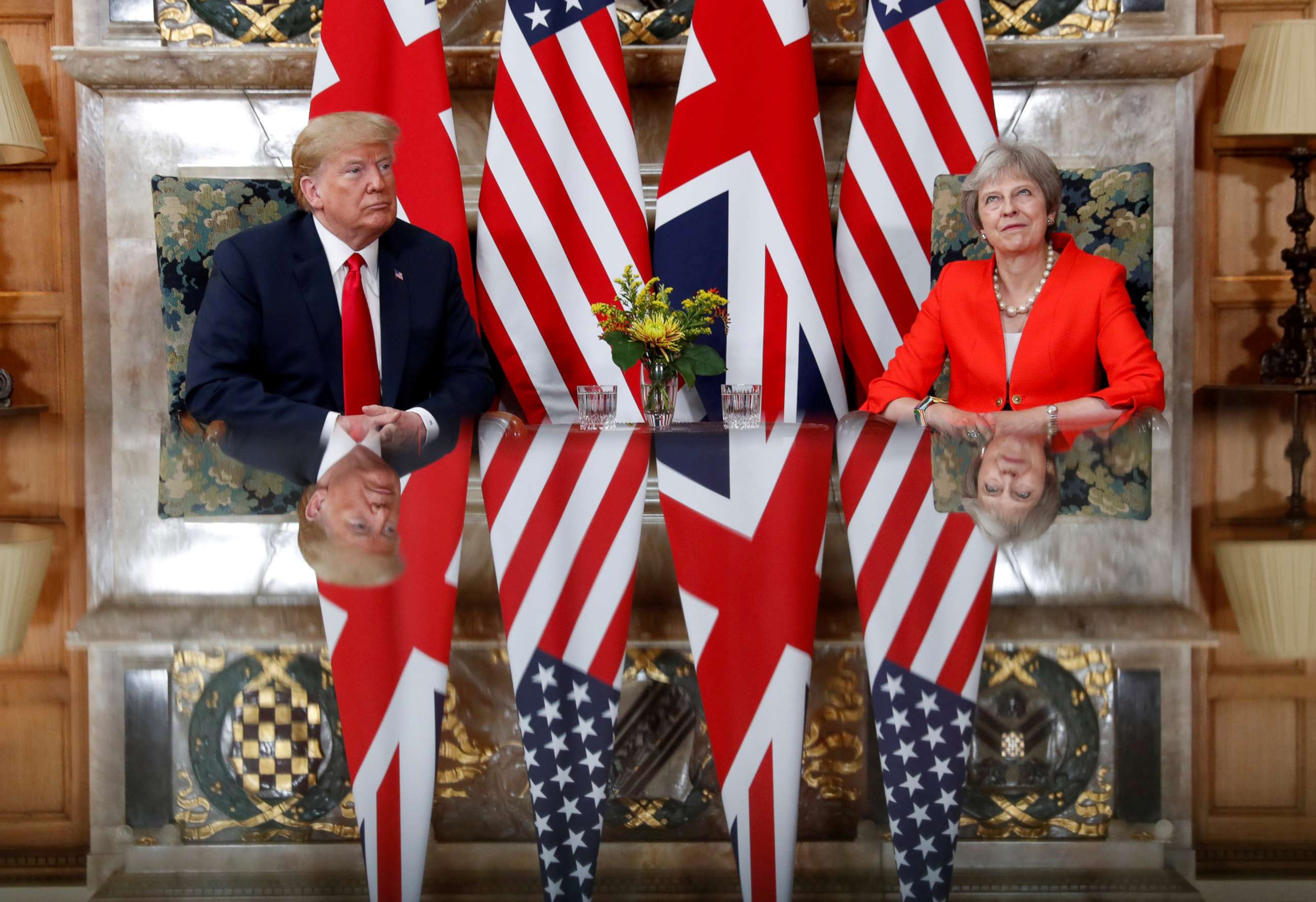 But that special relationship appeared to be on the rocks early Friday following Trump's stunning interview with The Sun and set off a series of awkward interactions with reporters, who pressed the two leaders on the comments on multiple occasions.
In their first event before cameras Friday, Trump rolled his eyes and looked irritated when asked if he regrets the comments he made to the British tabloid while sitting next to May at her country estate Chequers. May also showed an irritated expression when the question was raised.
Before Trump and May's bilateral meeting got underway Friday, Trump called the U.K.-U.S. connection "very strong."
"The relationship is very, very strong, we have a very good relationship," Trump said.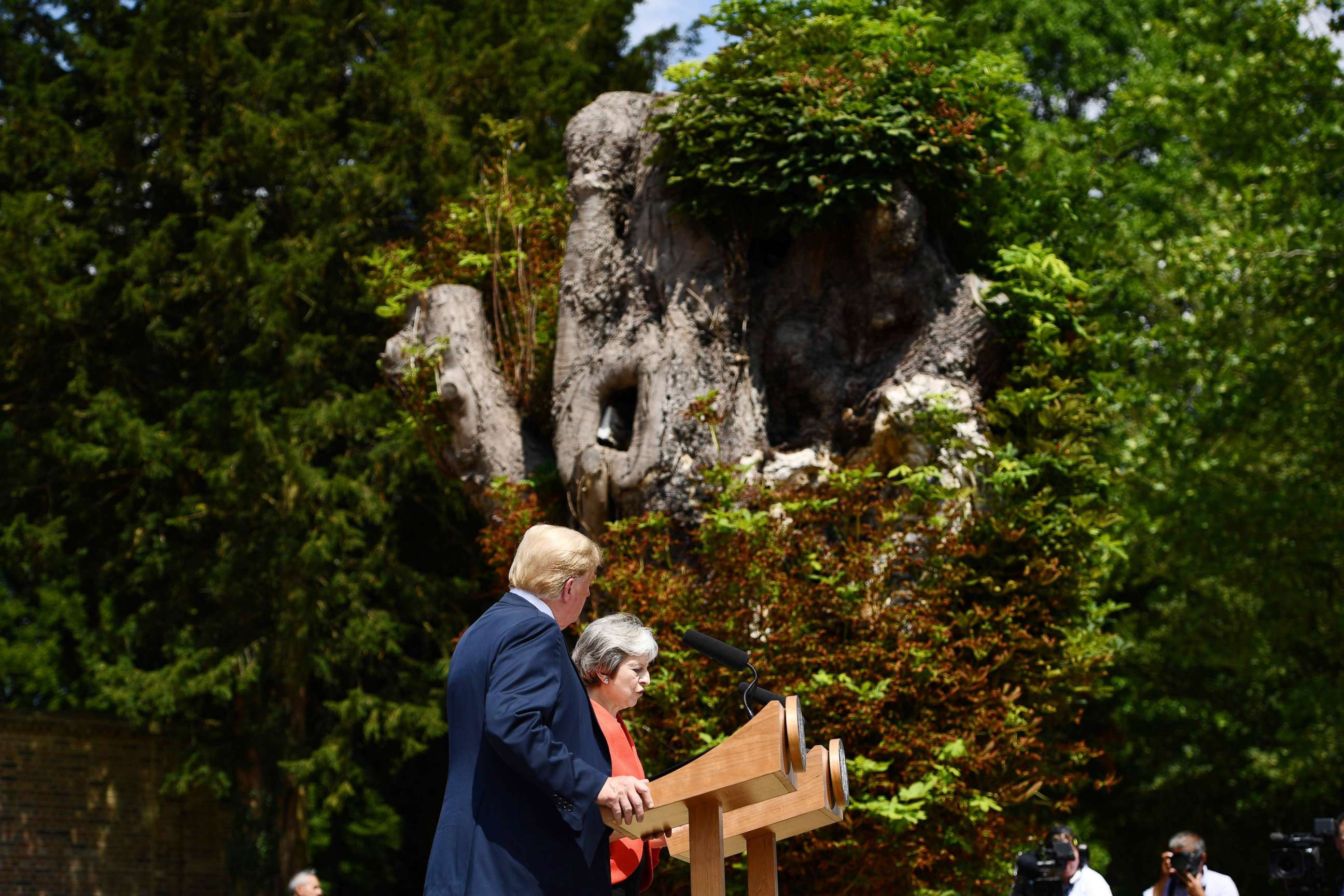 May told reporters the two would be discussing "our special relationship, which is great between the U.K. and the United States."
"We're going to discuss the real opportunity we've got on a trade deal coming, and, of course, we'll discuss the defense relationship," May said.
Trump's visit to the U.K. comes after he cannonballed into the NATO summit by demanding allies spend more on defense, ordering a special summit meeting to talk about spending, and monopolizing media coverage with an impromptu press conference.
"The president did a very good job at NATO encouraging others to spend," May said.
On Thursday night, the president and first lady Melania Trump were welcomed in grand style to Blenheim for a special dinner with May. The Trumps appeared to enjoy themselves so much that they stayed longer than scheduled.
"We had a dinner, where I think we probably developed a better relationship. We spoke for an hour, an hour and a half; it was really something," Trump said.
But just as the dinner wrapped, and the guests in their tuxedos and gowns left the estate, The Sun ran its interview with Trump. The president's searing critiques of the prime minister and her "soft" Brexit plan sent immediate shockwaves across U.K.
The White House scrambled to clean up Trump's comments.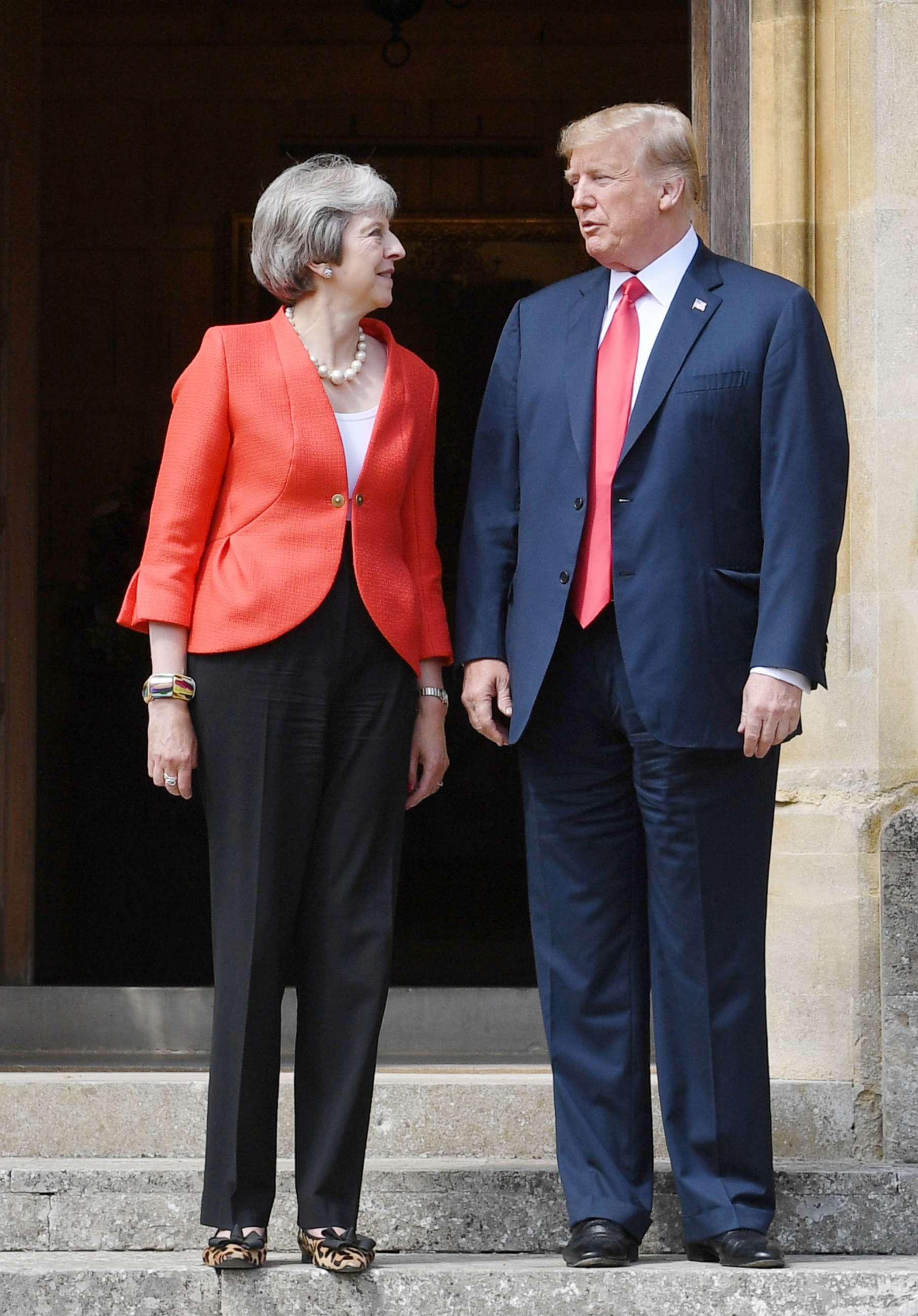 "The President likes and respects Prime Minister May very much. As he said in his interview with the Sun she 'is a very good person' and he 'never said anything bad about her,'" White House Press Secretary Sarah Sanders said. "He thought she was great on NATO today and is a really terrific person. He is thankful for the wonderful welcome from the Prime Minister here in the U.K."
The morning after, cameras were not allowed to capture the first interaction between May and Trump at Sandhurst, and the White House did not provide a readout of how their first handshake of the day went, or whether Trump's comments were brought up.
Still, a U.K. official told ABC News May and Trump have an "open and honest relationship" and said to expect the prime minister to address the president's surprise statements "in an appropriate way."