Unpacking Trump's claim of new funding from NATO members
The president claims NATO nations "have substantially upped their commitment."
President Donald Trump claimed Thursday at the conclusion of the NATO summit that he had secured substantially increased defense funding commitments from the alliance's member nations.
"Yesterday I let them know that I was extremely unhappy with what was happening and they have substantially upped their commitment," President Trump told reporters, going on to repeat the claim that he had secured new commitments 10 more times during a press conference in Brussels.
He continued: "And now we're very happy and have a very, very powerful, very, very strong NATO, much stronger than it was two days ago."
So, to what new funding commitment is the president referring?
It's not immediately clear.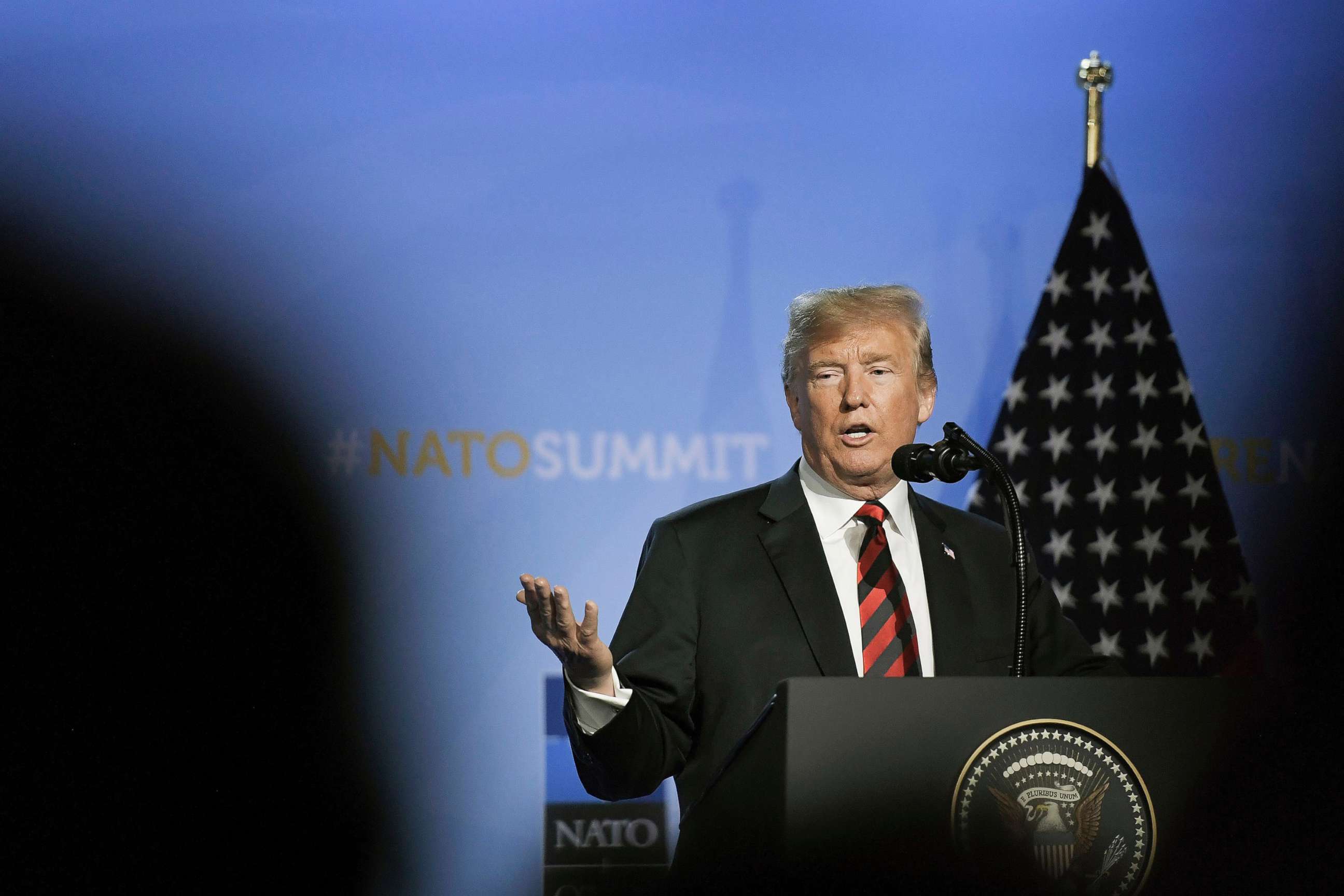 The summit's joint declaration, signed onto by all 29 NATO members and issued Wednesday, made no mention of any new funding commitments. And the president's declaration was also directly contradicted by one of his closest personal allies, French President Emanuel Macron.
"There is a communique that was published yesterday. It's very detailed," Macron said, according to the AP. "It confirms the goal of 2 percent by 2024. That's all."
Member states had already agreed, dating back in 2014, to increase their base level defense spending to 2 percent.
And while the president has said he ultimately wants to up commitments doubled to 4 percent, for now he said that countries have agreed to move at a "faster clip" to meet the 2 percent threshold.
"What they're doing is spending – at a much faster clip they're going up to the 2 percent level," Trump said. "After we're at 2 percent, we'll start talking about going higher. But I said, ultimately we should be – in years in advance, we should be at 4 percent. I think 4 percent is the right number."
And while all member nations have agreed, in principle, to work toward the 2 percent spending goal, each country is ultimately beholden to unique political processes and must consult with their respective parliaments to secure increased military spending.
"They're here as a prime minister or as a president, and they can't necessarily go in and say, 'This is what we're going to do.' But they're going back for approvals," Trump said, acknowledging the political realities. "Some are at 2 percent, others have agreed definitely to go to 2 percent, and some are going back to get the approval – and which they will get -- to go to 2 percent."
Following the summit, NATO Secretary General Jens Stoltenberg was careful not to contradict the president's claim of a substantial increase in spending but was only able to directly point to members' existing 2 percent commitments.
"The fact is that we have a commitment to increase defense spending. We all agreed we have to deliver on that," Stoltenberg said, later saying: "We have agreed that we need to make good on the pledges we have made."
Stoltenberg, who has seemed eager to heap praise on President Trump for increases in NATO funding in public settings, again said that "his strong message is having a clear impact, allies are increasing defense spending."