— -- Donald Trump, a man who once boasted having "the world's greatest memory," has suddenly forgotten the role that was to be played by a controversial businessman he named to help guide his foreign policy.
After Yahoo News reported Friday that senior U.S. intelligence officials were investigating whether the advisor, Carter Page, held secret meetings with senior Russian officials in Moscow over the summer, Trump's campaign promptly disavowed him.
"He has no role," said Steven Cheung, the campaign's director of rapid response, when ABC News asked about the report. "We are not aware of any of his activities, past or present."
Back in March, in a recorded meeting with The Washington Post editorial board, Trump named Page as one of five members of his foreign policy team. Page, a former energy executive in Russia, described himself an expert on the Caspian Sea region and economic development in former Soviet states.
In July he was spotted at a Moscow law school giving a speech, and Yahoo News reported Friday that during the same trip, Page may have also held private meetings with senior Russian officials. Page could not be reached Friday for comment for this report.
It is just the latest test of Trump's memory concerning his ties to Russia.
Trump told ABC News' "This Week" in July he has "no relationship to Russia whatsoever," though he would "probably" sell Russians condos "on occasion." The same month he tweeted, "For the record, I have ZERO investments in Russia."
But an ABC News investigation found Trump has numerous connections to Russian interests both in the U.S. and abroad.
Sergei Millian, who has for years identified himself in interviews and on promotional material as an agent for the Trump Organization in Russia, said, "The level of business amounts to hundreds of millions of dollars -- what he received as a result of interaction with Russian businessmen."
When asked about Millian, Trump Organization General Counsel Alan Garten said no one at his firm could recall his name. "I know of no formal or even informal relationship between my company with Mr. Millian," Garten said.
In December, ABC News reported on another the Russian emigre who professed ties to Trump, Felix Sater.
Sater had appeared in photos with Trump and carried a Trump Organization business card with the title "Senior Advisor to Donald Trump." Sater had played a role in a number of high-profile Trump-branded projects across the country. Garten said at the time that Sater was not actually an advisor to Trump and that it was common practice in the real estate industry to provide business cards and bestow titles "in order for brokers to be able to make initial introductions."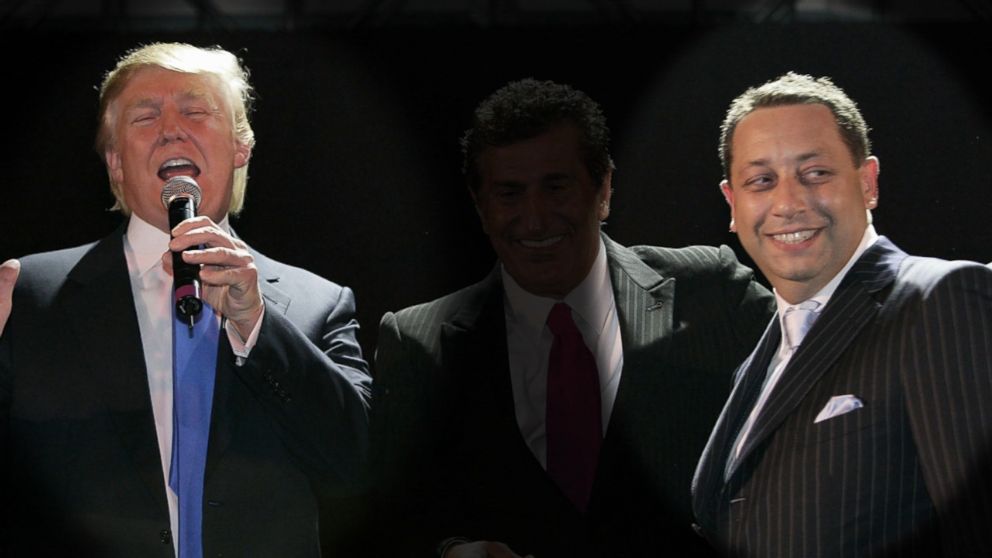 Sater was also a twice-convicted felon who served prison time and had documented Russian mafia connections.
In 2013, when Trump was asked under oath about his dealings with Sater, Trump acknowledged he had interacted with the man in the past but said, "if he were sitting in the room right now, I really wouldn't know what he looked like."