Trump's communications director under increased scrutiny
Former Trump lawyer raises questions about Hicks, Donald Trump Jr. emails.
February 1, 2018, 6:37 PM
— -- President Donald Trump's communications director Hope Hicks is now under increased scrutiny amid reports that - after concerns were raised about a misleading statement she helped craft about Donald Trump Jr.'s emails—she said they would "never get out."
The matter stems from a June 2016 meeting in Trump Tower with Donald Trump Jr., a Russian lawyer named Natalia Veselnitskaya, and several other Russians.
After news of that meeting surfaced, Trump Jr. issued a public statement insisting that the meeting was primarily meant to discuss issues of Russian adoptions. But according to emails released since then, Trump Jr. attended the meeting after being promised dirt on then-presidential candidate Hillary Clinton, including "some official documents and information that would incriminate Hillary and her dealings with Russia and would be very useful to your father."
"If it's what you say I love it," Trump Jr. said in an email ahead of the meeting.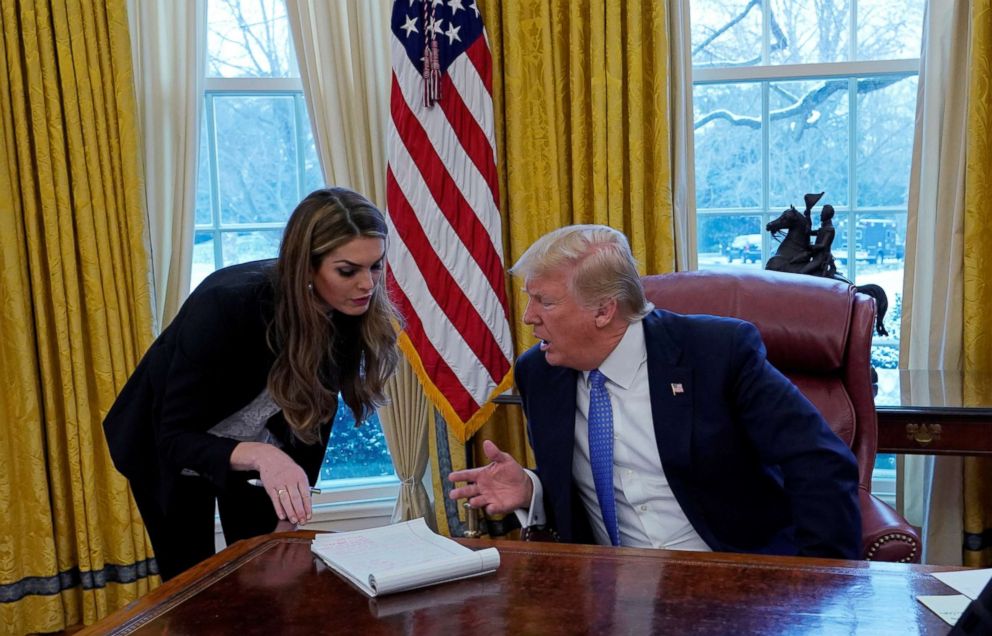 The public statement issued by Trump Jr. in July 2017 was written with help from the president and Hicks, while both were aboard Air Force One flying home from the G-20 summit in China.
The spokesman for Trump's legal team, Mark Corallo, spoke with Hicks in a call July 8 from the plane and became concerned about the statement's misleading nature, ABC News was told by a source familiar with Corallo's thinking.
Special counsel Robert Mueller's team - investigating possible collusion between Trump associates and Russian operatives, and any efforts to obstruct a federal inquiry into such matters – has asked to question Corallo about his conversations with Hicks, the source told ABC News.
According to another source close to Corallo, he had a second phone conversation with Hicks the next day, July 9, placed through the White House switchboard, about the Trump Jr. emails and the Trump Tower meeting - this time with the president listening in.
During that second call, the source said, when Corallo expressed his concerns, Hicks said of the emails, "Only a few people have them. They will never get out."
According to the source, Corallo responded, "This is Washington. Everything gets out."
Corallo made contemporaneous notes of that conversation, the second source said.
Author Michael Wolff, in his book "Fire and Fury: Inside the Trump White House," writes "Corallo, seeing no good outcome…. believed the meeting on Air Force One represented a likely obstruction of justice."
The New York Times first reported that Corallo was prepared to tell Mueller's investigators about his conversations with Hicks.
A lawyer representing Hicks flatly denied the accounts.
"As most reporters know, it's not my practice to comment in response to questions from the media. But this warrants a response," attorney Robert Trout said in a statement. "She never said that. And the idea that Hope Hicks ever suggested that emails or other documents would be concealed or destroyed is completely false."
Corallo was unreachable for comment, and his lawyer, Victoria Toensing, said "Mr. Corallo is willing to cooperate with the special counsel."
ABC News' Katherine Faulders contributed to this report.