— -- When President Donald Trump fired FBI Director James Comey on Tuesday, the news was received with a considerable amount of shock across the political spectrum.
Trump, who has developed a reputation for speaking up loudly on a multitude of issues on the stump and on social media, has addressed his feelings about Comey a number of times, and those opinions have vacillated considerably.
Here's a look at what Trump has said about Comey, who was tasked with leading a complex investigation into whether Trump associates worked with Russia to influence the outcome of the 2016 presidential election: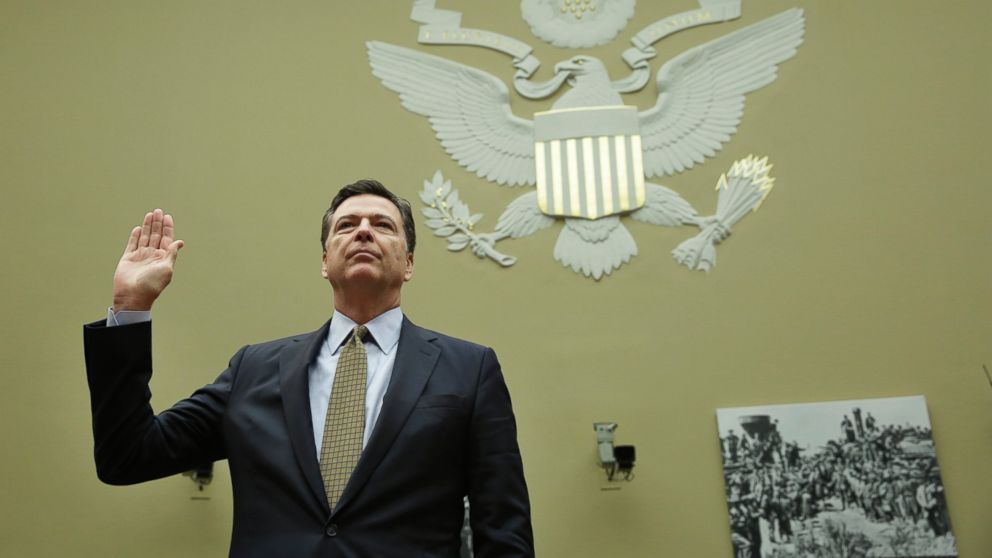 July 5, 2016
Amid what was rapidly shaping up to be a bruising general election campaign, Comey gave a briefing in which he announced that he did not recommend bringing charges against Hillary Clinton, the Democratic Party's nominee, over her use of a private email server as secretary of state.
The briefing helped make Comey a polarizing figure in the public eye, and his decision angered members of both parties.
Many Republicans wanted him to charge Clinton, and some Democrats believed that he criticized her too sharply by saying that she was "extremely careless" in her handling of classified material.
Trump responded by calling the FBI's decision evidence of a "rigged system," alleging that Clinton bribed then–Attorney General Loretta Lynch in order to get a favorable outcome.
"I'll tell you that we have a rigged system, folks," he said during a campaign rally in Raleigh, North Carolina.
Trump called the situation "a disgrace."
"So Hillary said today, at least according to what I saw on television, which you can't always believe — I actually found it hard to believe she'd said this, but she said today that we may consider the attorney general to go forward. That's like a bribe, isn't it? Isn't it sort of a bribe? I think it's a bribe," he said.
He went on, "I mean, the attorney general sitting there saying, 'You know, if I get Hillary off the hook, I'm going have four more years or eight more years, but if she loses, I'm out of a job.' It's a bribe! It's a disgrace!"
Trump tweeted, "FBI director said Crooked Hillary compromised our national security. No charges. Wow! #RiggedSystem."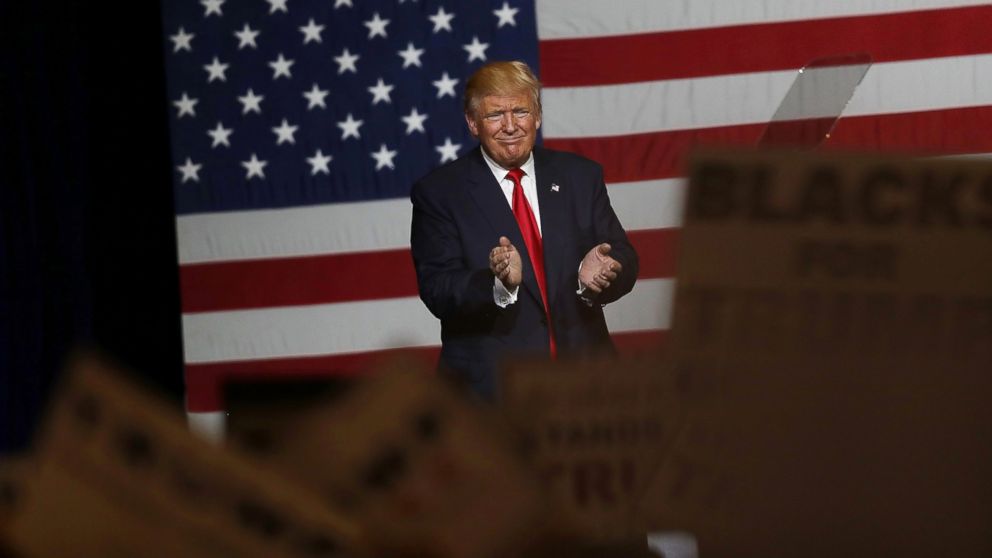 Oct. 13, 2016
Days after he came under intense scrutiny for comments he made during a 2005 "Access Hollywood" taping, in which he bragged about sexually assaulting women, Trump lashed out at Comey on the stump in an event in West Palm Beach, Florida.
"Hillary Clinton is guilty of all the things that Director Comey stated at his press conference and congressional hearings and far more. He stated many things, but it's far more, and he knows that. And yet, after reading all of these items, where she's so guilty, he let her off the hook," Trump said to the crowd.
Oct. 28, 2016
With Election Day drawing close, Comey sent a letter to Congress, telling members that he was reopening the investigation into Clinton's email practices, on the basis of new evidence, referring to the discovery of emails on a laptop used by Anthony Weiner, at the time the husband of top Clinton aide Huma Abedin.
Justice Department officials warned Comey against sending the letter, saying that the actions were inconsistent with departmental policy during elections.
Trump showed signs of softening his opinion on Comey after the letter was sent, telling a campaign rally in Lisbon, Maine, that he has "great respect for the FBI for righting this wrong."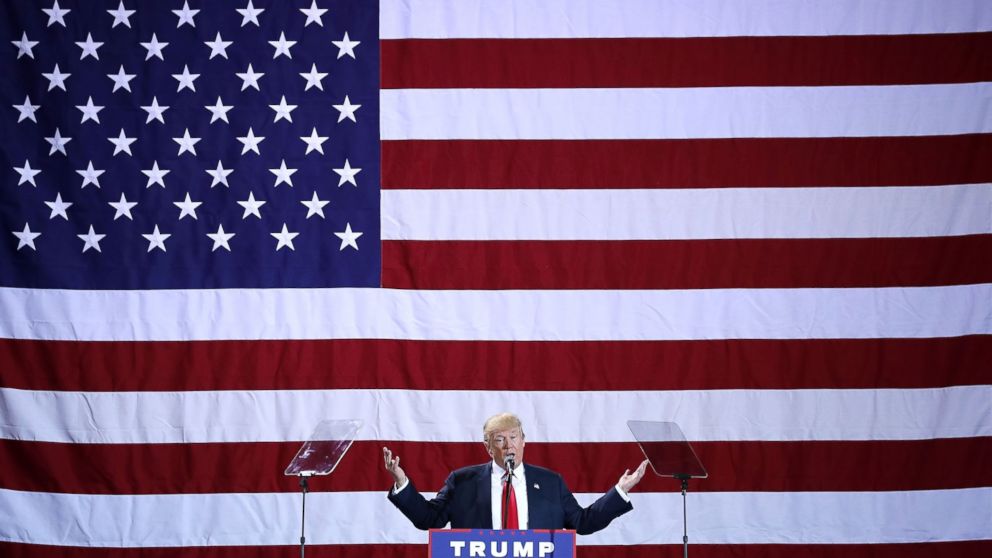 Oct. 30, 2016
Democrats reacted with outrage to Comey's letter and expressed concern that it could affect the outcome of the election.
Trump, who was down in national polls at the time, used the opportunity to call his opponents hypocrites.
"Hillary and the Dems loved and praised FBI Director Comey just a few days ago. Original evidence was overwhelming, should not have delayed!" Trump tweeted.
Oct. 31, 2016
Trump spoke in Michigan on Halloween, praising Comey for resurrecting the specter of Clinton's emails and saying he "did the right thing."
"And I have to give the FBI credit. That was so bad what happened originally. And it took guts for director to make the move that he made in light of the kind of opposition he had, where they're trying to protect her from criminal prosecution," Trump said to a crowd in Grand Rapids. "You know that. It took a lot of guts. I really disagreed with him. I was not his fan. But I'll tell you what, what he did, he brought back his reputation. He brought it back. He's got to hang tough, because there's a lot of people want him to do the wrong thing. What he did was the right thing."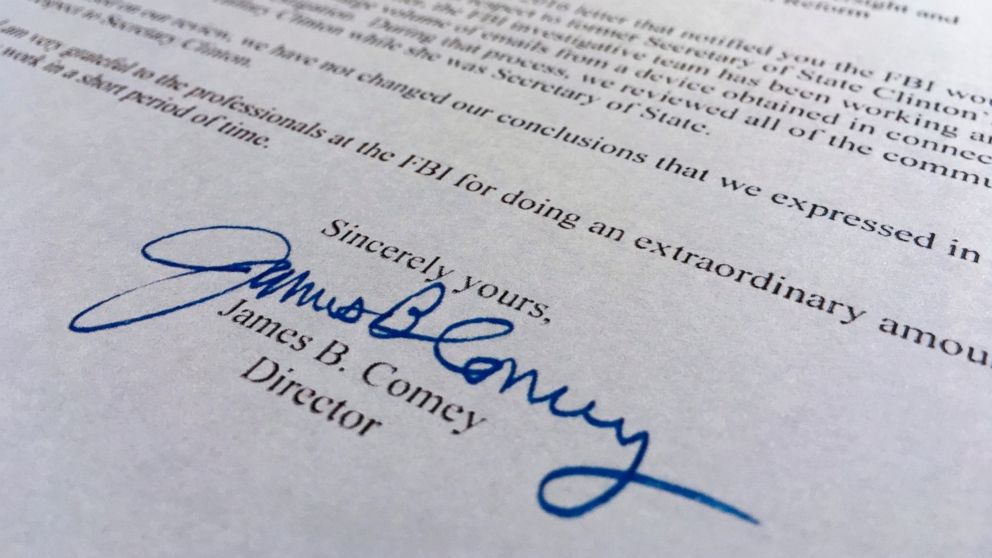 April 12, 2017
Trump spoke to the Fox Business Network, expressing confidence in Comey's ability to serve as director.
Responding to a question about whether it was too late to ask Comey to step down from his post, Trump said, "No, it's not too late, but, you know, I have confidence in him."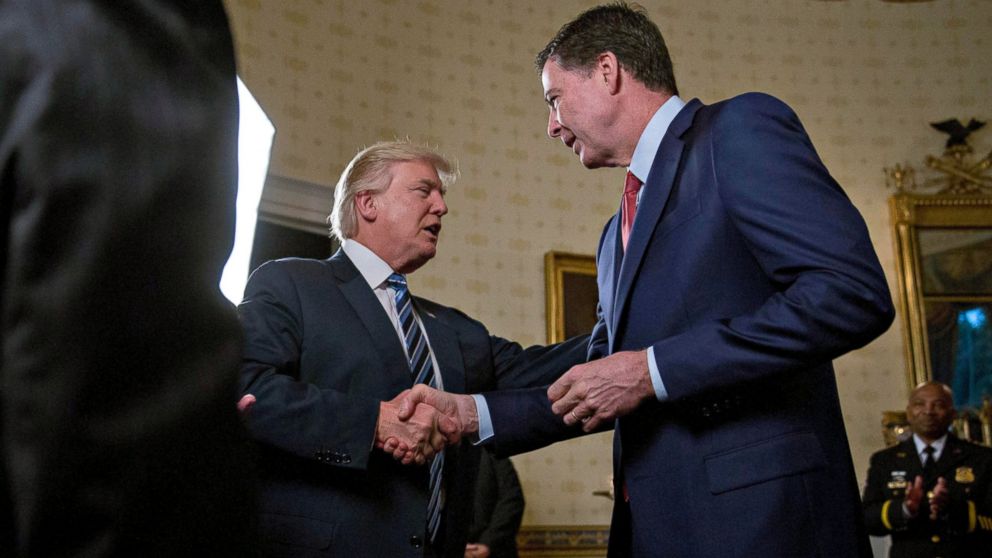 May 2, 2017
But less than a month later, before Comey's testimony for a Senate committee, Trump tweeted, "FBI Director Comey was the best thing that ever happened to Hillary Clinton in that he gave her a free pass for many bad deeds!"
May 9, 2017
Trump issued a letter firing Comey.
In it he said that Comey was "not able to effectively lead the bureau."