— -- Donald Trump and Barack Obama may be worlds apart on the political spectrum, but the turkeys the presidents pardoned couldn't be closer -- they're now neighbors in Virginia.
While it's unclear whether the four turkeys will have a bone to pick with each other or become birds of a feather, Drumstick and Wishbone, who were spared a trip to the dinner table this year, are joining Tater and Tot at Virginia Tech.
On Tuesday, just before he granted clemency to Drumstick, the National Thanksgiving Turkey, Trump quipped about overturning his predecessor's policies.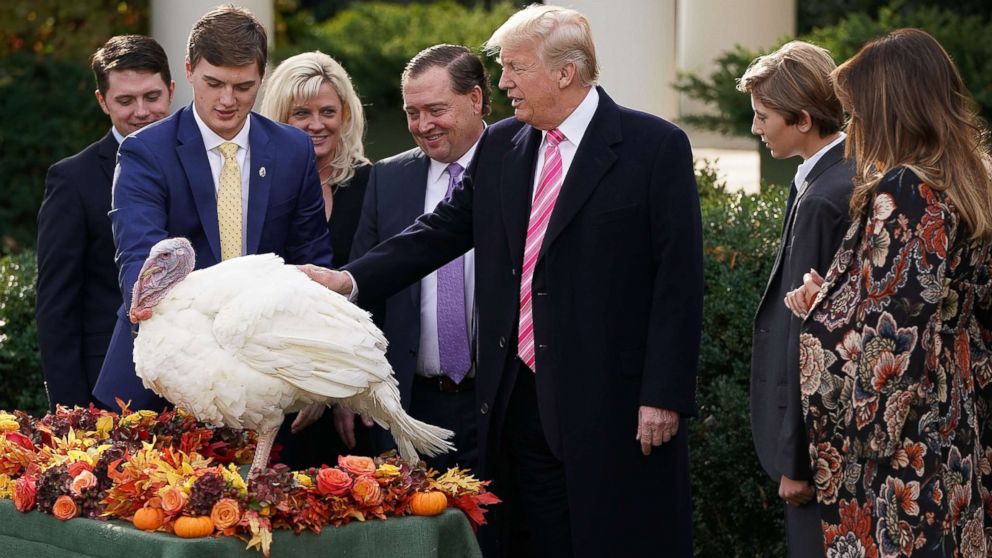 "As many of you know, I have been very active in overturning a number of executive actions by my predecessor. However, I have been informed by the White House Counsel's Office that Tater and Tot's pardons cannot under any circumstances be revoked, so I'm not going to revoke them," said Trump. "So, Tater and Tot, you can rest easy."
Both Drumstick and Wishbone, who lost the 2017 race for National Thanksgiving Turkey but was still spared from the oven, have moved into an enclosure called Gobbler's Rest at Virginia Tech in Blacksburg, where they will be cared for by the school's Department of Animal and Poultry Sciences.
Tater and Tot, who are already a year into their retirement at the university, are "hosting an open house" this weekend to welcome "the two newest members of Hokie Nation," Virginia Tech announced in a press release this week.
A Virginia Tech spokesperson told ABC News in 2016 that the school was excited to receive Tater and Tot, and that its College of Agriculture and Life Sciences is "world-renowned for its poultry department."