— -- The disarray in the Republican Party is unprecedented, experts say, and it is unclear how the party can — or ever will — reunify after the presidential election.
The discord in the party come as more GOP leaders broke with Donald Trump in the wake of the release of a 2005 recording in which he is overheard making lewd and vulgar comments about how he makes moves on women, which has damaged his already beleaguered campaign.
Ryan Williams, a Republican strategist and former aide to Mitt Romney who has not supported Trump, predicts that Trump will lose the presidential election and, "unfortunately, hurt several" down-ballot Republicans.
Beyond that, it's difficult to predict what will happen after Nov. 8, especially when it comes to Trump's next moves, Williams said.
"Who knows what he does? I think he's going to be mad like a wounded animal after the election, just looking for the next thing to go after," he added, noting that Trump will "still have sway over a certain amount of people who will believe anything he says."
"The fissures in the party will extend long beyond Election Day, and it's going to be extremely difficult to unite the Republican coalition, going forward," Williams said.
What's more, "an unprecedented level of disunity and chaos that's been brought on by Donald Trump's behavior" has left traditional Republicans scrambling to hold the party together and protect its Capitol Hill majorities.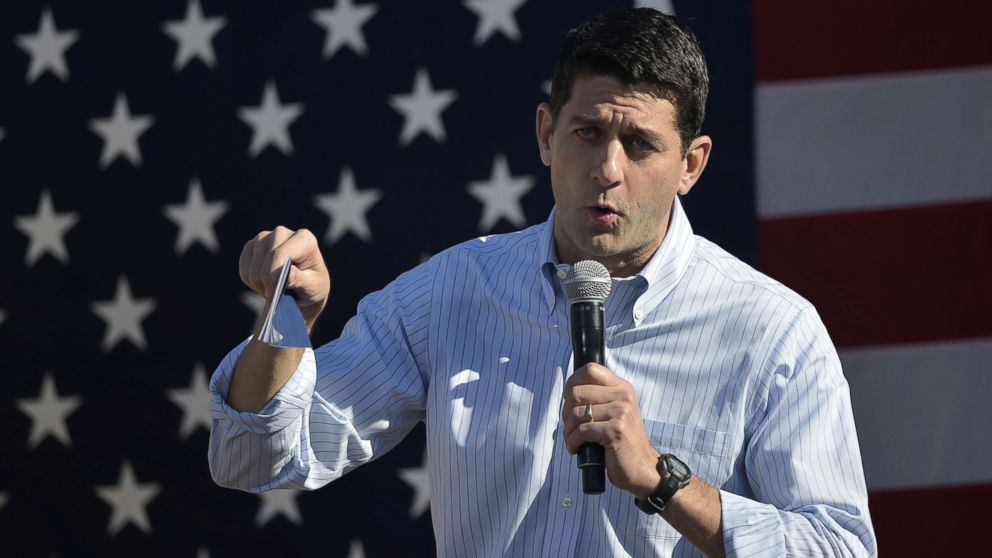 House Speaker Paul Ryan of Wisconsin has not revoked his endorsement of Trump, as other party members have, but he made it clear in a conference call to other House Republicans on Monday that he will not defend Trump's actions or campaign with him.
Trump has responded, slamming Ryan on Twitter.
John Hudak, a political scientist and senior fellow at the Brookings Institution, told ABC News it "is unbelievable" to see such disunity in a major political party, especially so close to Election Day.
"We're entering a phase right now where, at least for the Republican Party, it is going to be every man for himself and every woman for herself.
"The types of strength and organization and unity that we expect from parties, particularly in advance of presidential election — is being replaced right now by a party that is at its weakest as an institution," he said.
The move by Ryan is a tricky one, Hudak said, because he's "trying to gauge whether writing off the presidency is politically viable for him and for his members and for his party."
"Paul Ryan knows this is the right thing to do in theory, but in practice he knows if he loses the Trump die-hards, it's going to kill him down ballot, so he's trying to figure out how to thread that needle," Hudak said.
Trump's performance in Sunday night's town-hall-style debate added to an already complicated situation, two experts told ABC News.
"Trump has so many self-inflicted wounds, and the audio from 2005 may have been the last straw for some, but I think most conservatives would have been very pleased and somewhat surprised by how well Trump did in this debate," said James Campbell, a professor of political science at the University at Buffalo in New York and the author of "Polarized."
Aaron Kall, the director of debate at the University of Michigan, called Trump's performance Sunday "solid" but said that "may have been the worst possible outcome for the Republican Party."
"He's lived to fight another day and successfully fended off calls to exit the campaign but did nothing to attract the support of moderate and undecided voters that are needed for victory in the general election," Kall said.
"Trump has left down-ballot candidates in battleground states with an impossible dilemma."
Williams has a grimmer assessment, saying, "He essentially stopped the bleeding but had already lost several liters of blood, and his campaign is still in chaos."