Supporters of embattled WikiLeaks founder Julian Assange are expected to ask a U.S. district court judge Tuesday to unseal the mystery case against Assange that prosecutors mistakenly revealed recently in an unrelated criminal case in Virginia.
But in a line right out of a spy movie, the U.S. government on Monday said in a court filing that they won't even "confirm or deny" there is an Assange case at the courthouse in Alexandria, Virginia.
Court documents dated from August in a sex crimes case with no connection at all to Assange or WikiLeaks appeared to have been a cut and paste job gone awry -- a federal prosecutor using what was apparently an Assange-related document as a template failed to delete two references to Assange's last name in the unrelated case's motion to seal. Seamus Hughes, a terrorism researcher at George Washington University, discovered the error this month, which revealed that Assange appears to have "been charged" with a federal crime.
But whatever the case that involves Assange will remain a mystery unless a judge rules secrecy is no longer necessary.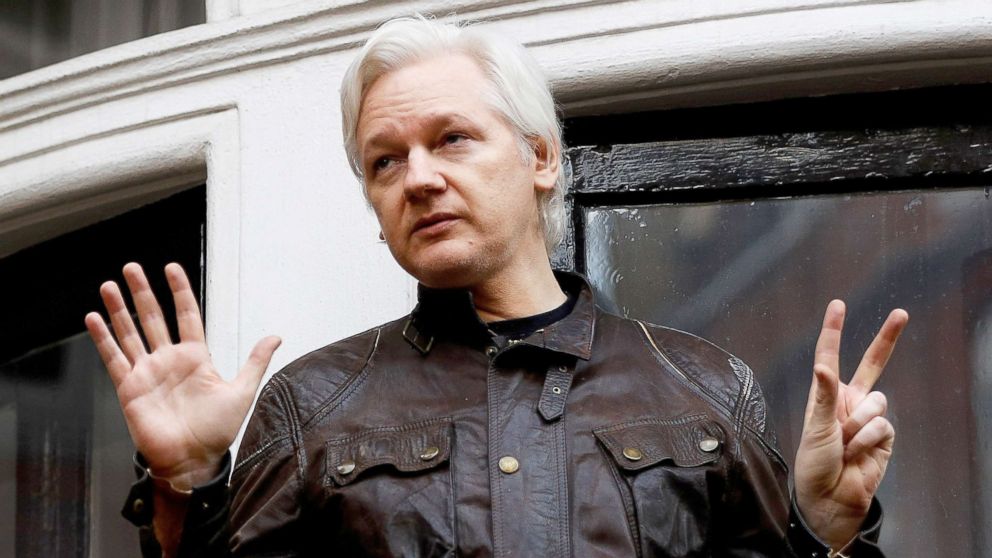 The government in court papers filed on Monday said the matter arose from an "unintentional error" by the prosecutor in the U.S. Attorney's Office for the Eastern District of Virginia and that it "accepts full responsibility" for the mistake. But the government in its filing in response to a watchdog group's civil lawsuit also said, "The First Amendment does not require the government to confirm or deny the existence of criminal charges in this case."
A Washington-based free speech advocate, The Reporters Committee for Freedom of the Press, last week requested a judge in the district unseal the U.S. government's apparent criminal charges against Assange.
In preparation for that hearing just outside Washington, Assange's lawyers attempted to visit him in the Ecuadorian Embassy in London over the weekend -- where he has been protected by political asylum since 2012 -- but they were denied entry, one of Assange's advisers in the U.K. told ABC News.
Assange was made a citizen of Ecuador earlier this year but a change in government in Quito has resulted in pressure against him by President Lenin Moreno's administration, who wants stronger U.S. ties. From March to October the world's most famous free speech asylee was denied visitors, phone calls and any internet access by the embassy, which installed spot cell jammers, WikiLeaks sources and a former top Ecuadorian diplomat have told ABC News. They blamed it on his tweets about the Salisbury nerve agent attack last spring but many sources said the Ecuadorian government is trying to force Assange out of their embassy.
The Reporters Committee Executive Director Bruce Brown wrote in a statement that "there's no longer any justification for keeping the criminal complaint, the docket, and other filings related to the prosecution sealed."
The Reporters Committee's request will be heard by Judge Leonie Brinkema in Alexandria on Tuesday morning. Brinkema has handled many high-profile espionage and terrorism cases.For years, Assange and his lieutenants have said they assumed there was a sealed criminal case against him in the U.S. for publishing leaked government secrets going back a decade.
The revelation of the mystery charge was accidentally included in documents filed in the unrelated sex crimes case when the government filed a motion to seal a criminal complaint in August. ABC News sources said a prosecutor erred by using a document related to Assange still under seal as a template for the case in Virginia, a case which had nothing to do with the WikiLeaks founder. Assange is not the defendant in the Virginia case in which his name mistakenly appeared.
In response to the Reporters Committee's motion to unseal charges against Assange, his attorney in Washington, Barry Pollack, last week told ABC News in a statement that the group "makes a compelling argument that the public has a right to know what the charges are now that the cat is three-quarters of the way out of the bag."
While arguing for the specific details of the ongoing unrelated case to remain sealed, the prosecution's motion to seal the complaint made mention of "Assange." Assistant U.S. Attorney Kellen Dwyer wrote that "no other procedure is likely to keep confidential the fact that Assange has been charged," referencing the WikiLeaks founder's last name again later in connection to possible evasion or avoidance of arrest and extradition in the matter.
Dwyer apparently failed to delete all references to Assange in the document about the unrelated case.
Sources close to WikiLeaks say the case may not be related to the probe by special counsel Robert Mueller into Russian interference in the 2016 U.S. presidential election but add that they do not know what the charges are for.
While U.S. officials have declined even anonymously to pull back the curtain on what Assange may have been charged with in Virginia -- where the CIA is headquartered, and where the agency's hacker files were stolen from and later published in 2017 by WikiLeaks as "Vault 7" -- one official told ABC News any charges against Assange are unlikely to be for activities defensible as journalism.
"It is inexplicable that the government would file in a public document a claim that Mr. Assange has been charged when no notice has been given to Mr. Assange. The government should not be bringing criminal charges against someone for publishing truthful information," Pollack told ABC News in a statement on Nov. 15.
The U.S. government has been investigating WikiLeaks for publishing military secrets and sensitive diplomatic cables since at least 2010.
In March, the Ecuadorian Embassy in London, which has been housing Assange since 2012, cut off the embattled asylee's communications after he tweeted about Britain's accusation that Russia was behind the Salisbury nerve agent attack against a Russian ex-spy. But now officials appear to be offering to return his devices and permit visitors if he agrees to refrain from engaging in "any activities that could be considered as political or interfering with other nations' affairs."
The new protocols highlight what an increasingly unwelcomed guest Assange has become. His legal team says Ecuador's president wants political cover for eventually stripping Assange, whom Moreno calls a "hacker," of his Ecuadorian citizenship and asylum.
If Assange were to be expelled from the embassy, he could face immediate arrest by British police on an active warrant for "failure to appear" in court while out on bail in London, which is related to a now-closed rape inquiry in Sweden from more than six years ago.
That arrest could pave the way for his potential extradition to the United States.