Vice President Mike Pence makes surprise trip to troops in Afghanistan in first trip to a war zone
It's his first visit since taking office to U.S. troops serving in a war zone
December 21, 2017, 4:24 PM
— -- Vice President Mike Pence has landed in Afghanistan in a surprise trip to the troops before the holidays and his first visit since taking office to American troops serving in a war zone.
After landing at Bagram Airfield around 7.15 p.m local time, Pence met and shook hands with Afghanistan Ambassador John Bass and Gen. John W Nicholson, according to a press pool report. The other greeters included Command Sgt. Maj. David Clark, Maj. Gen. Leopoldo Quintas, among others.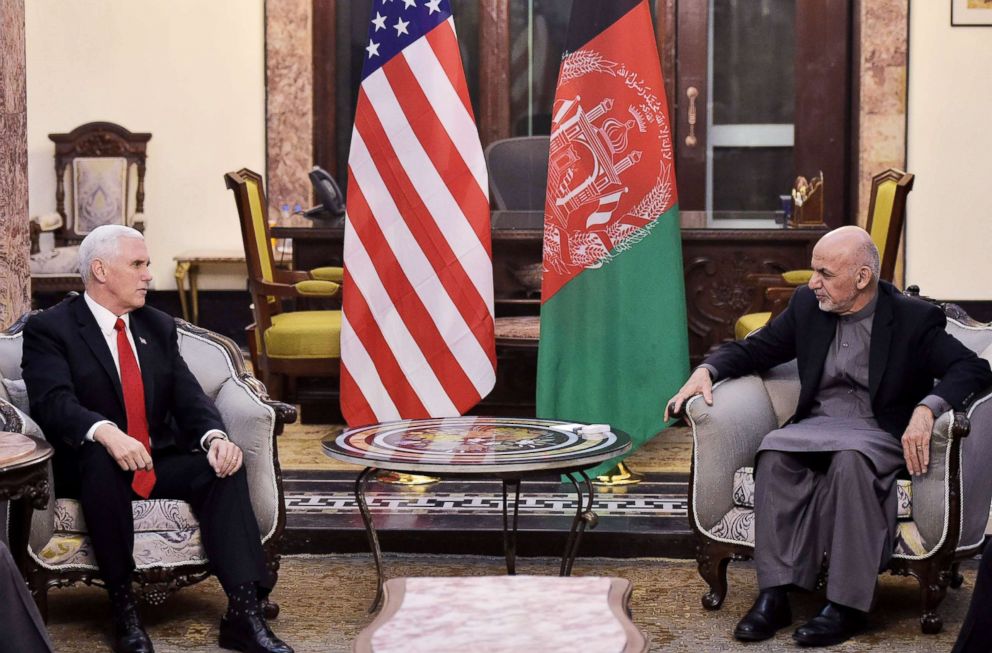 The visit comes just days after the vice president's office announced the postponement of a trip to Israel and Egypt after President Donald Trump's controversial decision to recognize Jerusalem as the official capital of Israel caused friction with some allies in the region. Pence's office cited this week's vote on tax reform as reasoning for him staying in Washington, and said he would instead make the visit in January.
The vice president is meeting with service members and receive a briefing on the U.S. support for military operations in Afghanistan/Iraq.
Pence then traveled to the presidential palace where President Ashraf Ghani and Afghanistan's CEO Dr. Abdullah Abdullah met him on a red carpet, according to the pool note.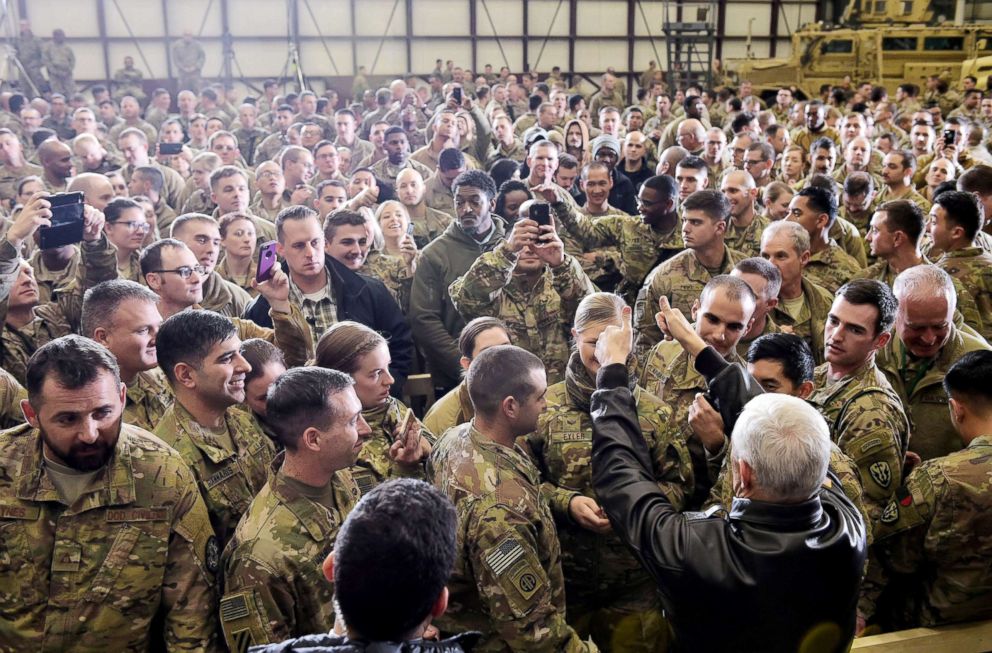 "It's a great honor for me to extend greetings on behalf of President Trump and have the opportunity to express our gratitude for the ongoing partnership, for security and prosperity here in Afghanistan," Pence said as the group met for a bilateral meeting, according to a press pool report. "Thank you for your strong expressions of support for President Trump's South Asian Strategy."
Pence later addressed several hundred troops and thanked them for their service.
"The Old Book says that if you owe debts, pay debts; if honor, then honor; if respect, then respect. And I'm here on behalf of your Commander-in-Chief and all of the American people to pay a debt of honor and respect and gratitude to each and every one of you for your service and your sacrifice. Give yourselves a round of applause," Pence said. "We couldn't be more proud of every one of you."
Pentagon personnel records show there are about 15,000 U.S. military personnel currently serving in Afghanistan. President Trump in August announced his administration's strategy moving forward in Afghanistan, saying conditions on the ground would determine the future of US involvement.
Vice President Pence and his wife Second lady Karen Pence similarly spent their Thanksgiving holiday with troops at Naval Air Station Meridian in Mississippi, where their son, Michael, is undergoing training to be a Marine aviator.