As the war of words heats up between the White House and former Vice President Dick Cheney, pundits on both sides of the political aisle point fingers at the Obama and Bush administrations for doing too little in the war in Afghanistan.
"When it comes to Afghanistan, this is an issue where the Bush administration got it wrong," James Rubin, a former State Department official for the Clinton administration, said on "Good Morning America" today.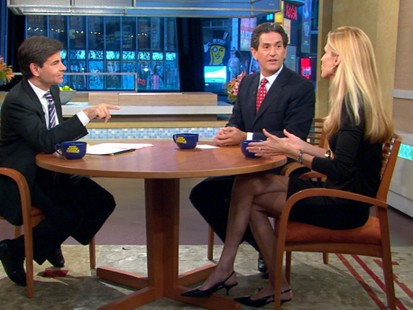 "For seven years, they dithered, they wouldn't make the hard decision to finish the success they had in the first couple of months," he said. "The Obama administration is having to live with that mess. ... We really should focus on the fact that this is a Bush administration error."
Cheney has criticized President Obama for not immediately filling a request by Gen. Stanley McChrystal, the lead U.S. commander on the ground in Afghanistan, for 40,000 additional troops. Critics of the previous administration say that former President George W. Bush himself let the request for 30,000 additional troops sit on his desk for nearly eight months and instead chose to focus more closely on the war in Iraq.
But supporters of Bush's decision to focus on the war in Iraq say it was a strategic move, and that even though he faced a much tougher battlefield in Afghanistan, he was still able to take Kabul within weeks.
"I think it was a good idea to have the world and the terrorists focus on Iraq and have them streaming into Iraq because that was good for us. We have strong air power there," conservative commentator Ann Coulter said on "GMA." "I think more of what was happening was they were choosing the battlefield and the battlefield they chose was Iraq, which is very good strategically, militarily for the United States military."
"This guy, Obama, the president -- his whole focus during the campaign was Afghanistan is the war of necessity and now he has guys like Hamlet. He has a timeline on the timeline."
McChrystal has said the United States will need more troops for the operation to be successful. But Obama has yet to make a final decision on whether more troops should be sent.
The country will hold a runoff election next month, as Afghan President Hamid Karzai accepted results that he fell short of the number of votes needed to declare victory.
Meanwhile, back in the United States, there are deep divisions about what the president should do in Afghanistan and Pakistan.
Cheney -- once famous for his aversion to the media -- took a swipe at Obama's strategy in Afghanistan in a speech Wednesday at the Center for Security Policy, a Washington, D.C., think tank.
The former vice president said Obama "seems afraid to make a decision" on troops in Afghanistan, and that "the White House must stop dithering while America's armed forces are in danger."
The White House pushed back strongly against the remark, with Press Secretary Robert Gibbs calling Cheney's comment "curious," given that "the vice president was for seven years not focused on Afghanistan. Even more curious given the fact that an increase in troops sat on desks in this White House, including the vice president's, for more than eight months, a resource request filled by President Obama in March."
"What Vice President Cheney calls 'dithering,'President Obama calls his solemn responsibility to the men and women in uniform and to the American public. I think we've all seen what happens when somebody doesn't take that responsibility seriously," Gibbs said Thursday.
White House vs. Cheney: War of Words
Rubin sided with the Obama administration, saying the Bush administration failed to adequately stock the troops in Afghanistan and made a strategic blunder by shifting the focus from that region to Iraq. The former Clinton-era official said Cheney's remarks were "undignified."
"The vice president is like one of those bullies who has graduated from school but can't help but get back into the schoolyard and yelling taunts at those in the game," Rubin told "GMA's" George Stephanopoulos. "For seven years ... they avoided the subject. ... They've almost lost Afghanistan for us after eight years and now this is a subject they really shouldn't be talking about."
But Coulter said it's "crazy" to think that Bush didn't make progress in Afghanistan and that Obama is taking too much time to make a decision about whether to send more troops.
"Wars change, as we discovered in Iraq, you do need a surge," she said. "It isn't cleaning up Bush's mess, in fact it's the contrary. He [Obama] is living off the legacy of Bush's success in the war on terrorism."
"I do not think he's putting the fear of God in the savages," she added.
This is not the first war of words between the Obama White House and the former vice president, who has emerged as a leading critic of the Obama administration and a staunch defender of his own administration's policies.
Cheney assailed the administration two months ago for its decision to appoint a prosecutor to review whether CIA workers violated U.S. torture laws in their interrogation of detainees.
The former vice president even took the unusual step of seeking to de-classify memos that he said would validate his argument that controversial interrogation techniques, in many cases, helped yield valuable information.
Cheney has also criticized the administration for its initial decision to release photos showing detainee abuse in Iraq and Afghanistan, saying the move would make the country less safe.
And, in May, both Cheney and Obama delivered dueling speeches on national security.
During his tenure as vice president, Cheney was rarely in the media spotlight and his high visibility in the past several months comes as a surprise, especially when many other Bush-era officials, including the former president himself, have shied away from publicity.
Cheney is not the only person with whom the White House is locked in a verbal battle. The administration has also lashed out against Fox News, with some officials saying it's not really a news organization but rather a platform for the president's critics.