It was a summit of the super chefs this week.
Celebrity chefs Mario Batali and Emeril LaGasse squared off against fellow celebrity chef Bobby Flay, and the top woman in the White House kitchen, Cris Comerford, on national television.
Comerford, the White House executive chef, was a guest on the popular Food Network showdown, "Iron Chef." First lady Michelle Obama was also featured on the program, introducing the secret ingredient—what would be the featured ingredient in the dishes the chefs created for a panel of judges. That ingredient: anything from the White House garden.
Click here for a few of the recipes used on the program.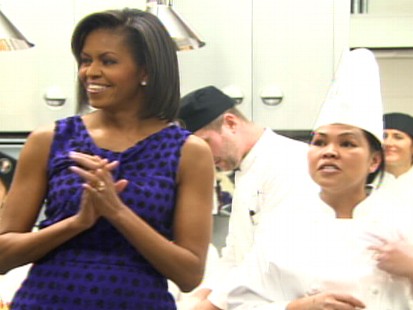 The White House garden was planted last spring with the help of local elementary school children at a cost of $200. It has since produced more than 1,000 pounds of produce and honey.
"At first I thought we'd be able to find like two or three things," said Chef Bobby Flay. "But in fact, you had tomatoes, tomatillos and cauliflower and cabbage, and it kind of went on and on."
The competition on "Iron Chef" is fast and fierce. As team Flay/Comerford soon found out, it was also sneaky. Opposing chefs Batalli and LaGasse secretly hoarded the cauliflower, snatching it up before the other team could get their hands on any.
Pressing on without the cauliflower, Comerford used Asian ingredients like lemongrass in her broccoli soup, while Batalli pulled out his secret ingredient: sweet potatoes for a ravioli filling. Southwest cooking King Flay whipped up collard green tamales while LaGasse managed to sneak carrots into New Orleans donuts.
"The ingredients tasted so good," Flay said. "It's amazing when you are able to pick something and then utilize it in the next few hours. How incredibly delicious it is."
The competition was all for fun, but the Flay/Comerford ticket managed to pull out a victory. In the end, the team said they hoped to inspire ordinary Americans to do more to their backyard gardens.
"I think it's really inspiring to all America to cook something fresh," Comerford said after the victory. "Our hope is there would be recipes in there that people who are non-vegetable lovers would eventually like. Even with just one vegetable at a time, we can make a difference."