Some are calling it a foul by the first lady -- and the White House is playing pickup.
A spokesperson for Jill Biden on Tuesday walked back her suggestion that the losing team of the NCAA women's basketball championship, the University of Iowa Hawkeyes, be allowed to join the winning Louisiana State University Tigers for their upcoming victory celebration at the White House.
"The First Lady loved watching the NCAA women's basketball championship game alongside young student athletes and admires how far women have advanced in sports since the passing of Title IX," tweeted Vanessa Valdivia, press secretary to the first lady.
"Her comments in Colorado were intended to applaud the historic game and all women athletes. She looks forward to celebrating the LSU Tigers on their championship win at the White House," Valdivia wrote.
After Biden attended the championship game in Dallas on Sunday, witnessing LSU's 102-85 win from the stands, she made the now-viral dual-invitation comment at an unrelated event at the Colorado State Capitol in Denver on Monday.
"I know we'll have the champions come to the White House. We always do. So we hope LSU will come," she said, according to The Associated Press. "But, you know, I'm going to tell Joe I think Iowa should come too, because they played such a good game."
The Biden administration has welcomed a host of sports champions to the White House -- but never a runner-up team.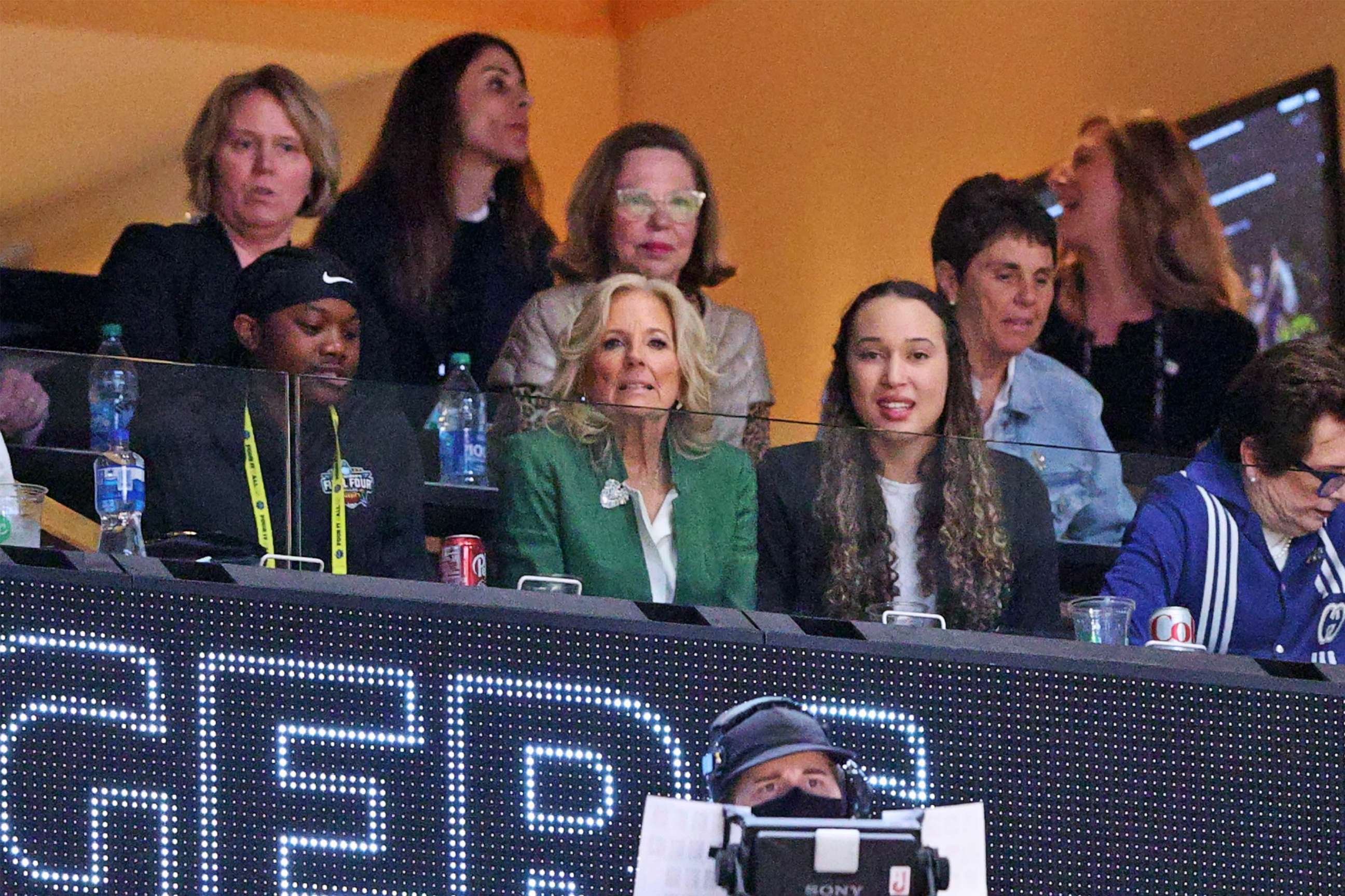 Angel Reese, a sophomore on the LSU basketball team who was just awarded the Final Four Most Outstanding Player, included three crying laughing emojis when, over Twitter on Monday, she called the idea "A JOKE."
Some suggested the first lady's offer to invite both teams could appear insulting, regardless of how it was intended.
"No Ma'am! When Black women win a national championship, they should not be forced to share the stage with the losing team," tweeted Keith Boykin, a White House aide in the Clinton administration. "Black women are the most loyal constituency of the Democratic Party. The White House needs to walk this back as soon as possible."
This year's NCAA women's final was the most watched ever, with nearly 10 million viewers, according to ESPN. It's also generated plenty of discussion among viewers.
After Reese made gestures during the game at Iowa's top player, Caitlin Clark, even after it was clear her team would win, some questioned her sportsmanship on social media, sparking discussions about race and double standards. Reese, a Black woman, faced much more criticism than Clark, a white woman, even though Clark appeared to make similar gestures to Reese's in another tournament game.
Others criticized the discussion altogether.
"We just can't seem to keep the pastime of cultural polarization from seeping into yet another sporting event," sports columnist Candace Buckner wrote in an op-ed for The Washington Post. "Rather than the beauty of the basketball, which had been elevated by the personality and physical strength of a new generation, fans latched on to the spiciest and, at the same time, the least savory element: two all-Americans and the Black-and-White backdrop of America."
Sports reporter Holly Rowe, who was on the sidelines at the NCAA championship game, shared her perspective Monday on "The Dan Patrick Show."
"I'm really frustrated by this. This is such a distraction," Rowe said. "The backstory is Caitlin did this in their last round. Now she didn't do it in someone's face. She did the John Cena 'you can't see me,' and everyone thought it was hilarious. John Cena tweeted at her. Angel's was a little more in Caitlin's face, I get that, but why were older men so offended by this?"
"I have no problem with these young women talking trash to each other. That's sports for the end of time," Rowe said, emphasizing she wishes it wouldn't detract from Reese's athletic achievements and skill. "Angel Reese won this national championship by sheer will and force and skill. That's what I want us to be talking about."
Rep. Troy Carter, D-La., said "an invitation to the Iowa team would be at the expense of our Louisiana athletes."
"I know the First Lady meant no harm by commenting that the University of Iowa should also be invited to the White House, but her remark was an unintentional slight to the ladies of LSU and the citizens of Louisiana," Carter said in a statement late Monday. "I am respectfully requesting that these Louisiana champions enjoy the winner's circle alone."
President Joe Biden tweeted later on Tuesday that he looks forward to welcoming LSU to the White House -- with no mention of Iowa.
ABC News' Sarah Kolinovsky and John Parkinson contributed to this report.