Golden State Warriors return to White House as NBA champs after avoiding Trump
Draymond Green told ABC News that the trip was an "incredible honor."
The Golden State Warriors returned to the White House as national champions on Tuesday -- their first trip back since Barack Obama's presidency, despite winning two championships while former President Donald Trump was in office.
The Warriors defeated the Boston Celtics during the 2022 NBA finals, claiming their fourth championship in the last eight seasons.
"I know the team we're honoring today understands what it takes to work together. Let me just say that the Golden State Warriors are always welcome in this White House," President Joe Biden said Tuesday in the East Room while welcoming the team and referencing their past conflicts with Trump.
Following their 2017 victory, the Warriors didn't make the trip to Washington after Trump withdrew the customary White House invitation when Stephen Curry, one of the team's stars, indicated he would vote against going.
In 2018, before the Warriors swept the Cleveland Cavaliers to become champions once again, Trump said he wouldn't invite either team, though the Cavaliers' LeBron James and Curry both said their teams weren't interested in attending.
The Warriors started their visit to Washington this week by defeating the Washington Wizards, 127-118, on Martin Luther King Jr. Day, which Biden noted on Tuesday. The president also acknowledged the advocacy work that the Warriors do off the court.
"Look at what this team does: speaking out against racism, standing up for equality. I mean speaking out loudly against racism. Standing up for equality, encouraging people to vote, empowering children and their families to eat healthy, learn and play in safe places, rallying the country against gun violence," he said.
Curry expressed his gratitude to the president for hosting his team and presented Biden and Vice President Kamala Harris with their own Warriors jerseys.
"We are a team, we do it together. And to be able to celebrate our championship together with you here, it means a lot," Curry said.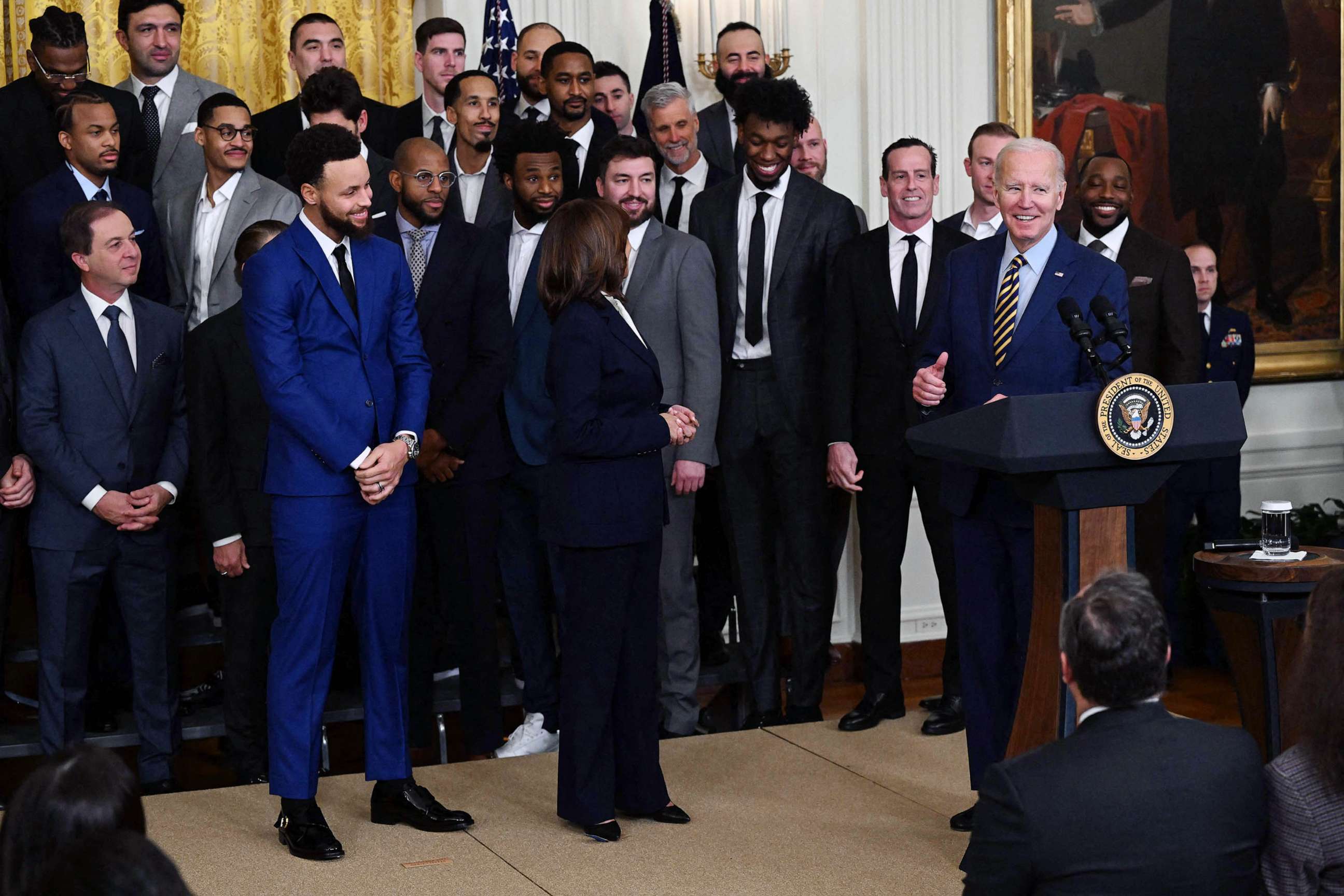 Before the East Room ceremony, Curry and Warriors' head coach Steve Kerr dropped by the White House briefing room, which was packed with reporters.
Curry spoke about the "opportunity to reflect on the accomplishment last year, to bring everybody together to celebrate that." He also said he wanted to acknowledge how sport brings "people together from all walks of life, all backgrounds, to provide aspiration, hope, love, togetherness."
"That's what our journey was last year," he said.
He also thanked the Biden administration for their work to free WNBA star Brittney Griner, who had been held in Russia.
"[It] means a lot to notice she's here and home safe for the family and all the work that went on behind the scenes to make that a reality," Curry said.
Kerr said he participated in a roundtable on gun violence and gun safety along with senior White House staffers and Warriors Klay Thompson and Moses Moody.
"We learned a lot about what this administration is doing to help create a safer environment in our country, something that's very close to my heart. And it's wonderful for me to learn a lot more than I knew. So coming in today -- it's a great day on many fronts," Kerr said.
The East Room ceremony was attended by players' families, Bay Area music legends like E-40 and members of California's congressional delegation.
"Dub Nation is in the house!" exclaimed the vice president, a Bay Area native, as she introduced the Warriors to the White House once again.
Speaking with reporters after the ceremony, the players said Tuesday's visit was "majestic."
"I've been here now four times in total and every time it's just majestic. It kind of grounds you a little bit more in the values of what drives you on a daily basis in your kind of places," Curry said.
Draymond Green told ABC News that the trip was an "incredible honor."
"As a kid growing up in Saginaw, Michigan, you only dream of seeing the White House, let alone have an opportunity to attend or be celebrated. And so for us to have this opportunity is absolutely incredible," he said.
Green said there just be might a future White House occupant in their ranks, too.
"I thought Steph's speech was incredible. And Steph -- I think Steph could one day run for president of the United States. What better person? Smart, he's put together, he doesn't really make mistakes. Like, why not?" Green said.
He had his sights set on another position, he joked.
"President Draymond? I don't know if anybody in this country want me as the president. Secretary of defense though," he said to laughs.