— -- The White House would currently be better described as "The Haunted House."
On Friday, the exterior of the first family's residence began to be decorated with fake spider webs in anticipation of Monday's arrival on the South Lawn of trick-or-treaters from 20 schools from Maryland, Virginia and the District of Columbia. Military families and community organization will also take part in the event.
"During this event, trick-or-treaters will enjoy seeing the South Portico decorated in spider webs, creating a festive look and feel," according to a press release from first lady Melania Trump's office. "There will also be bats and orange pumpkins with profiles of past presidents. Fog will fill the air, and the trees and south facade will be lit with different colors throughout the night."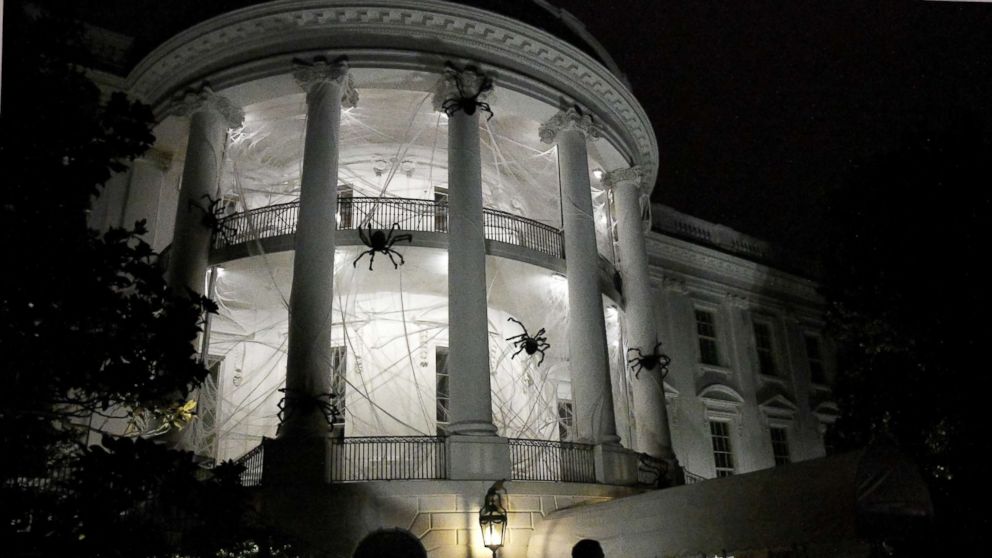 The release from the first lady's office continued, "The president and first lady will hand out cookies created by the White House Pastry Kitchen, as well as Presidential M&M's and other candies. Various departments and agencies such as the United States Secret Service, National Aeronautics and Space Administration, Federal Emergency Management Agency, National Park Service, and the Department of Education will also be on hand to give out various items and participate in the festivities."
Melania Trump posted a photo to her social media accounts, from inside the White House looking out, showing a spider web-covered window, writing, "The People's House @WhiteHouse is ready to celebrate #Halloween2017."
Stephanie Grisham, the first lady's director of communications, tweeted on Friday a photo of workers installing the decorations on the White House, writing, "The @WhiteHouse is getting ready for #Halloween2017 trick-or-treaters!"
ABC News' Arlette Saenz contributed to this report.