Trump wishes ex-staffer accused of domestic abuse 'well'
"It's obviously a tough time for him," Trump said on Friday.
February 9, 2018, 1:58 PM
— -- After a top White House aide resigned this week amid multiple allegations of domestic violence from two ex-wives, President Donald Trump wished his former White House staff secretary Rob Porter well and said his denials need to be taken into account.
"He says he's innocent, and I think you have to remember that. He said very strongly yesterday that he's innocent, so you'll have to talk to him about that," the president said in the Oval Office on Friday.
Trump said that he was "surprised" and "very sad" to learn about the allegations but that he wants to "absolutely wish him well".
"It's obviously a tough time for him, he did a very good job when he was in the White House and we hope he has a wonderful career, and hopefully he will have a great career ahead of him," Trump said.
Trump made no mention of the women — Porter's ex-wives — whose abuse claims range from choking to shaking violently to punching in the face. The omission drew criticism from former Vice President Joe Biden, an often outspoken on domestic violence and sexual assault issues.
"Over this past week, we have just seen abusers of the highest ranks within the Oval Office," Biden said at a speech in Indianapolis on Friday. "I just read before I walked on stage, the statement from the president saying he wishes him luck. He has so much talent. That's like saying that axe murderer out there, he's a great painter."
Trump's comments also come in the wake of revelations that senior members of Trump's administration knew for months that there was a personal issue haunting Porter, multiple sources told ABC News — raising questions among staffers about why he was allowed to continue in such a prominent role in the West Wing.
Porter, a top White House aide who has served since the start of the administration, resigned abruptly Wednesday in the wake of multiple allegations of domestic abuse by his two ex-wives, a story first reported by The Daily Mail and confirmed by ABC News.
The White House announced Friday that Derek Lyons will serve as acting White House Staff secretary. He had been serving as deputy assistant to the president and deputy White House staff secretary.
While senior White House staff were aware for months of the domestic abuse allegations by Porter's ex-wives, they were not aware of the full extent of those allegations, senior administration officials told ABC News.
Even as news of the scandal broke, White House officials initially defended Porter, with Chief of Staff John Kelly calling him a "man of true integrity and honor."
On Thursday, Deputy Press Secretary Raj Shah sought to clear up some outstanding questions about Porter's security clearance, saying that he was operating under an interim clearance — and while he was never granted a permanent clearance, he was never actually denied a clearance.
Shah also said that Porter is no longer working at the White House and that his last day was Wednesday. Porter came to the White House earlier in the day to clear out his personal items, Shah said.
The president - Shah said - did not know that Porter was operating under a temporary clearance during his time at the White House and said the president was "saddened" by the news and for all the individuals involved.
That account of Porter's final hours at the White House differs from the one given just one day earlier when, following his resignation, and as pictures of Porter's first wife with a black eye circulated online, Press Secretary Sarah Huckabee Sanders told reporters that Porter was not forced out and his departure would not be immediate.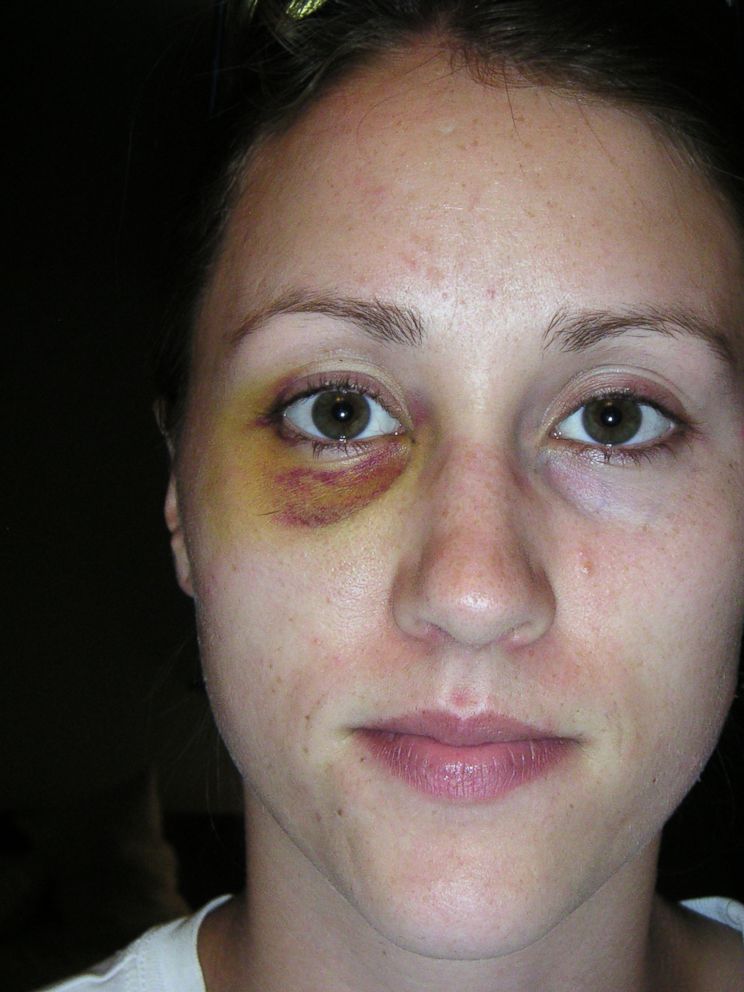 "I think that was a personal decision that Rob made and one that he was not pressured to do but one that he made on his own," Sanders said.
Porter denounced the accusations as a "coordinated smear campaign" and released a statement, saying "These outrageous allegations are simply false. I took the photos ... and the reality behind them is nowhere close to what is being described. I have been transparent and truthful about these vile claims."
In two separate media accounts, Colbie Holderness and Jennie Willoughby painted a dark and disturbing picture of Staff Secretary Rob Porter, describing multiple instances emotional abuse and physical violence.
Holderness, Porter's first wife, told The Intercept that Porter "would lay on top of me shaking me... He graduated to choking me, not ever hard enough to make me pass out, or frankly to leave marks, but it was frightening and dehumanizing."
She also released a series of photos, showing her with a black eye and a bruised cheekbone after she claimed Porter punched her in the face more than a decade ago.
Holderness also told ABC News that another woman contacted her in late 2016, sharing her own story of "repeated abuse" at Porter's hands. Holderness said that woman told her that "He [Porter] can go from being the sweetest kindest person to a complete abusive monster in minutes." Holderness says the third woman continued, saying, "It is unbelievably hard to watch him continue to rise and ascend in politics while everyone around me thinks he's just this wonderful guy."
Holderness said the subject of Porter's alleged domestic violence came up again when the FBI interviewed her in mid to late January 2017 as part of their background check for Porter's security clearance.
"During the course of answering those questions I did share with him my experience of … Rob… the verbal, physical and emotional abuse, and my conversations with (the third woman)… and I did confirm to them without naming her … Rob's background and potential misdeeds."
When asked if Porter could be blackmailed, Holderness told the FBI she didn't think so based on her own relationship with him. She also directed the FBI to the third woman who she thought might be able to offer more information.
"Ultimately, I turned over my conversations with (the third woman), on Facebook, to them – along with the photos… and other than acknowledging receipt of those photos, I didn't hear anything further [from the FBI]," Holderness told ABC News.
ABC News has confirmed the existence of the third woman Holderness referenced and has reach out.
Holderness said the same agent reached out to her again on Sept. 25 and she told him she didn't have any further information.
"After the FBI interview, I was hopeful that he would not be given security clearance and would not be given his job"
The FBI does the investigations for such security clearances and then the information is passed on to the Office of Personnel Management for further review.
The FBI declined to comment on the matter.
Porter has not publicly commented on the latest allegations.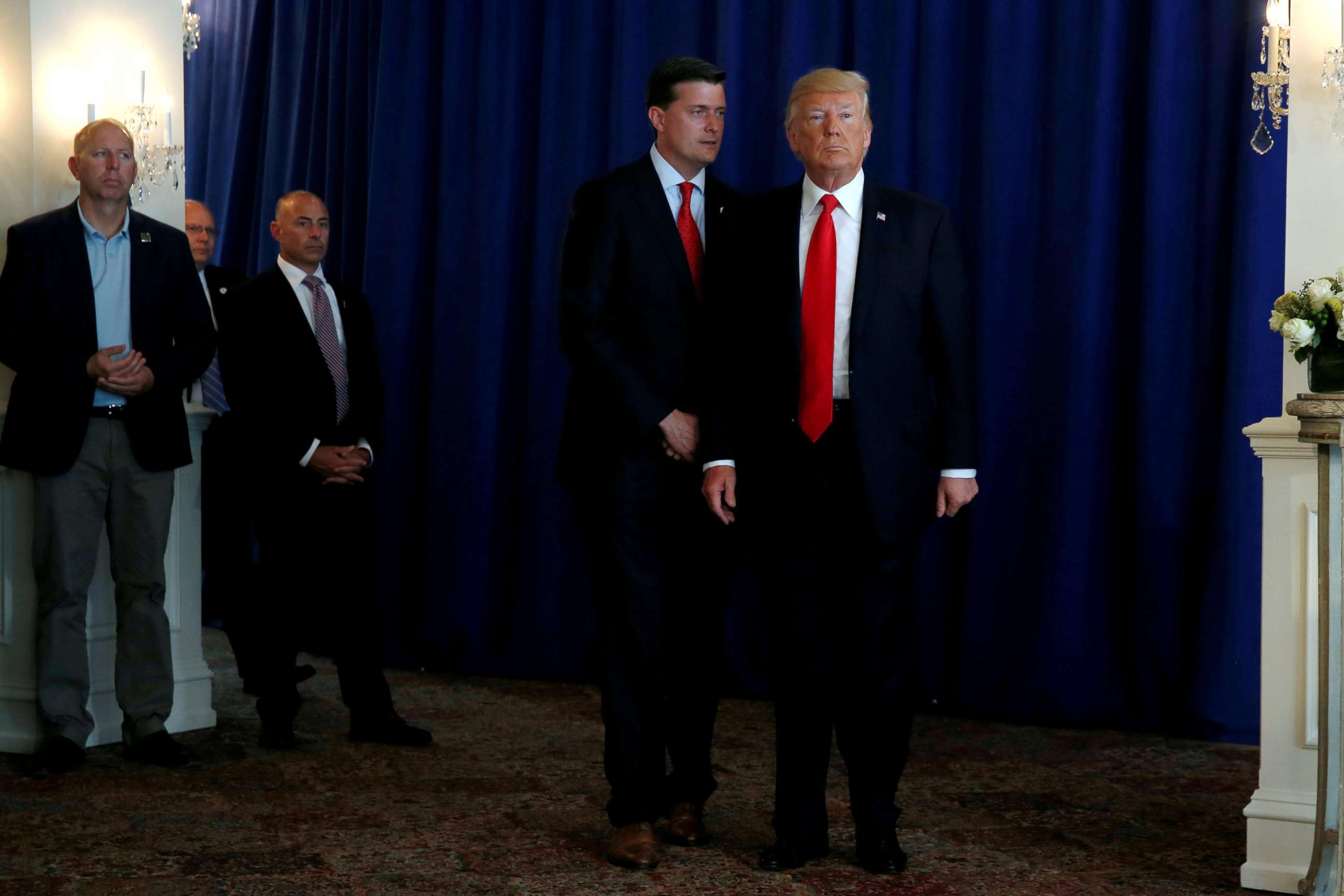 Willoughby, Porter's second wife, told ABC News she wrote a blog post about her marriage to Porter in 2017, in which she claimed "just after our one year anniversary, he pulled me, naked and dripping, from the shower to yell at me."
She also filed for an emergency protective order against Porter, stemming from a June 2010 incident in which, according to a criminal complaint reviewed by ABC News, she alleges that Porter refused to leave her apartment — where she was living during their separation.
"He punched in the glass on the door. I called the police, afraid he would break-in. He came to the door asking me to let him in to take him to get medical attention. When he heard me on the phone with the police, he apologized and begged me not to involve them. When he heard me give my name and address to the 9-1-1 dispatcher, he drove off," Willoughby said in her complaint.
In an interview with CNN on Thursday night, Willoughby said she doesn't think Porter is a "monster," but said he was "flawed" and had anger issues.
Willoughby also said she's spoken to Porter "a lot" in the past two weeks and that he "had asked me multiple times to take down my Instagram post."
Porter frequently traveled with the president, worked closely with Chief of Staff Kelly to manage the flow of information to the President Trump's desk and played a key role in writing the State of the Union address that President Trump delivered last week.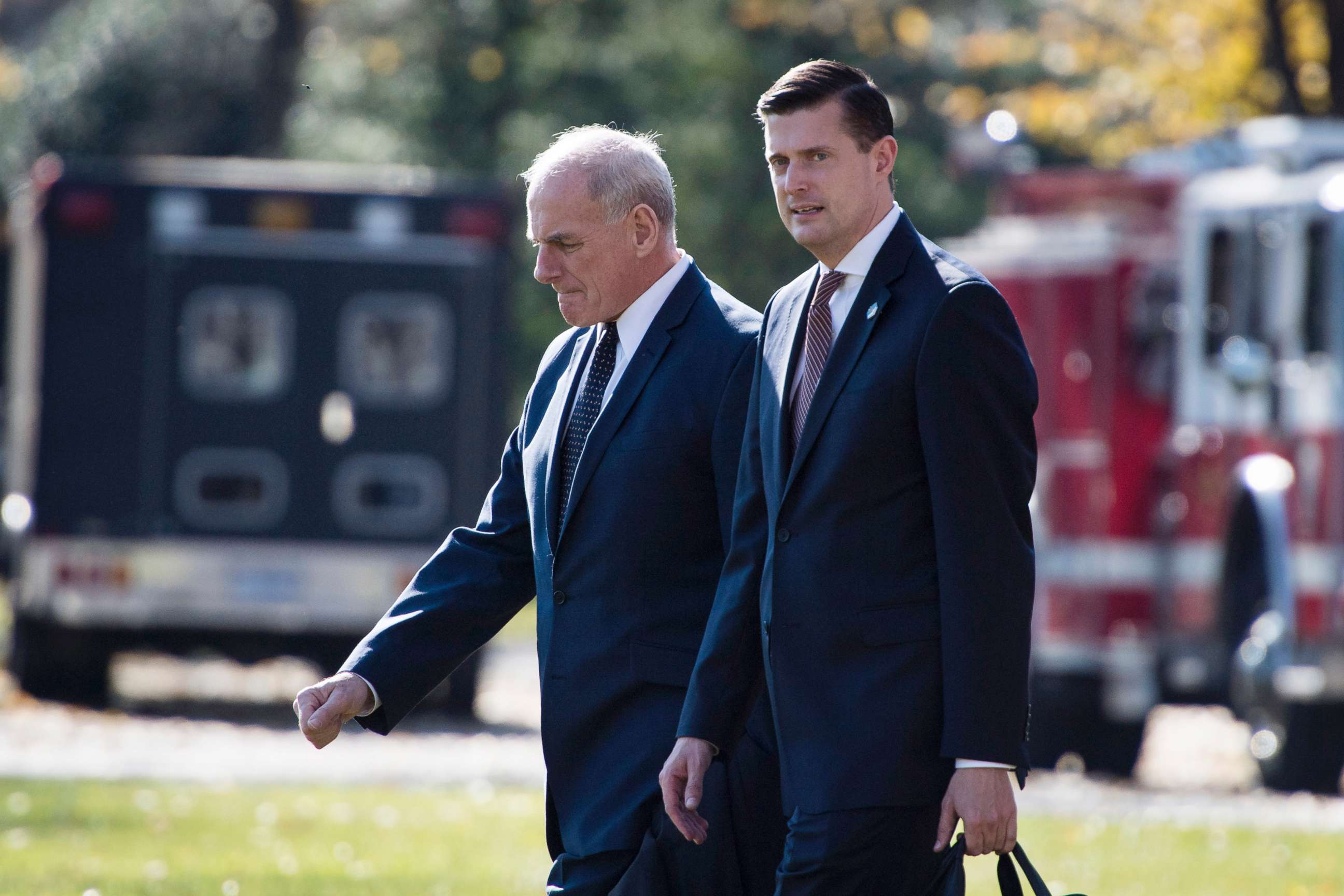 He has been linked in a romantic relationship with White House communications director Hope Hicks, the president's longest serving aide.
Willoughby addressed Porter and Hicks' relationship in the CNN interview on Thursday, saying, "It definitely worries me because, if I'm being frank with you, if he hasn't already been abusive with Hope, he will."
Kelly later released an additional statement saying he was "shocked" by the allegations.
"I was shocked by the new allegations released today against Rob Porter," he told reporters in a statement. "There is no place for domestic violence in our society. I stand by my previous comments of the Rob Porter that I have come to know since becoming Chief of Staff, and believe every individual deserves the right to defend their reputation. I accepted his resignation earlier today, and will ensure a swift and orderly transition."
Kelly stressed that message again in a memo to White House staffers obtained by ABC News on Thursday. The memo does not name Porter, but addresses administration concerns about domestic violence.
"While we are all processing the shocking and troubling allegations made against a former White House staffer, I want you to know that we all take matters of domestic violence very seriously. Domestic violence is abhorrent and has no place in our society," Kelly said in the memo and added that there are resources available to employees seeking counseling.
ABC News' Pete Madden contributed to this report.