— -- A People magazine reporter who spent time covering Donald Trump in the mid-2000s has come forward saying that he pushed her against a wall and forced "his tongue down my throat."
Natasha Stoynoff wrote about an instance when, she alleges, she was physically attacked by Trump while meeting with him and his then-pregnant wife, Melania Trump, at their Florida estate, Mar-a-Lago.
Trump has denied the report and posted a tweet denouncing the reporter's claims, writing, "Why didn't the writer of the twelve year old article in People Magazine mention the "incident" in her story. Because it did not happen!"
Stoynoff wrote that during a break while interviewing the couple around their first wedding anniversary, Melania Trump left the room and Donald Trump took Stoynoff into another room, where "within seconds he was pushing me against the wall and forcing his tongue down my throat."
ABC News has not been able to reach Stoynoff for comment.
People Magazine editor in chief Jess Cagle released a statement this afternoon defending Stoynoff's decision to come forward.
"Ms. Stoynoff is a remarkable, ethical, honest and patriotic woman, and she has shared her story of being physically attacked by Donald Trump in 2005 because she felt it was her duty to make the public aware," Cagle said in the statement.
"To assign any other motive is a disgusting, pathetic attempt to victimize her again. We stand steadfastly by her, and are proud to publish her clear, credible account of what happened."
Her story was published around the same time The New York Times published a story about two women who say Trump touched them inappropriately. He has denied those claims, and his lawyers have sent a letter demanding a retraction and threatening legal action against the paper on the grounds of defamation and libel.
The Times spoke with Jessica Leeds and Rachel Crooks, both of whom claim that years ago Trump touched them without their consent. Both women — who approached the Times after Sunday's presidential debate — said they never publicly told their stories before speaking with the Times.
In a statement released Wednesday night after the report's publication, the Trump campaign's senior communication adviser, Jason Miller, said, "This entire article is fiction, and for the New York Times to launch a completely false, coordinated character assassination against Mr. Trump on a topic like this is dangerous. To reach back decades in an attempt to smear Mr. Trump trivializes sexual assault, and it sets a new low for where the media is willing to go in its efforts to determine this election."
Miller added, "Further, the Times story buries the pro-Clinton financial and social media activity on behalf of Hillary Clinton's candidacy, reinforcing that this truly is nothing more than a political attack. This is a sad day for the Times."
The Times acknowledged that Leeds and Crooks said they support Clinton. Also, Crooks has contributed money, less than $200, to Clinton and to President Barack Obama, according to the Times.
Leeds, now 74 and living in Manhattan, said she was traveling in the first-class cabin of a New York–bound aircraft more than 30 years ago, seated next to Trump. She said they had never met before.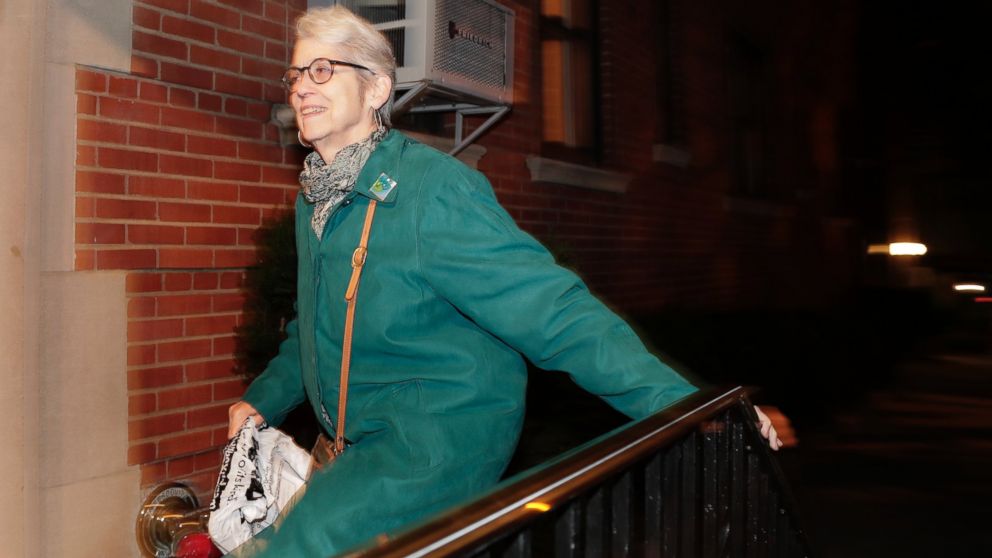 Trump lifted the armrest and began to touch her, she alleged in the Times report, then grabbed her breasts and tried to put his hand up her skirt.
"He was like an octopus," Leeds said. "His hands were everywhere ... It was an assault."
According to the Times, she did not complain to the airline at the time. Leeds told the story years later to at least four confidants, who also spoke to the newspaper for the article.
Crooks told the Times that she encountered Trump in 2005 outside an elevator at Trump Tower, where the then-22-year-old Crooks was working as a receptionist at the Bayrock Group, an investment and development company.
Crooks — whose company did business with Trump — introduced herself and shook his hand, she said.
But Trump wouldn't let go, she alleged.
He proceeded to kiss her on her cheeks, she said, adding he then "kissed me directly on the mouth."
She told the Times, "It was so inappropriate. I was so upset that he thought I was so insignificant that he could do that."
Crooks told the Times she then called her sister, Brianne Webb, in Ohio that day to relay what happened.
Webb told ABC News Wednesday that she spoke with her sister that day after the alleged incident. ABC News could not immediately reach Crooks or Leeds for comment.
Webb said her sister was very upset about her encounter with Trump, particularly about his allegedly kissing her on the mouth.
Webb also said her sister never reported the incident to authorities.
The Trump campaign's Miller also said in his statement, "It is absurd to think that one of the most recognizable business leaders on the planet with a strong record of empowering women in his companies would do the things alleged in this story, and for this to only become public decades later in the final month of a campaign for president should say it all."
According to the Times, during a phone interview with Trump on Tuesday night — in which, the Times said, he was "highly agitated" — he said, "None of this ever took place."
Trump said that the aforementioned allegations were made up to hurt him, the Times said.
He threatened to sue the paper if it published the claims by Leeds and Crooks.
Three senior-level sources confirmed to ABC News that Trump was drafting a lawsuit against the Times for defamation. One senior level source said, "This is war."
ABC News' John Santucci, Michael Del Moro and Shushannah Walshe contributed to this report.