Welcome to the big leagues, Guilder Rodriguez.
Rodriguez made his Major League debut Tuesday, playing second base for the Texas Rangers. He went 0-3 with a walk, as Texas lost to the Angels 9-3.
Just getting there was the hard part for Rodriguez, 31, who spent more than a decade in the minor leagues, appearing in a record 1,095 games before his promotion.
The Venezuela native was signed by the Milwaukee Brewers in 2001. His baseball journey has taken him all across the country, from Arizona to Montana, Wisconsin to Florida, Alabama to Oklahoma. He has spent the past few seasons bouncing between the Texas Rangers' Double-A and Triple-A squads in Frisco and Round Rock, Texas.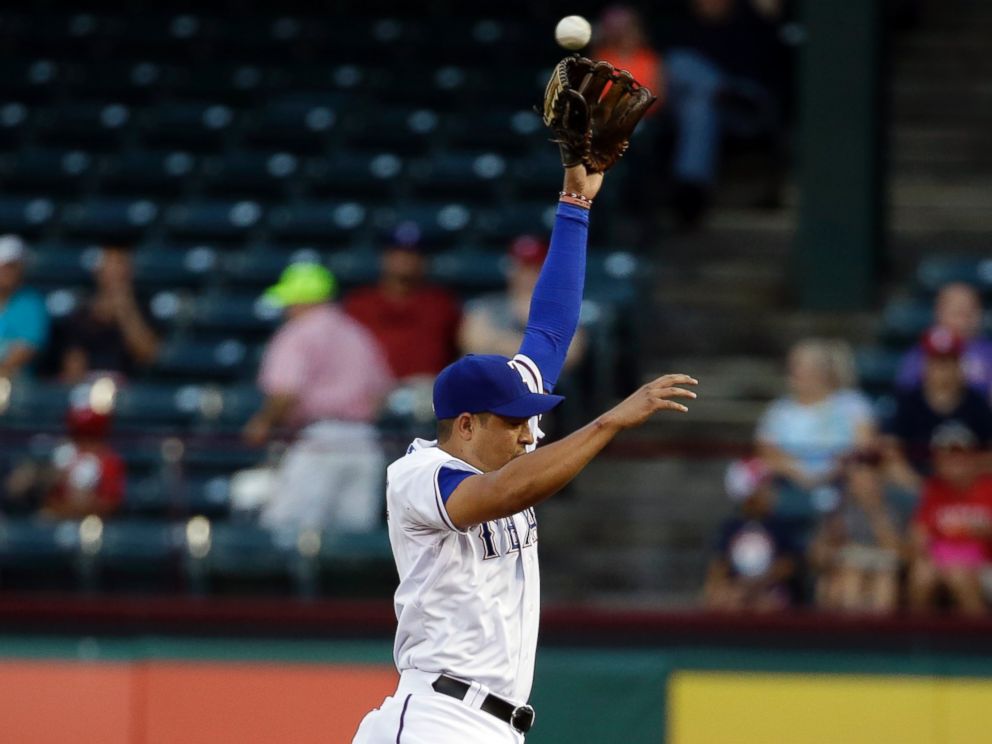 Rodriguez has a reputation as a super-utility player, someone who can play numerous positions, mostly shortstop, second base and third base. During his career, he has played every position but catcher.
He even pitched on five occasions.
Despite his versatility, a lack of power – only two career home runs – helped keep him mired in the minors. The career .256 hitter stayed upbeat as he slowly climbed the baseball ladder. The Huntsville Times in Alabama wrote about Rodriguez's personality in a 2008 article.
"Rodriguez is a clubhouse clown, a consummate teammate and the center of the show off the field," the paper reported. "When the team had a 'Dancing With the Stars' promotional night on the last home stand, Rodriguez was the player ballroom dancing on the dugouts."
Rodriguez – his name is pronounced "wheel-dair" – has also been credited with mentoring his younger teammates.
Congrats to Guilder Rodriguez! Awesome teammate & even better person, he was very good to me and whoever his teammates were, big leagues!!

— Cody Buckel (@Cheatcode07) September 7, 2014
The Rangers have struggled this season, recording the majors' worst record at 54-90. Injuries decimated the team's lineup, forcing Texas to use a MLB record number of players this year.
With star pitcher Yu Darvish moved to the 60-day disabled list with an elbow injury, the Rangers had room for another player. After 1,095 games and 4,095 minor league plate appearances, Rodriguez finally got the call Sunday.
Rodriguez grew emotional when learning about his promotion.
"When Guilder got the news, I'm told he cried, for a long time," interim manager Tim Bogar said.
Bogar on the radio pregame show: "When Guilder got the news, I'm told he cried, for a long time."

— Jamey Newberg (@NewbergReport) September 7, 2014
Bogar was proud to give Rodriguez his chance in the big leagues.
"What a guy, who just works really hard, has gone through a lot for 14 years, just a guy who's always looking out for everybody else," Bogar said.
Rodriguez expressed his gratitude in interviews.
"When you sign for professional baseball, every player's goal is to play in the big leagues," Rodriguez said. "Not too many people have this opportunity and I've waited 14 years for this opportunity, and thank you God I stand here today.
"I feel very happy and I try to be fun every minute I stay here with the team," he said.
Bogar posted Tuesday's lineup card without telling Rodriguez his name would be on it – a special surprise for the career minor leaguer. He batted ninth and started at second base.
"To see my name in the starting lineup … it's unbelievable," he said.
He showcased his talent in the third inning, when Kole Calhoun lined the ball to second. Rodriguez stretched out to make the diving catch.
During the game, a fan in the stands held a home-made sign showing Rodriguez's first name in splashy red and blue letters. Written above, in smaller text: "newest Texas Ranger," a distinction 1,095 games in the making.