April 30, 2014— -- Basketball fans often bring homemade signs to games, showing their support with markers and construction paper. But the signs at Staples Center in Los Angeles for Tuesday's Clippers-Warriors playoff game took an urgent, resolute tone.
"Clippers new owner wanted! Racists need not apply!" read one of the signs.
Another: "Hate will never win."
Hate didn't win Tuesday, but the Clippers did, 113-103, taking a 3-2 lead in a series that was, for the first time since Saturday, more about basketball than recordings featuring racist rants by banished Clippers owner Donald Sterling.
Clippers Fans React to NBA's Ban of Team Owner
In the recorded conversations, which appeared online this weekend, Sterling can be heard telling girlfriend V. Stiviano not to post pictures of herself with black people to Instagram or bring black people to Clippers games. A separate recording features Sterling's telling Stiviano that he doesn't think he's racist because he gives food, clothes and cars to his black employees.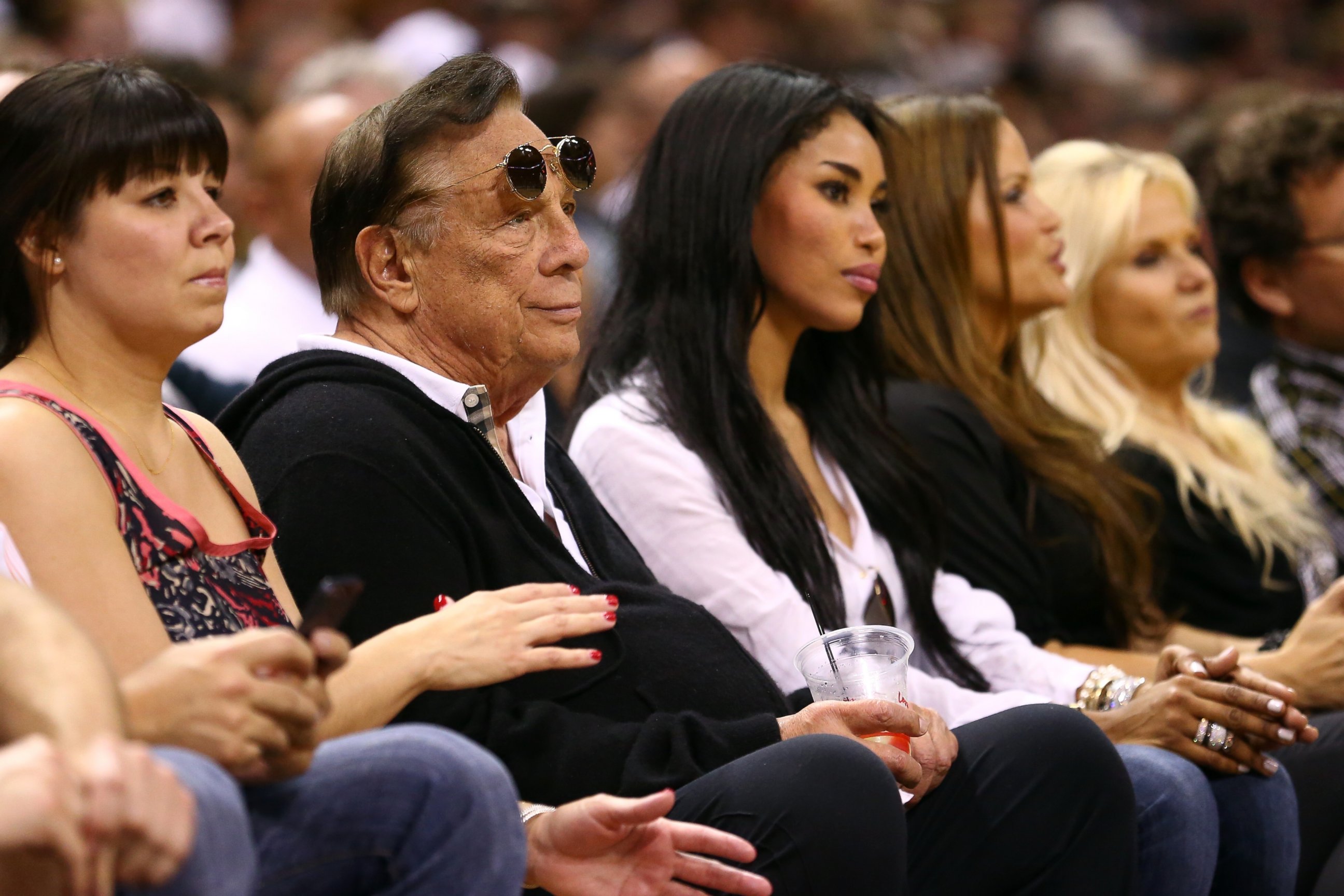 Adam Silver, facing his first true test since becoming the National Basketball Association's commissioner in February, acted swiftly and definitively, banning Sterling for life.
"We stand together in condemning Mr. Sterling's views," Silver said. "They simply have no place in the NBA."
The punishment, which included a $2.5 million fine, is the harshest penalty ever issued by the league.
What We Know About V. Stiviano, Woman Accused of Leaking Racist Rant
Clippers coach Doc Rivers said that the lifetime ban of his boss "can begin the healing process" for the team, the league and the country.
"These last three or four days have been very difficult for everybody, no matter what your race," Rivers said in a pre-game news conference. "We can move forward. We have to. Yes, I do think [the NBA commissioner] made the right decision."
Had Silver announced a weaker punishment – an indefinite suspension and hefty fine, for example – players were willing to boycott the playoffs, NBA Players Association Vice President Roger Mason said.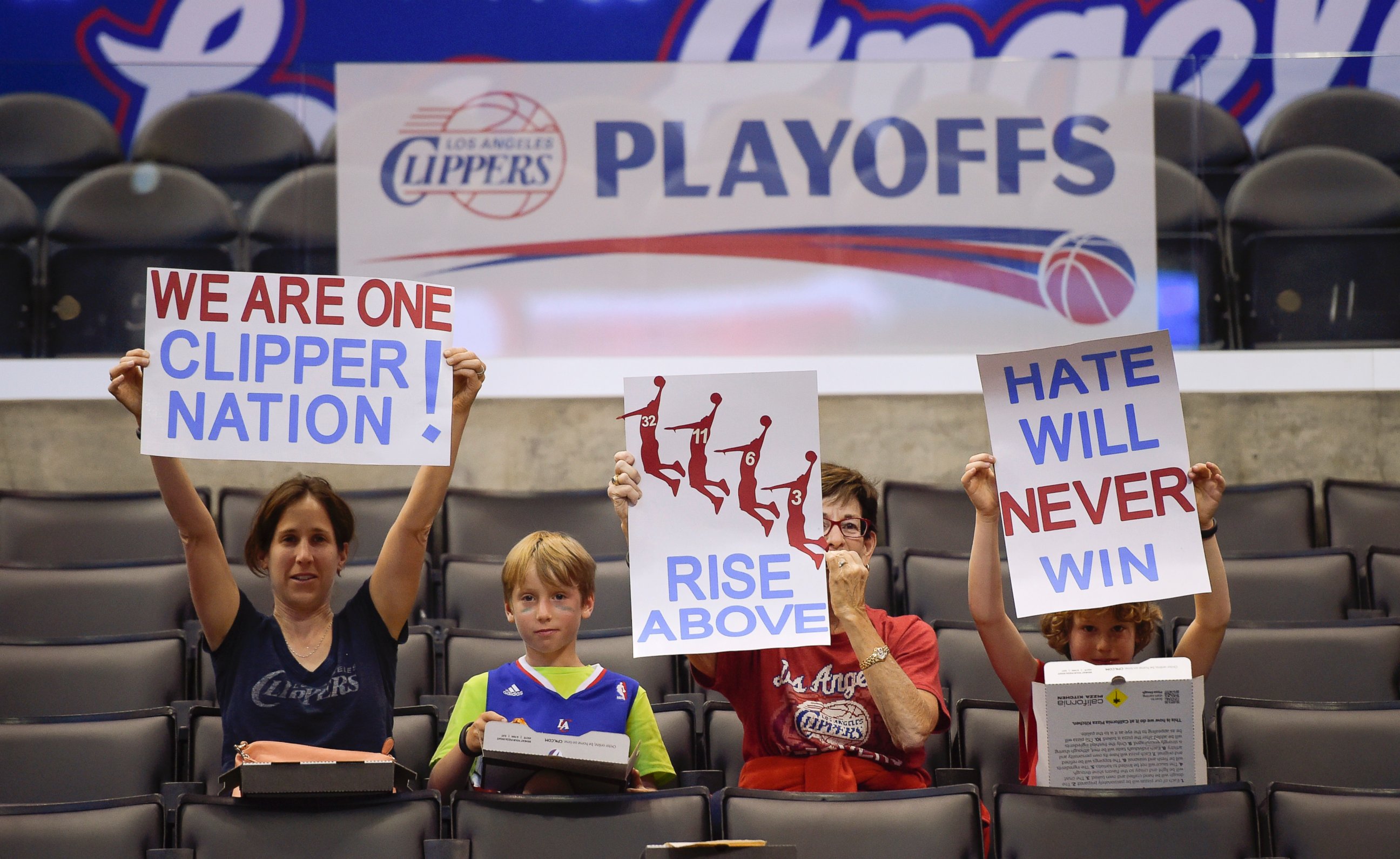 But with Sterling removed, the focus returned to basketball. Clippers versus Warriors. Two of the Western Conference's most dynamic squads.
NAACP Willing to 'Forgive' Clippers' Donald Sterling After Yanking Award
Clippers center DeAndre Jordan shined early, scoring 10 first quarter points on the strength of two alley-oops and a dunk, showcasing the team's "Lob City" nickname for its high-flying swagger. Blake Griffin contributed a driving dunk through the lane, power and authority personified.
L.A. guard Jamal Crawford provided late highlights of his own, slipping through the Golden State defense for 19 points off the bench.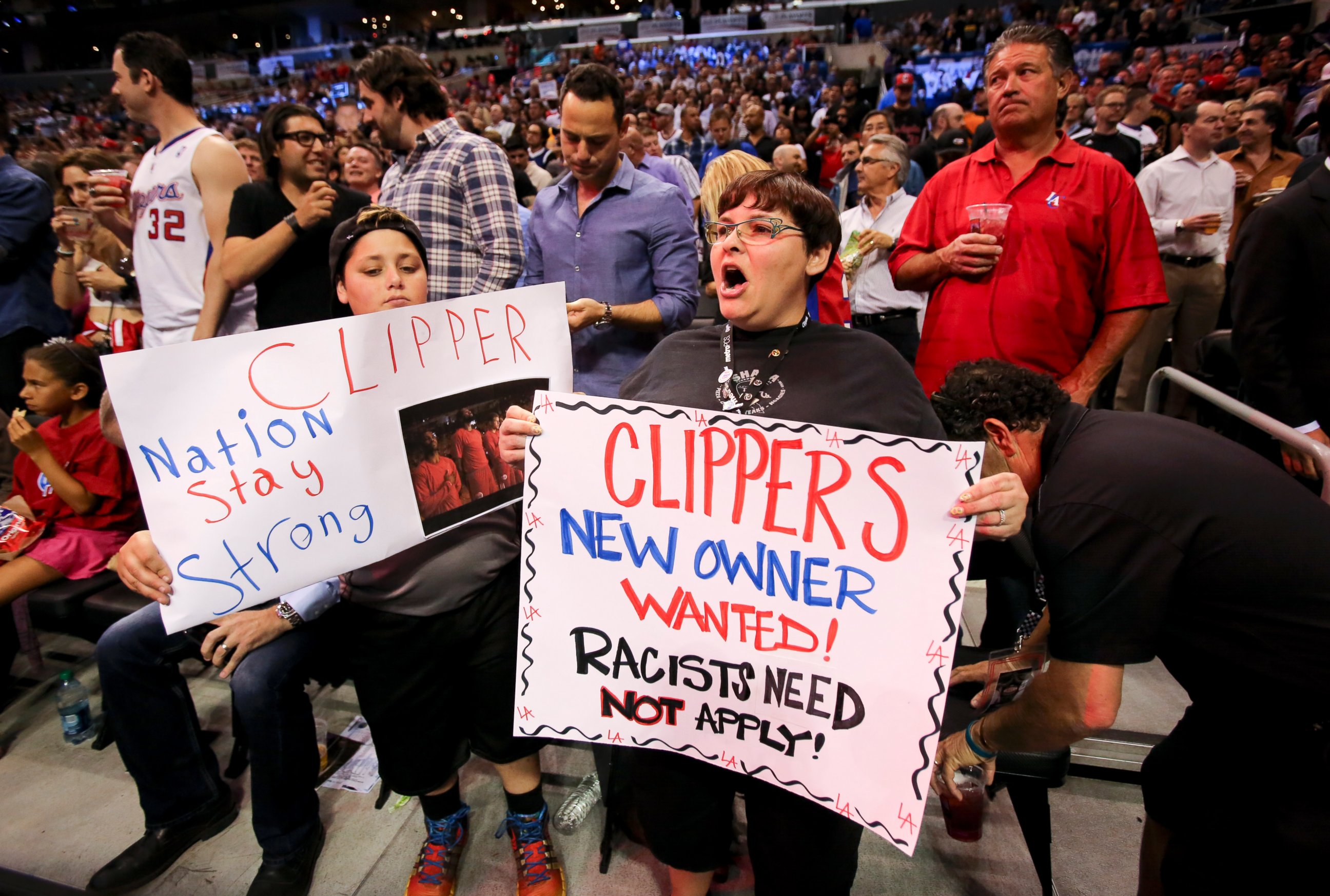 The Warriors kept it close. Sharp-shooting guard Stephen Curry gave Golden State a 70-69 lead late in the third quarter with a key three-pointer. But Jordan and company were too much. Jordan scored a career playoff high 25 points and also added 18 rebounds.
Midway through the fourth quarter, as Los Angeles padded its lead, the crowd erupted into a chant. "We are one," the fans chanted, again, and again, and again. The Clippers embraced the phrase after Tuesday's announcement – even overhauling the team's website to reflect the statement – but it speaks to a larger theme, a multicultural game enduring a difficult chapter together. Races and colors and team identifications are immaterial in this case.
The game has undergone numerous transformations in the past century, from a YMCA creation using peach baskets to a city-centric expression, a blacktop ballet. The game has now gone global, with leagues and Olympic energy across the world.
Part of basketball's appeal is its simplicity. All you need is a ball, a flat surface and a hoop to play.
That's what the Clippers and Warriors did Tuesday night – they played. And hate didn't win.