— -- After his team crushed the Colts to earn a spot in the Super Bowl, 33-year-old New England Patriots defensive tackle Vince Wilfork kept on rolling by helping a motorist after a car crash.
Wilfork said his assistance "wasn't a big deal," and that it was just lucky that he and his wife were there to help.
"I asked her was she okay, can she move, can she grab my hand, and kind of talked her through getting up and I actually pulled her out of the window," Wilfork told reporters. "I actually opened up the door and pulled her out. It wasn't a big deal…like I said, just seeing somebody that needed help and helped them."
A statement from the Massachusetts State Police today was headlined: "New England Patriots Player Vince Wilfork Lends a Helping Hand at Rollover Crash."
At 12:45 a.m. this morning, just hours after the New England Patriots defeated the Indianapolis Colts 45-7, state troopers responded to reports of a vehicle rolled over on Route 1 in Foxborough, Massachusetts. Troopers found a 2015 Jeep Wrangler rolled onto its side.
"To their surprise, New England Patriots Defensive Tackle Vince Wilfork was beside the vehicle checking on the operator," according to the police statement. "The operator of the vehicle, 38-year-old Mary Ellen Brooks of Hanson, was unable to get out of the vehicle."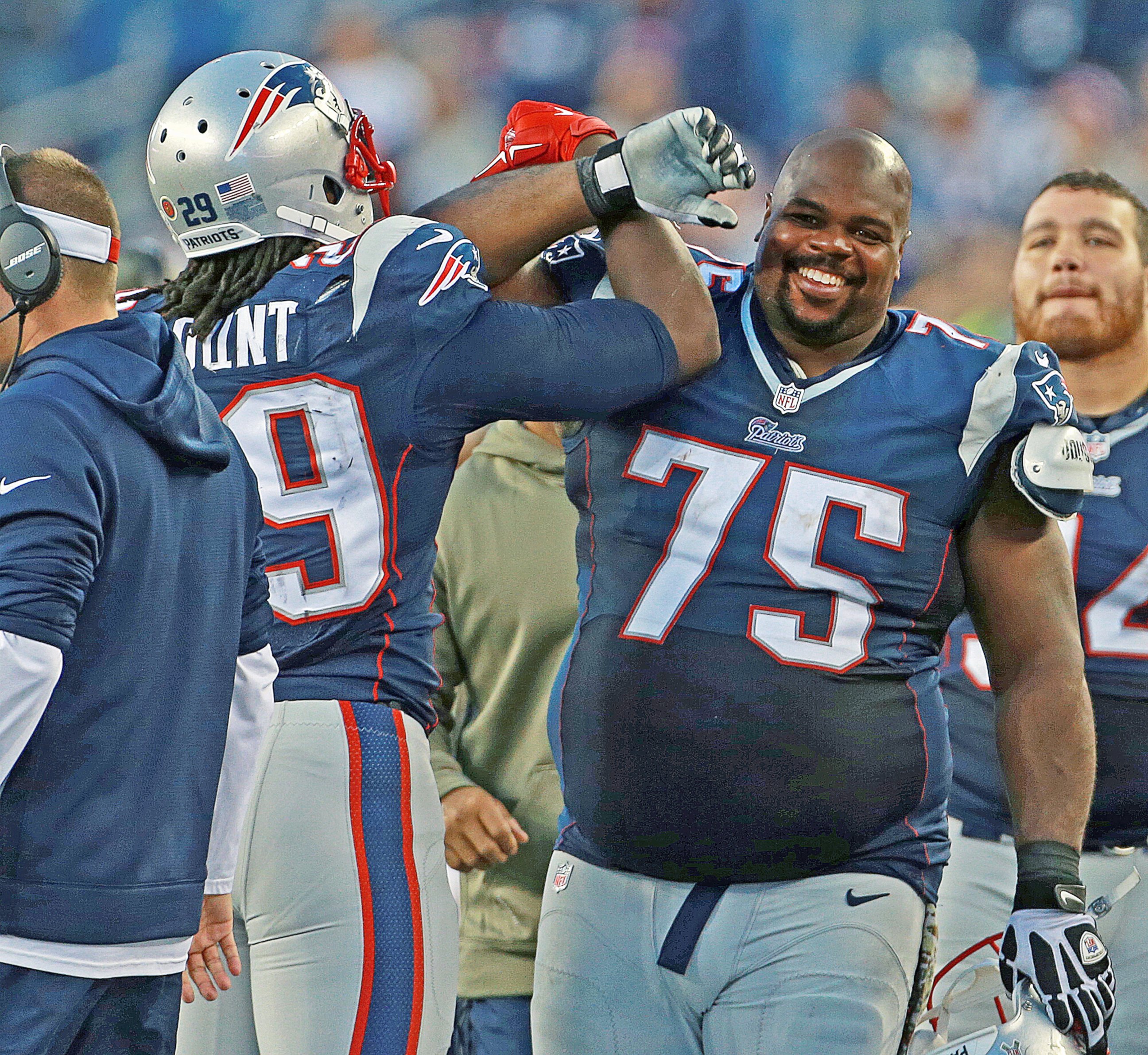 While Trooper Kenneth Proulx held the driver's door open, Wilfork, number 75, "reached in and helped lift the operator out of the vehicle with one hand," the police statement read.
"Mr. Wilfork departed after ensuring the troopers didn't need any further assistance," the police said.
Patriots coach Bill Belichick said the 325-pound, 6-foot-2 Wilfork has "a lot of character and integrity" during a press conference today about accusations of deflated footballs.
A former football player for the University of Miami, Wilfork was drafted by the Patriots in the first round of the 2004 NFL Draft.
"He's accomplished obviously a lot in his life, but on the personal side he's got a lot of character and integrity...with his parents passing away and when we drafted him over 10 years ago, how quickly he had to grow up and mature given his situation and how close he is with his family and the people he supports."
"You kind of reflect on life a little bit," Wilfork said in response to the question of whether he was shaken. "Here I am -- won the most important game of our season. Flashed right in front of your eyes, your life, somebody that's in danger. I didn't think about anything that was going on in my life at the time. My job, like I say, the only thing I thought about was seeing there was somebody in there and getting them to safety. When I did and we drove off, my wife and I kind of talked in the car and just said, you know, things are a lot more precious in life other than games or anything you accomplish in life."
Belichick said he wasn't surprised by the news that Wilfork assisted police.
"Just the time and the interest and the compassion he has for other fellow human beings and, no, that doesn't surprise, because that's just the kind of person he is. He has really good chemistry and leadership...he does a lot of things behind the scenes…I'm sure there's a lot of times he does it for the right reasons not for some kind of personal gain. He's got a lot of integrity."
Brooks was arrested and charged with operating under the influence of alcohol and negligent operation of a motor vehicle, the police said.
State Trooper Matt Guarino told ABC News he was one of 140 troopers assigned to work the Patriots game yesterday before arriving at the crash site.
"Everyone will tell you that he is one of those stand-up sort of guys," Guarino said of Wilfork. "With him being able to just reach in and pull her out of there with one hand is classic Wilfork. I've had a number of rollovers – sometimes you need to kick in the windshield to get people out. He just reached in and got her right out and was on his way."
ABC News' Meghan Keneally contributed to this report.