After a decade of depressing, losing and frequently last-place seasons, the Seattle Mariners are off to a spirit-raising strong start in 2014. With Robinson Cano joining the fold, they've won five of their first eight games, spent every day in first place and even had the Super Bowl champion Seahawks throw out the ceremonial first pitch at their home opener.
But who cares? Cano doesn't play for the Yankees anymore. The only thing that matters in baseball right now is that Derek Jeter and the Yankees are playing the Red Sox this weekend!
Thursday night marks the beginning of just six series and only 19 games between the only two teams that matter in Major League Baseball -- and really, it just doesn't seem fair that these matchups are so rare. That's why it's so important that we all hunker down on our couches for these four games because we'll have to wait all the way until April 22 before we see the only two teams that matter play each other again.
Of course, it's always possible that they can meet in the postseason if both teams advance to October. And every fan, everywhere in the world, is rooting for that to happen because THE YANKEES AND RED SOX ARE THE ONLY TWO TEAMS THAT MATTER!!
But if the prayers of every fan everywhere are answered with the first postseason series between the Yankees and Red Sox since 2004, which team should we root for the most? That's so difficult to answer, because there are so many reasons that both New York and Boston deserve a triumphant season, and that every fan everywhere wants both teams to win.
For example, we need to finally end the agonizing days and weeks of misery endured by those thousands upon thousands of New England newborns who have not seen the Red Sox win a World Series in their lifetime. Oh sure, those insufferable Cubs fans might whine about how their team hasn't won a World Series since 1908, but what do they know about true suffering? The Red Sox haven't won a World Series at the Huntington Avenue Grounds since 1903! And because they now play in America's Most Beloved Ballpark, they won't be able to do it again this year!
Cubs fans are complaining about never winning in Wrigley? Please. Wrigley has hosted six World Series, while the new Yankee Stadium has hosted only one. So don't be so damn greedy, you spoiled, spoiled Cubs fans.
This, of course, is Jeter's final season; and Mr. October/First Week of November deserves to go out in full glory in a postseason game, possibly while homering into the outstretched glove of Jeffrey Maier (no video replay on that one). You know Ernie Banks will feel just awful if Jeter retires having reached the postseason in only 17 of his 20 major league seasons.
If the Yankees reach the postseason, we'll finally be able to see some coverage of Masahiro Tanaka, their virtually anonymous starting pitcher who has been completely ignored by the media because they are so busy inundating us with coverage of starters for the Royals, Pirates, Orioles, Mariners and other teams that simply don't matter. C'mon! We are talking about a Yankees pitcher! He deserves some pub! Seeing him on the mound in the postseason, possibly facing Adam Jones, would be reason to throw a party.
And if the Red Sox finally win a World Series again, David Ortiz can fill up the Twitter-sphere with more selfies! "Here I am w/Prez Obama, Ellen DeGeneres and Samsung's CEO!!!"
There's this, too: Now that the Dodgers have the highest payroll in the majors, Hal Steinbrenner's budget-cramped Yankees will be able to provide inspiration to all the other low-budget, small-market teams scraping by on IOUs and Kickstarter campaigns. Michael Lewis: Get ready to write a game-changing sequel to "Moneyball." Chapter 1: The new market inefficiency: Japanese mega-stars and aging free agents who demand long-term, $110 million contracts.
With Boston back in the playoffs where they belong, Mike Napoli and the Red Sox can raise even more money for charity by growing even longer, uglier beards and then shaving them off after the World Series. And the Red Sox aren't like most of the other major league teams and half the U.S. male under-30 population who also have beards but resemble Abraham Lincoln rather than one of the coolest, most powerful dudes on the planet. Yes, I'm talking about you,  Elvis Andrus, you wannabe Daniel-Day Lewis.
As they always do, the world's greatest, most knowledgeable and most respectful fans from both cities will bow and salute Jacoby Ellsbury for following in Johnny Damon's footsteps and winning World Series rings for both the Red Sox and Yankees.
OK, all kidding aside. Most of us in the Southeast, Midwest and West are sick and tired of the massively disproportionate coverage Boston and New York receive, while our favorite Puig-less teams get ignored. But here is one legitimate reason even we should root for at least the Yankees to win the World Series:
Think about how much worse Alex Rodriguez will feel if they do.
CSI: Box Score
Each week, I provide a fragment from an old box score and challenge you to determine what game it is from and why it's significant. I give this one a difficulty rating of 9.0. Answer below:
Baseball Card of the Week
Tom House doesn't look like he's posing or anything in this card (1974 Topps, No. 164), does he?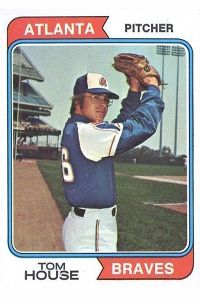 House won 29 games and saved 33 during an eight-year career, but he is most famous for catching Hank Aaron's 715th home run in the Atlanta bullpen 40 years ago this week. (Although having Nolan Ryan and others throw footballs around when House was the Rangers pitching coach is a close second.)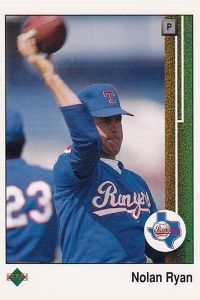 Box Score Line of the Week
After giving up eight runs in Philadelphia's season opener, Cliff Lee gave up another 10 hits in his second start Saturday -- but didn't allow a run (7 IP, 10 H, 0 R, 0 ER, 0 BB, 6K). Seattle rookie James Paxton had seven even more impressive innings on April 2 (7 IP, 2 H, 0 R, 0 ER, 2 BB, 9 K), but went on the DL after his next start.
But this week's award goes to Colorado outfielder Charlie Blackmon for his impressive line Friday night:
6 AB, 4 R, 6 H, 5 RBIs
Blackmon is the first player since Shawn Green in 2002 with a six-hit game in which at least four of the hits were for extra bases.
CSI: Box Score Answer
There are many clues in this fragment and you probably need them all.
First off, the line score indicates this was a game between the White Sox and the Cubs. But some of the names on the White Sox side -- Jackson, Sanderson, Grebeck -- also are evidence that this game took place before interleague play and before the two teams trained in Arizona together. That means this had to be from one of the games when the Cubs and Sox were playing a Crosstown Classic charity game in Chicago. But what season would that be? Well, there is one name that explained it:
Jordan, rf
Yes, that's Michael Jordan, who retired from basketball in 1993 and gave baseball a try in 1994. MJ played for the Double-A Birmingham Barons in 1994. But before he left for a summer in the Southern League, he played in this exhibition game at Wrigley Field 20 years ago this week. He had a good game, going 2-for-5 with a run and two RBIs (though he also made an error).
Wrigley Field celebrates its 100-year birthday later this month, and the Cubs are honoring many of the greats who played at the Friendly Confines, including several non-Cubs such as Babe Ruth, Red Grange and Gale Sayers. And thanks to this exhibition game, His Airness played at Wrigley as well.
And that was some game. Not only did it feature future Hall of Famers in basketball (Jordan) and baseball ( Frank Thomas), it also had a former Heisman Trophy winner (Bo Jackson). Oh, and it ended in a tie.