ESPN.com has rolled out its 2016-17 list of the top 200 players in the NBA with the annual #NBArank project.
To highlight the international impact on the league, we've used those rankings to compile a list of the NBA's 50 top players who were born outside the United States. That represents less than half of the 113 rostered players, the most in league history, classified as international players by the NBA heading into this season.
Eighteen players from the top 50 are on teams that will be in action on Christmas Day, including No. 1 Kyrie Irving, No. 3 Al Horford, No. 4 Kristaps Porzingis and No. 6 Steven Adams.
Without further ado, here is the #NBArank Global Edition (with each player's overall #NBArank position in parentheses):
---
Insider profile:?After struggling through the 2015 playoffs and exiting the NBA Finals early because of a fractured kneecap, Irving's 2016 Finals performance cemented him as one of the most unstoppable one-on-one scorers in the NBA. The New Jersey native is among the most skilled players; he has a top-three handle in the league, myriad artful finishes in the paint and a deadly pull-up game. ? Read more??
---
Insider profile:?Already considered one of the best prospects in basketball, "The Greek Freak" experienced a remarkable evolution of his game because of injuries to then-Bucks point guards Michael Carter-Williams and Greivis Vasquez. With few other options, coach Jason Kidd decided to make Antetokounmpo his lead ball handler after the All-Star break and the team thrived. After the break, the Bucks scored 105.9 points per 100 possessions and had a 0.1 net rating with Antetokounmpo on the floor. He averaged 18.8 points, 8.6 rebounds, and 7.2 assists in that span. Most impressively for a young player in an expanded role, "Point Giannis" managed to turn the ball over on only 10.6 percent of his possessions. ? Read more??
---
3. (22) Al Horford | Dominican Republic
Insider profile:?Last season saw Horford take his game beyond the arc. He had matched his previous career total of 20 3-pointers by Thanksgiving and finished with 88, seventh-most among players 6-foot-10 and taller, at a near-average 34.4 percent clip. Specifically, Horford was able to shoot the 3 from the top of the key, valuable because it allowed him to pick and pop beyond the arc. ? Read more??
---
Insider profile:?At 7-foot-3, Porzingis proved remarkably adept at defending smaller opponents on the perimeter. His huge wingspan allows him to play a step off and still contest shots, and his nimble feet allow him to cover ground quickly against the pick-and-roll. Naturally, Porzingis' size also makes him an effective shot-blocker, and he swatted more shots than the average center.? Read more??
---
Insider profile:?Even when healthy, Gasol wasn't the same player in 2015-16 as in his previous All-Star campaign. At 31, Gasol may simply be slowing down. His offensive decline can be traced to an unprecedented inability to finish around the rim. Gasol made a career-low 59.5 percent of his shots inside 3 feet, according to Basketball-Reference.com, down from 69.9 percent the year before. Gasol remained good as ever in the high post, where he's both an excellent midrange shooter (43.5 percent on 2-point attempts beyond 16 feet) and one of the best passing 7-footers in the league.? Read more??
---
Last year's overall rank: 116
2016-17 projected RPM: 1.01
Insider profile:?One of the breakout stars of the 2016 postseason, Adams emerged as the most important interior player on the Thunder, helping make Serge Ibaka expendable. Adams is entering his fourth season at age 23 -- he's younger than four players who were drafted in 2016. He has shown the potential to become an elite role player and is sure to command a maximum salary in an extension this fall or as a restricted free agent next summer.? Read more??
---
Insider profile:?Having led the Jazz's surge as a starter after the 2014-15 trade deadline, Gobert put together nearly an identical campaign in his first full season as a starter, both before and after a sprained MCL that sidelined him for a month. Given Gobert's age (24), the fact that he didn't improve significantly qualified as a mild disappointment.? Read more??
---

Insider profile:?While Nowitzki's eventual farewell will probably look more like Tim Duncan's quiet departure than Kobe Bryant's tour, there's no indication we need to plan for either scenario just yet. Nowitzki signed a two-year, $50 million deal this summer that includes a 2017-18 team option in case he wants to take another discount to facilitate the Mavericks creating additional cap space.? Read more??
---
Insider profile:?Largely out of nowhere, Jokic surpassed Emmanuel Mudiay as the top rookie on the Nuggets, finishing third in the voting for Rookie of the Year and making the All-Rookie First Team. The No. 41 pick of the 2014 draft, Jokic spent one additional season overseas before coming to Denver and posting the best RPM of any rookie by a wide margin. At 21, Jokic looks like a future star, yet he will make just $4.3 million over the next three seasons on a bargain deal.? Read more??
---

Insider profile:?The Hornets took a gamble last offseason, when they sent away lottery pick Noah Vonleh to Portland in a deal that brought Batum to Carolina for the last year of his contract. Batum's offensive role had been shrinking with the Blazers for years; his usage rate peaked in 2011-12 and declined each season before he reached the Hornets. Charlotte needed shot creation and shooting alike, and Batum seemed like the answer. While his contribution had been marginalized with Portland, his efficiency with Carolina had slipped to a career-worst true shooting percentage of .516 in 2015-16. But Hornets GM Rich Cho said Batum could do more and do it better.? Read more??
---
International players trend upward
A record 113 players fell under the NBA's definition of "international" heading into the 2016-'17 season. Here's how that number has changed over the past 20 years: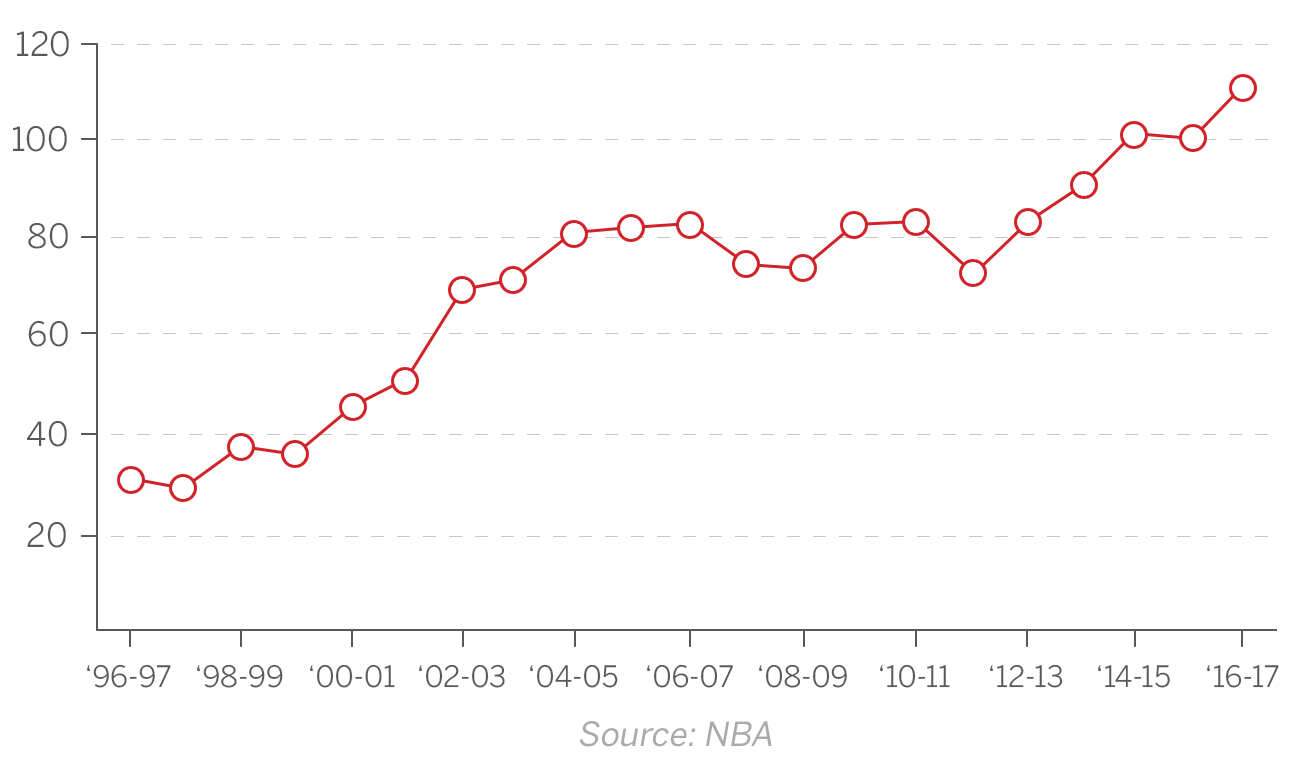 ---
11. (45) Andrew Wiggins?|?Canada
---

12. (51)? Goran Dragic?| Slovenia
---

13. (53)? Jonas Valanciunas?|?Lithuania
---
14. (58)? Joel Embiid?| Cameroon
---
15. (61)? Pau Gasol?| Spain
---
16. (63)? Ricky Rubio?| Spain
---
17. (68)? Tristan Thompson?| Canada
Last year's overall rank: 59
2016-17 projected RPM: 0.81
---
18. (70) Danilo Gallinari?| Italy
---
19. (71)? Serge Ibaka?| Congo
---
20. (72)? Evan Fournier?| France
---
International NBA players by country
Forty-one countries other than the U.S. are represented in the NBA this season. Here are the nations with the most players: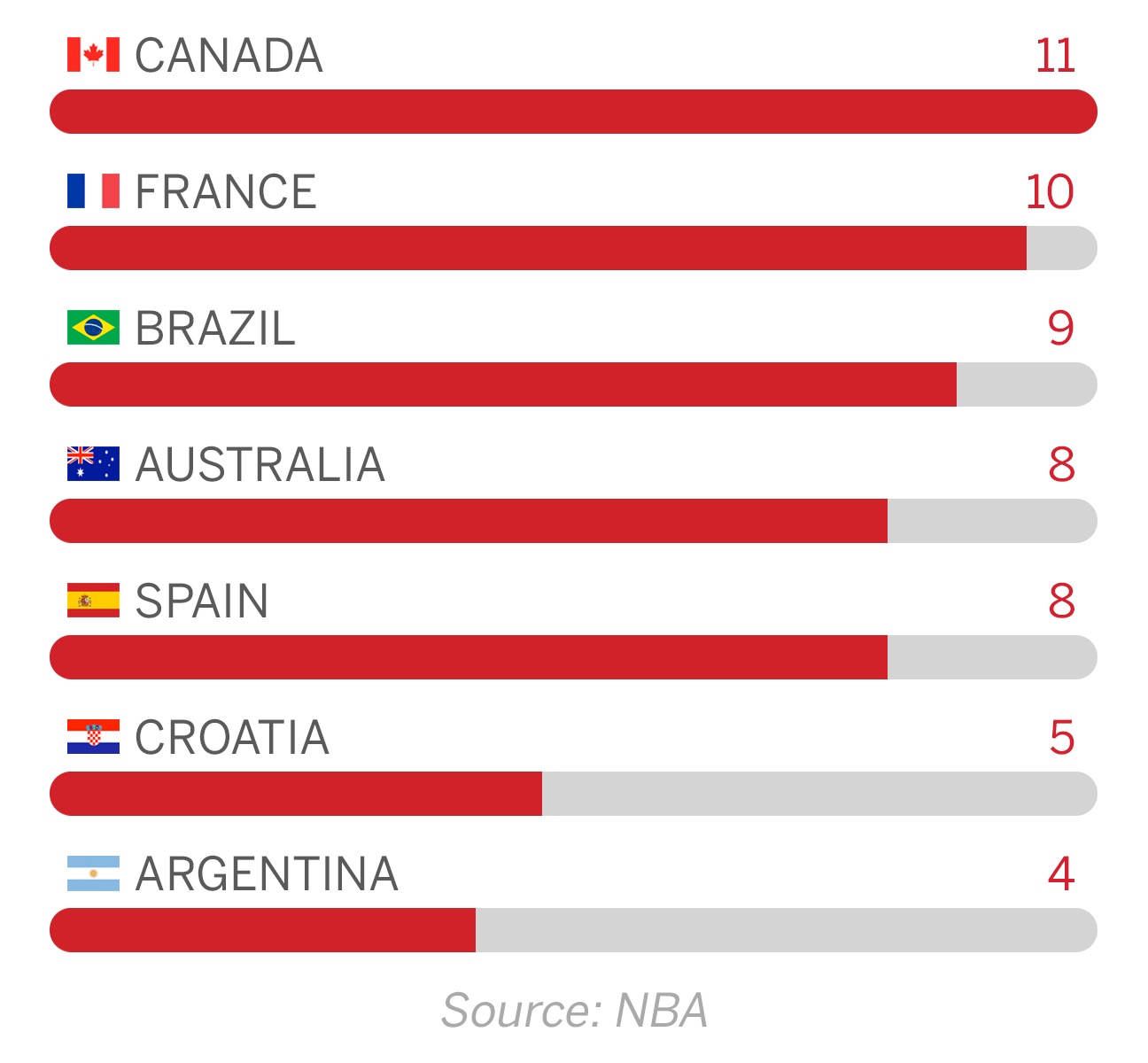 ---
21. (73)? Jusuf Nurkic?| Bosnia and Herzegovina
---
22. (78)? Nikola Vucevic?| Montenegro
---
23. (80)? Enes Kanter?|?Turkey
---
24. (91)? Dennis Schroder?| Germany
---
25. (92)? Clint Capela?| Switzerland
---
26. (94)? Andrew Bogut?| Australia
---
27. (95)? Nikola Mirotic?| Montenegro
---
28. (106) Marcin Gortat?| Poland
Washington Wizards | C |? @MGortat
Last year's overall rank: 74
2016-17 projected RPM: 2.79
---
29. (111) Bismack Biyombo?| Democratic Republic of the Congo
Orlando Magic | C |? @bismackbiyombo
Last year's overall rank: 257
2016-17 projected RPM: -0.10
---
30. (112) Gorgui Dieng?| Senegal
Last year's overall rank: 154
2016-17 projected RPM: 1.87
---
31. (113) Tony Parker?| France
---
32. (115) Patty Mills?| Australia
San Antonio Spurs | PG |? @Patty_Mills
Last year's overall rank: 162
2016-17 projected RPM: 2.96
---
33. (118) Emmanuel Mudiay?| Democratic Republic of Congo
Denver Nuggets | PG |? @emmanuelmudiay
Last year's overall rank: 123
2016-17 projected RPM: -3.51
---

34. (120) Ben Simmons?| Australian
---
35. (122) Luol Deng?| Sudan
---
36. (140) Timofey Mozgov?| Russia
Los Angeles Lakers | C |? @Lakers
Last year's overall rank: 78
2016-17 projected RPM: -1.10
---
37. (145) Dario Saric?| Croatia
Philadelphia 76ers | SF |? @Sixers
Last year's overall rank: NR
2016-17 projected RPM: N/A
---
38. (147) Kelly Olynyk?| Canada
Boston Celtics | C |? @KellyOlynyk
Last year's overall rank: 122
2016-17 projected RPM: 2.85
---
39. (148) Matthew Dellavedova?| Australia
Milwaukee Bucks | PG |? @matthewdelly
Last year's overall rank: 198
2016-17 projected RPM: 1.03
---
40. (150) Cory Joseph?| Canada
---
41. (151) Manu Ginobili?| Argentina
---
42. (154) Bojan Bogdanovic?| Croatia
---
43. (165) Alex Len?| Ukraine
---
44. (166) Mirza Teletovic?| Bosnia and Herzegovina
---

45. (168) Sergio Rodriguez?| Spain
---
46. (170) Ersan Ilyasova?| Turkey
---
47. (171) Ian Mahinmi?| France
---
48. (176) Zaza Pachulia?| Georgia
---
49. (183) Mario Hezonja?| Croatia
---
50. (187) Thabo Sefolosha?| Switzerland
Atlanta Hawks | SF |? @ThaboSefolosha
Last year's overall rank: 212
2016-17 projected RPM: 0.27