Infographic: Brady vs. Manning in playoffs
— -- Peyton Manning and Tom Brady will now meet for the fifth time in the playoffs, more than any two quarterbacks in NFL history. Since they have split their four previous postseason head-to-head games, this AFC Championship may provide permanent playoff bragging rights. Supporting casts are different than the early matchups, and even the team and city have changed for Manning, but close examination of their past playoff clashes reveals surprisingly relevant storylines that bear watching this time around.
Manning must limit his interceptions
From the 2003 AFC Championship
The Patriots won 24-14 after intercepting Manning four times in his first postseason game against Brady. Manning has averaged only one interception per playoff game for his career but his 5.1 interception rate this year is a career high. If he is intercepted early in this game against the Patriots, it could be an indication of bad things to come for the Broncos. Here's a look at how many interceptions Manning threw during the 2003 regular season and two playoff games before facing the Patriots in AFC Championship.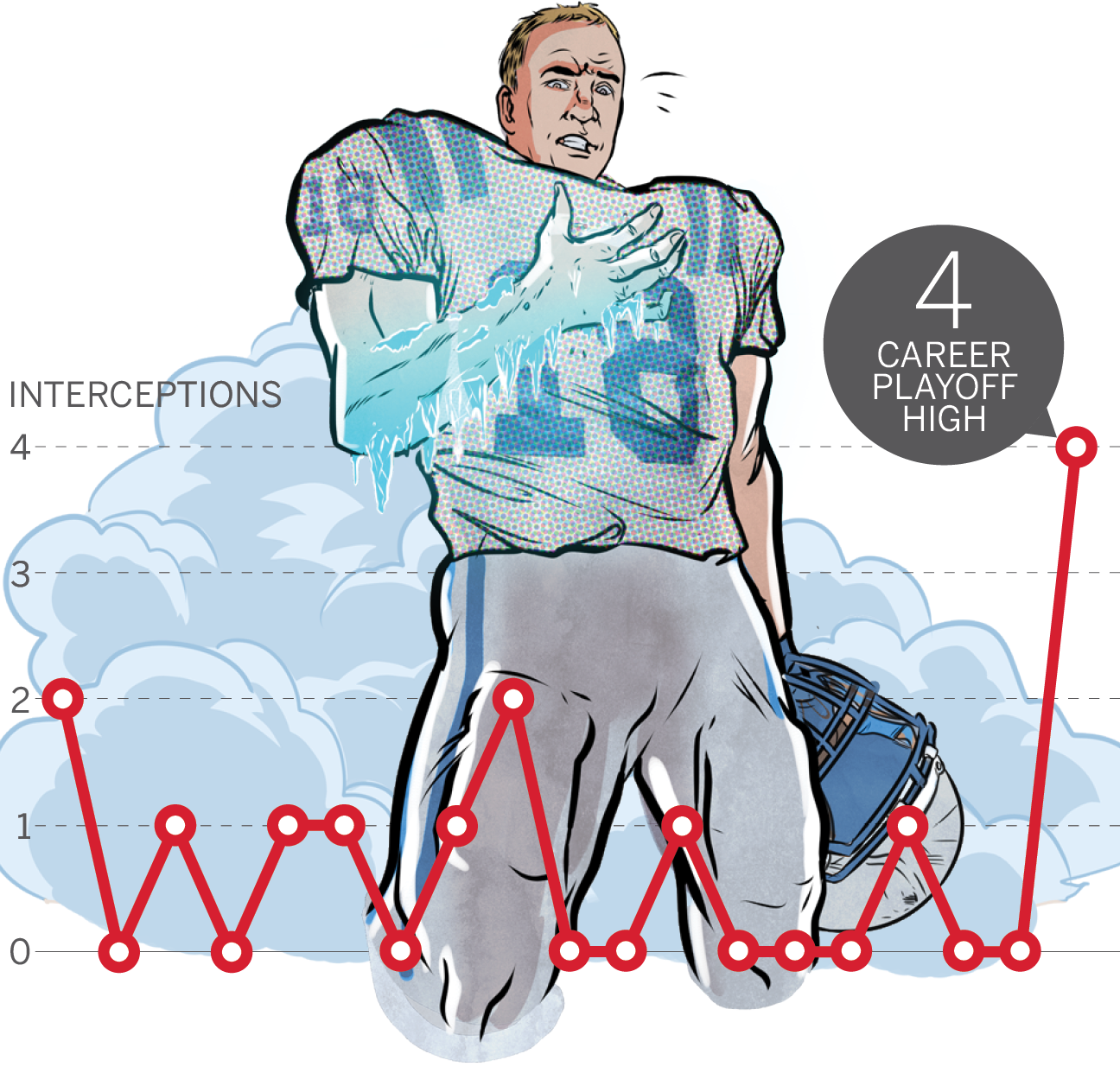 Time of possession will be crucial
From the 2004 AFC Divisional Playoffs
Brady and the Patriots held onto the ball for 38 minutes, keeping MVP Manning and the Colts' top-scoring offense (32.6 points per game) off the field in their 20-3 win. Manning doesn't lead such a high-flying offense these days, but coach Gary Kubiak's emphasis on the run means that the Broncos will be trying to put together clock-chewing drives against the Patriots. Here's a look at how the eventual winner has dominated time of possession in each of the four previous Manning-Brady playoff games: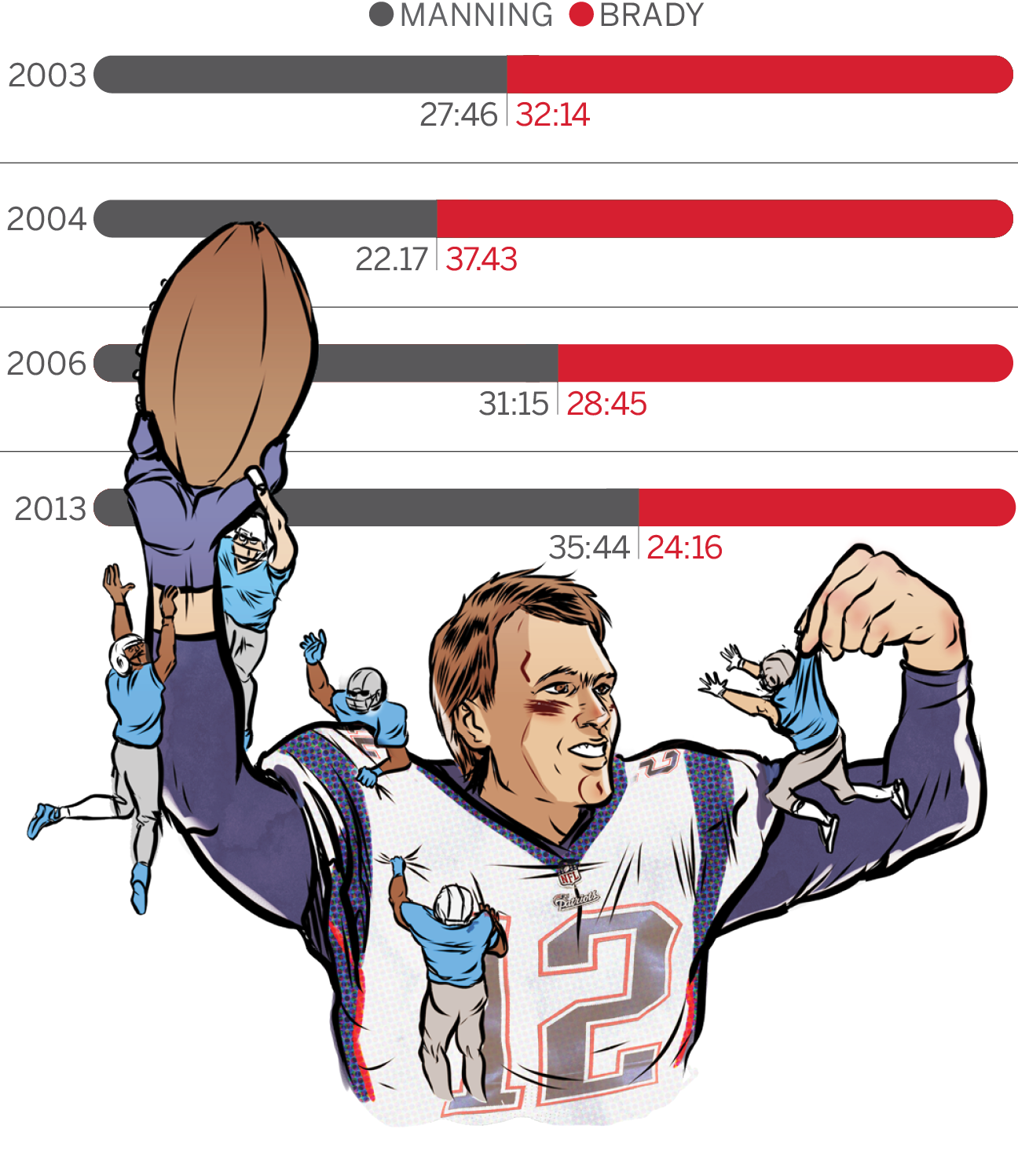 Manning can come through in the clutch, but ...
From the 2006 AFC Championship
Manning finally beat the Patriots in the playoffs, and reached his first Super Bowl, with an 80-yard game-winning drive for a 38-34 victory. This game certainly proves that Manning is capable of coming from behind (the Colts trailed 21-3 before rallying) and winning a close playoff game. If it's a close game against the Patriots, however, Brady has a massive advantage in total postseason game-winning drives: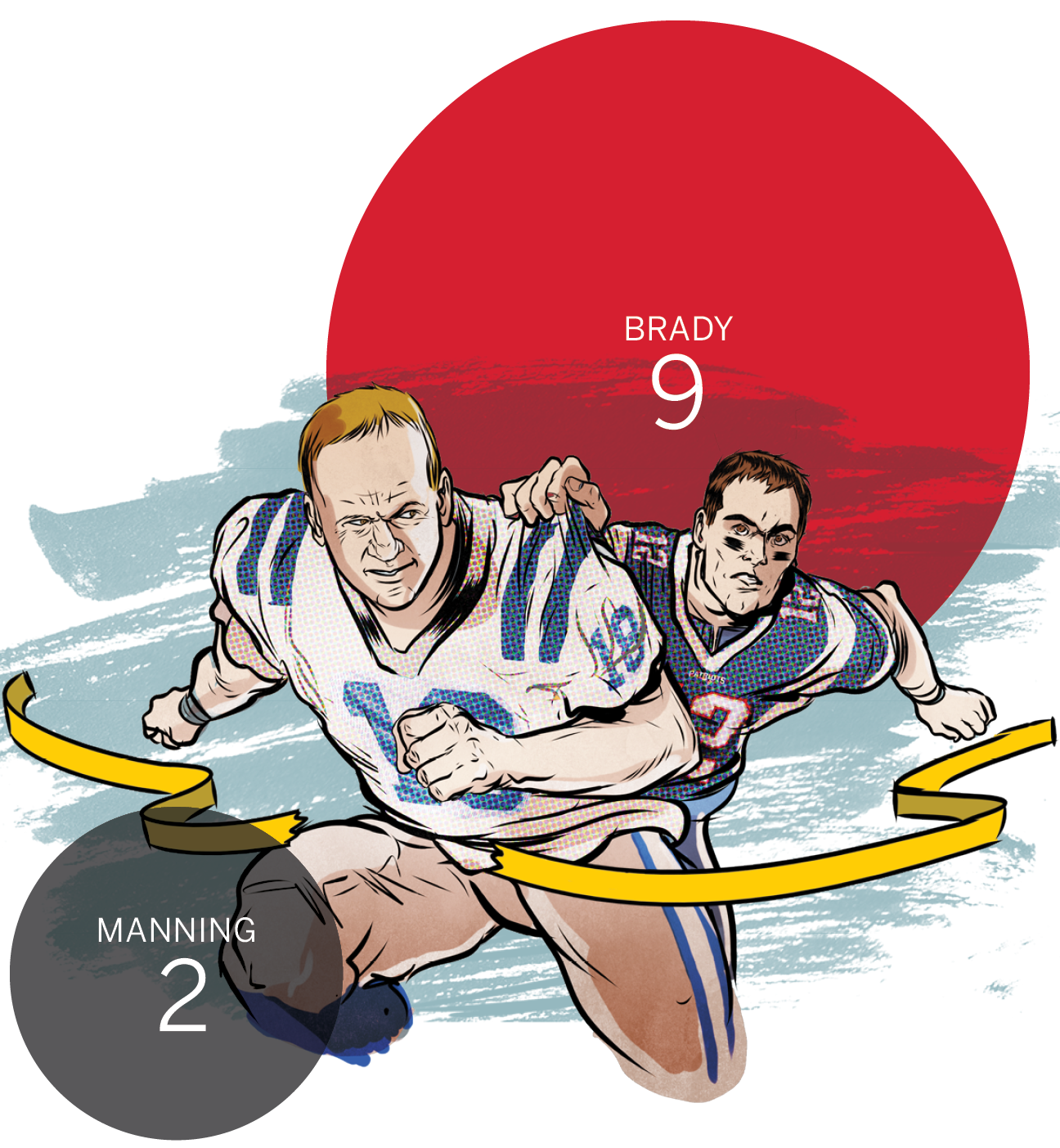 Don't fall too far behind, even if you're Tom Brady
From the 2013 AFC Championship
The Patriots simply fell behind by too much against the Broncos, losing the AFC Championship 26-16. Brady threw for 277 yards in that game, completing 24 of his 38 passes with no interceptions. But here's a look at how he couldn't put together any sustained drives or get into the end zone until the fourth quarter, when the game was already out of reach: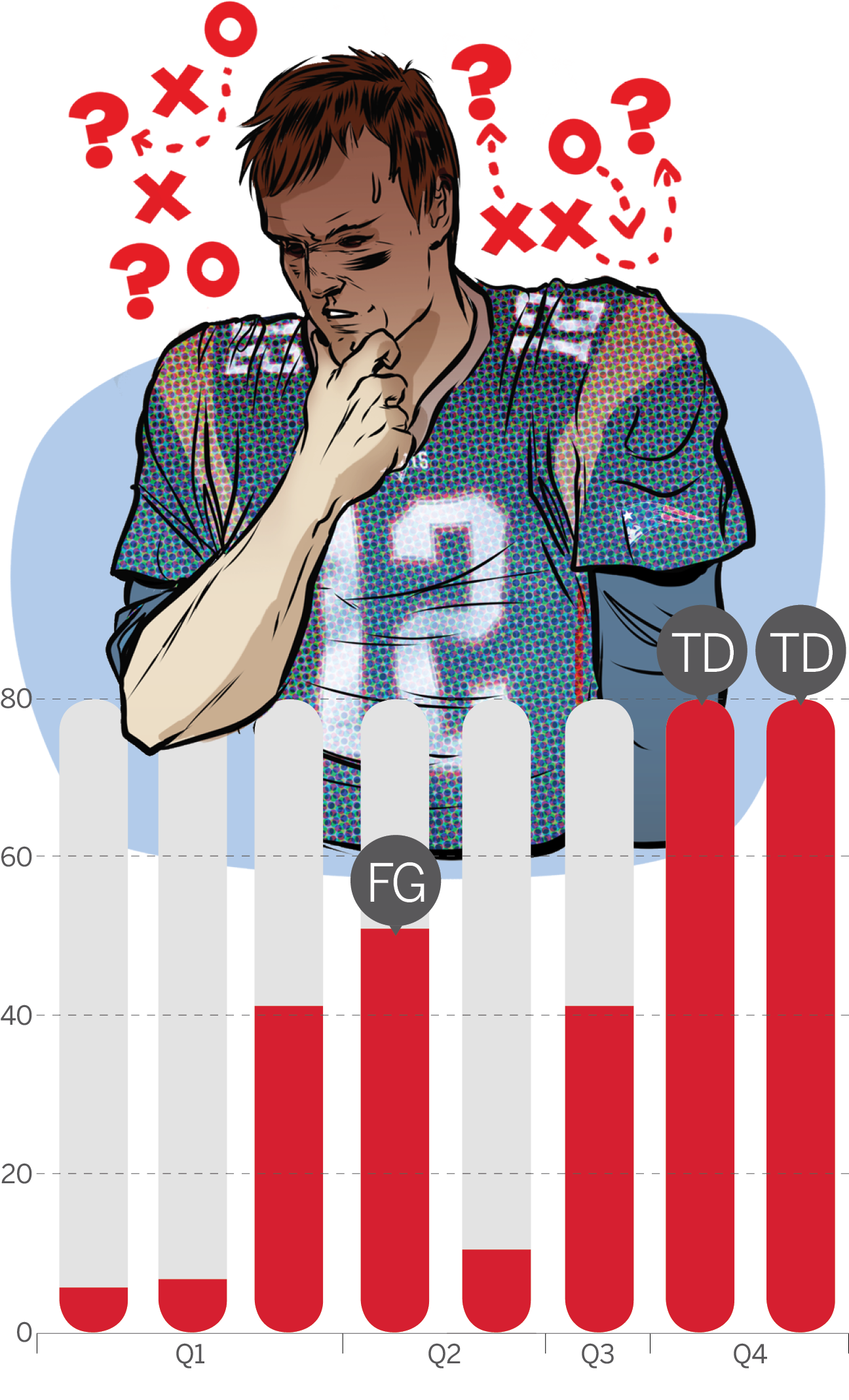 Home field advantage is real
From all four Manning-Brady playoff games
Manning and the Broncos may just have the biggest advantage of all with this game being played on Sports Authority Field at Mile High. The quarterback playing on his home field has won every time so far in this postseason rivalry. Here's a look at the stark difference in Manning's passer rating when playing at home against Brady in the playoffs compared to when he's on the road: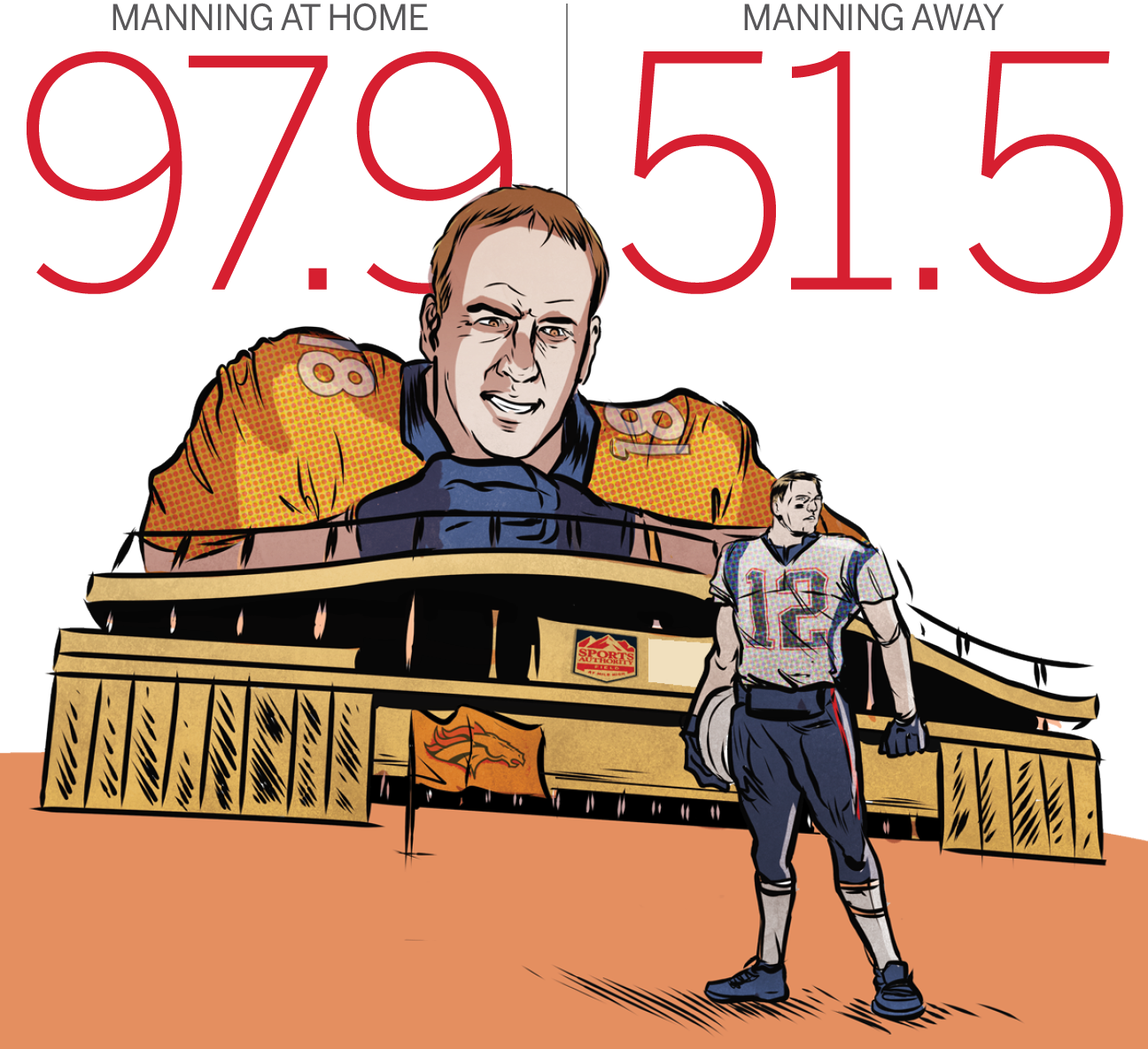 Illustrations by Rafa Alvarez; Stats compiled by ESPN The Magazine research department, ESPN Stats & Information and Elias Sports Bureau