The Overreaction Index: NFL storylines that have us freaking out
— -- It takes two weeks for NFL fans to get in a panic about their favorite teams. Week 1 is too early; everything feels new, and having histrionics after 60 minutes looks desperate. But if you have doubts after Week 1 and that skepticism is confirmed by a similar performance in Week 2? Fire all the sadness torpedoes! Shout loud enough at the television to wake up your neighbors! And the flip side is equally true: If you're enthused after Week 1, you're sure as heck going to believe even more if things keep up the following weekend.
Sometimes, reacting to two weeks of football is a bad thing. After two weeks last year, the 0-2 Texans looked like an absolute mess, the 2-0 Falcons were the revival of the season, and Derrick Morgan was in the middle of his long-awaited breakout campaign. Not so much. And yet, if you were barking about the 0-2 Colts, impressed with the 2-0 Panthers or worried that Peyton Manning was toast, your instincts were dead-on. It's a fine line between jumping to conclusions and getting ahead of the curve.
So, with that in mind, let's run through 10 surprising or otherwise noticeable situations after Week 2 and identify whether it's the right time to react or appropriate to take your foot off the gas and calm down. Nothing is settled in the NFL, and teams and players can undergo fundamental changes, but let's try to take a rational, unbiased look at the first two weeks of the year. And that starts with a struggling offense out West ...
The story: The offense is a total mess.
After last year's dominant second half from Russell Wilson, the Seattle offense was supposed to hold its own alongside the perennially great Seahawks defense on what might have been a reasonable pick for the best team in football. So far, that hasn't been the case. The Seahawks have just one touchdown in two weeks, scored during a two-minute drill to win the game against Miami in Week 1. They've scored a total of just 15 points in two weeks against a pair of teams (Miami and Los Angeles) that allowed 59 combined points to their other opponents.
Injuries are picking this offense apart. Thomas Rawls came into the season at less than 100 percent and has just 25 rushing yards on 19 carries after suffering a leg contusion during Sunday's loss to the Rams. Doug Baldwin played through back spasms and will have an MRI on a knee injury. Tyler Lockett missed part of the loss with a knee concern, leading to the terrifying sight of Richard Sherman fielding punts. Most distressingly, Wilson looks entirely mortal after suffering a high ankle sprain in Week 1; he can't move well and has taken 18 hits in two weeks.
Is it an overreaction? In the short term, no. Wilson's high ankle sprain is a genuine concern, and while onlookers were amazed that he was able to weather the storm and make his way back onto the field without missing a start, it might actually have been better for him to sit out for a game to rest the painful, debilitating injury. The Seahawks may still want to consider resting Wilson for the Week 3 home game against the 49ers. Ben Roethlisberger tried to play on a high ankle sprain without sitting out for a week (against a much better 49ers defense) in 2011 and was forced into three interceptions during a dismal performance; he then sat out the following week in an attempt to recover. Given how much of Wilson's game depends on mobility, he can't really function as the hobbled shareware model of the real thing, and the only way his ankle's going to get better is with rest.
In the long term, though, things should be OK. Seattle has this annual stinker of a game against the Rams, and the last few seasons have turned out fine. The Seahawks have an early bye in Week 5, so even if Wilson sat the next two weeks, they should be able to get him enough rest for some level of recovery to occur. The offensive line has been a disaster, but it also tends to improve annually as the unit makes changes and then develops some level of continuity with the right combination of players.
Christine Michael has emerged as a viable option at running back and was excellent on Sunday before the late fumble to seal Seattle's fate. And with Arizona losing in Week 1, the entire division is 1-1, so Seattle's loss doesn't put it at a disadvantage early in the season. The Seahawks' defense has also been fantastic despite facing massive differences in average starting field position in each of the first two games.
The story: Their defense appears to have gone missing.
The Raiders might be football's most entertaining team through two weeks, but they've needed loads of big plays on offense and the enormous gumption of Jack Del Rio to make it to 1-1. The A's have the second-worst defense in baseball, and their city counterparts have the second-worst defense in the NFL through two weeks after allowing 69 points. Thirty-five of those went to the Falcons on Sunday in a loss.
The big worry is that the players who are supposed to be great have been anonymous or worse. Big-ticket free-agent corner Sean Smith was enough of a mess in Week 1 against the Saints to get benched in his debut for the team, and he was burned repeatedly by Julio Jones while entering the world's least exclusive club in Week 2. Star linebacker Khalil Mack, who beat up quarterbacks for fun last year, has no sacks and two hits through two games. The Raiders have two sacks in two games, a coverage sack from Bruce Irvin in the opener and a moment of interior pressure from Stacy McGee on the first drive against Atlanta. The Raiders allowed more than 500 yards just once last season; opposing teams have done that in each of their first two games. Total yardage isn't a great statistic, but it's indicative of what is happening to Oakland's defense right now.
Is it an overreaction? A little. Mack is getting more pressure than it might seem, given that he knocked Matt Ryan down twice Sunday, but the Raiders need somebody to develop across from him, and fast. Smith didn't turn into a sub-replacement cornerback overnight, and the wideout corps of the arriving Titans, Ravens and Chargers shouldn't be quite as scary as handling Jones and Brandin Cooks. More worrisome is the fact that David Amerson left Sunday's loss with a concussion, depriving the Raiders of their best cornerback at an early crossroads. The Raiders face a devastating set of wideouts when they play the Jags, Bucs and Broncos in consecutive weeks, but that stretch doesn't start until Week 7, and they'll hopefully have drummed up some semblance of a pass rush alongside Mack by then.
The story: Turnovers and missed plays
Cousins' breakout season in 2015 was marked by a dramatic drop in his interception rate. The quarterback who possessed the worst era-adjusted interception rate in league history heading into 2015 threw just three picks in his final 10 games, driving a stunning Washington run to the postseason. A year later and he has three interceptions in his first two starts, both losses at home. If Washington loses this upcoming Sunday to the Giants, they'll be three games out of first place in the East after three weeks. Yikes.
Even worse, though, Cousins is leaving plays on the field. Against the Cowboys on Sunday, he repeatedly missed open receivers for what could have been either significant yardage and/or a touchdown pass. This overthrown pass should have been a touchdown pass to Jamison Crowder: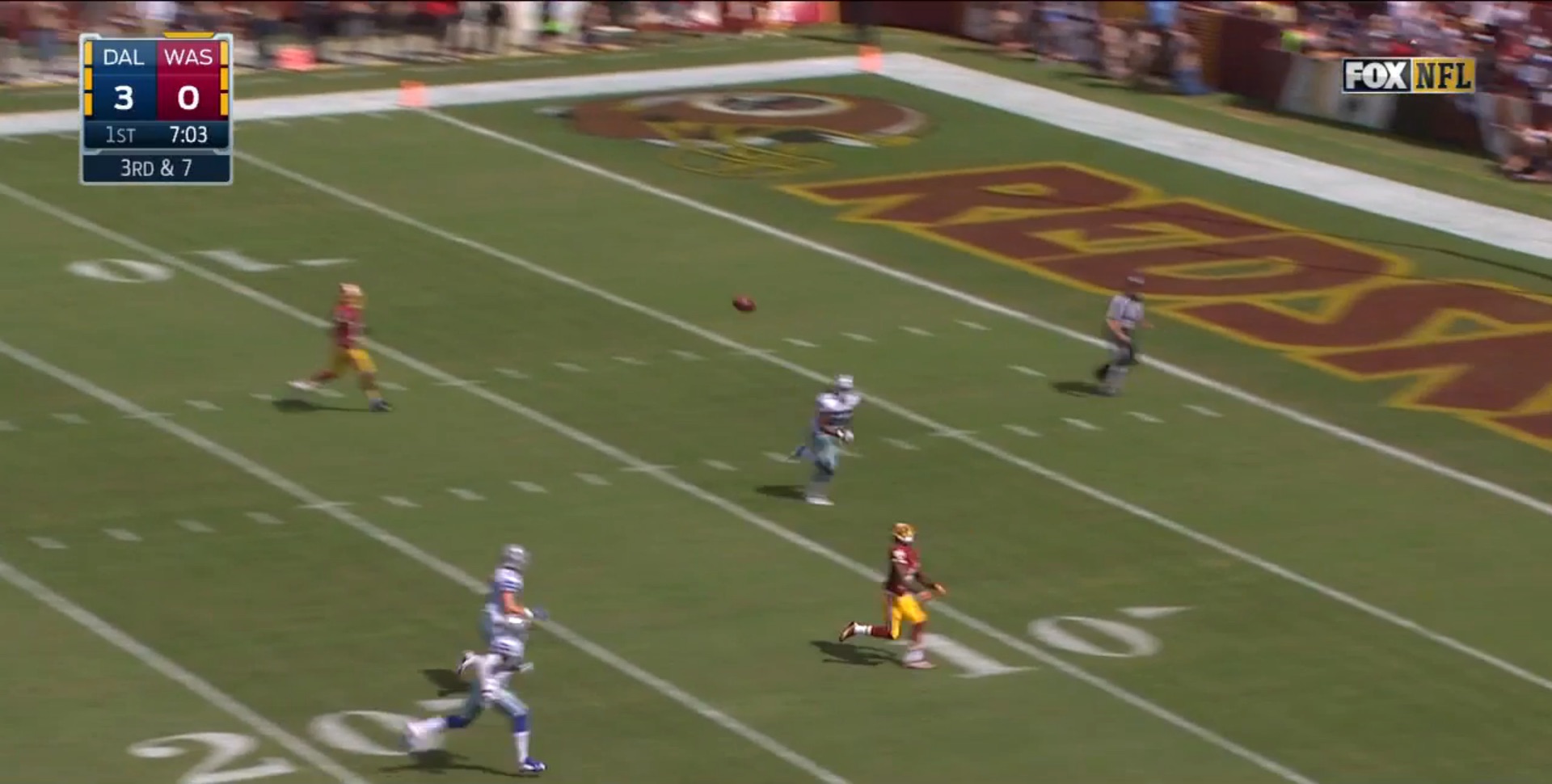 Later in the first quarter, a pressured Cousins came up short on a pass to an open Pierre Garcon for what would have been a first down: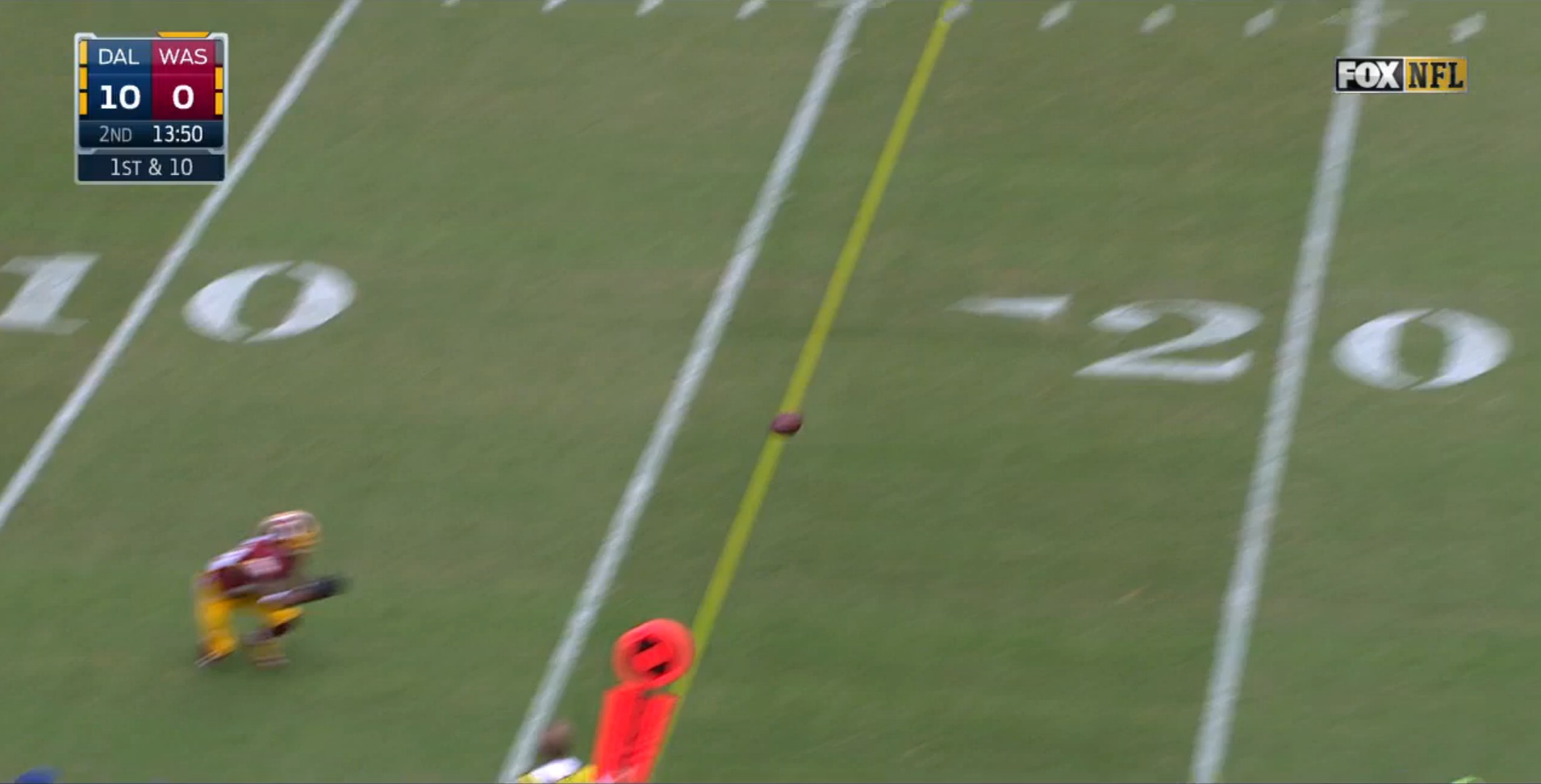 In the second quarter, Cousins saw DeSean Jackson get open deep and overthrew what would have been another long touchdown: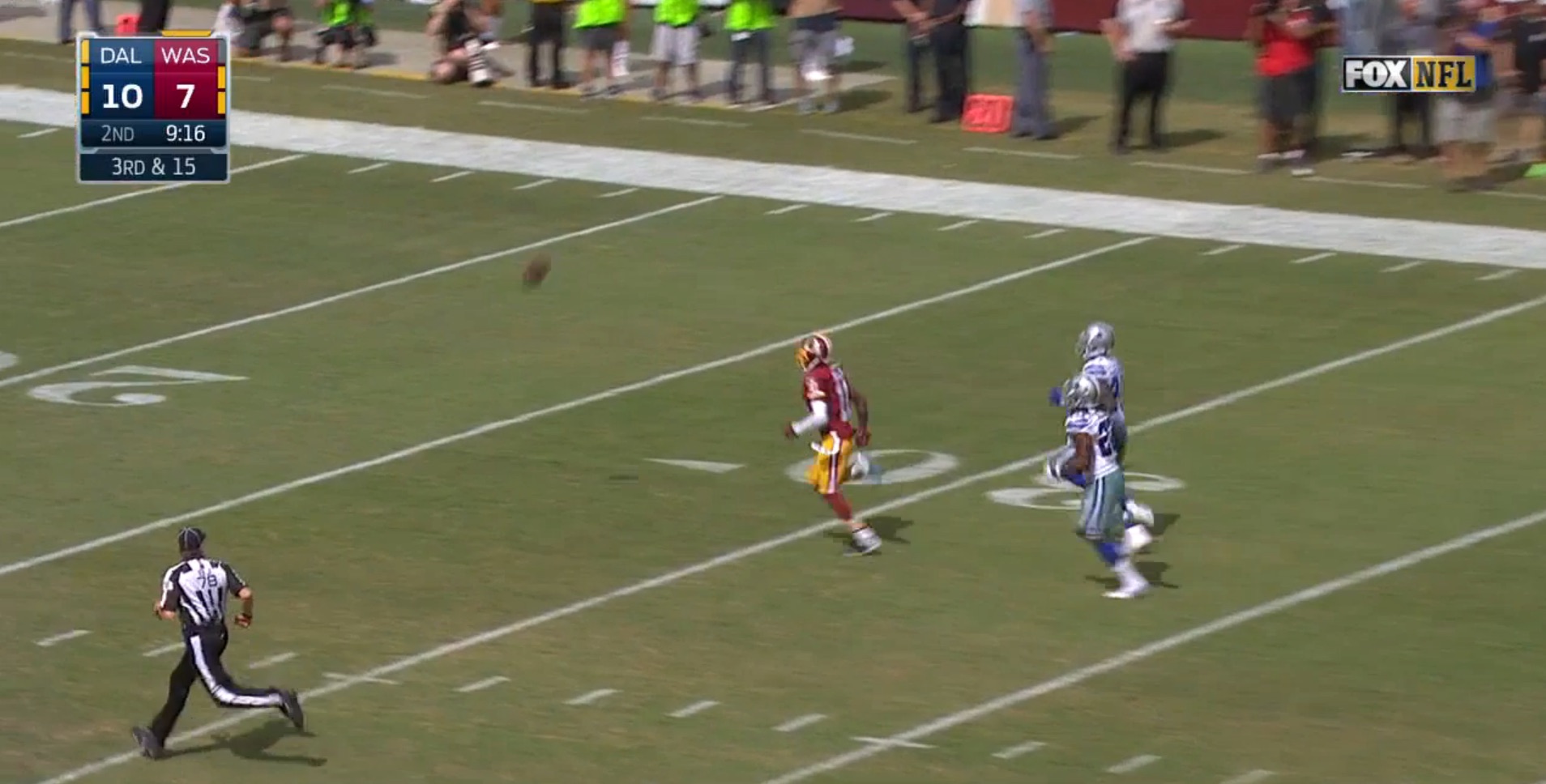 And at the end of the third quarter, an open Garcon slips in the end zone, but Cousins' throw isn't anywhere near where it should have been, either: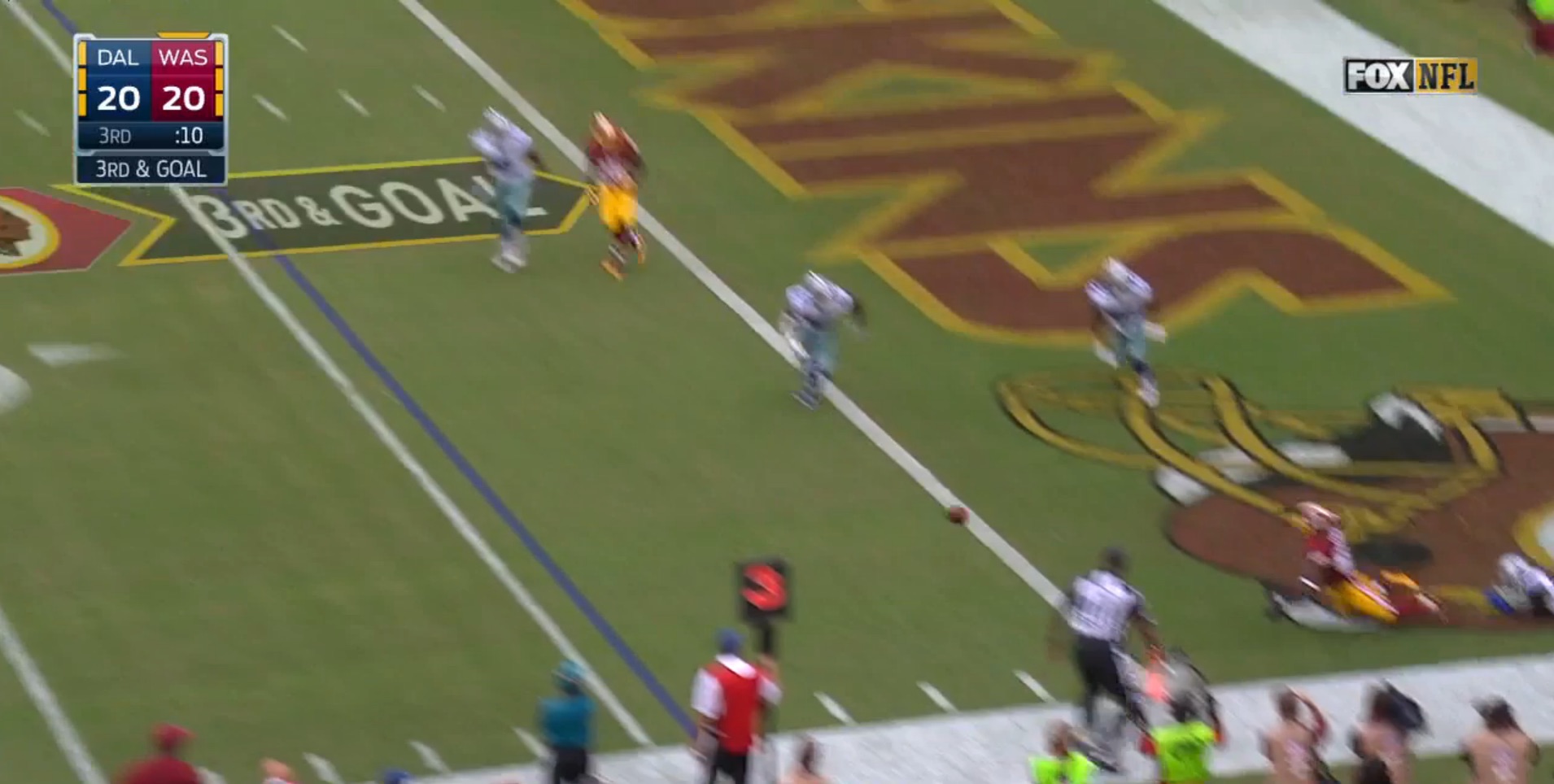 Another drive turned into zero points when Cousins was slow to spot a wide-open Josh Doctson running free downfield and threw a pass which Doctson had to slow down to catch. A pass in stride would likely have produced a touchdown. That drive then ended with Cousins throwing an ugly interception in the end zone when he made the classic mistake of trying to finesse a crossing route in the shadow of the goalposts. Cousins made a few nice passes during this game, to be fair, but it's no surprise that teammates were anonymously complaining about Cousins' decision-making and lack of poise.
Is it an overreaction? Not really. The fact that those plays were there for the taking is a good sign, but it was also against a Cowboys defense which isn't very good and still managed to knock Cousins down nine times. It's anecdotal, but Cousins appears to be a streaky quarterback in terms of his confidence and timing, given how he has played over the past few seasons, and right now, he looks out of sorts and uncomfortable. His decision-making seems iffy, and if the turnovers continue to creep back into his game, things could get ugly quickly. The next five weeks include the Giants, Browns, Ravens, Eagles and Lions, none of whom should expect to have an excellent defense this season, so Cousins may be able to arrest his slide in the weeks to come, but this is an ominous start for a quarterback with much to prove in 2016.

The story: They're good?
The Giants are one of seven teams in the NFL to start 2-0, and outside of perhaps the Ravens, nobody is more of a surprise 2-0 team than Big Blue. Ben McAdoo's team beat the Cowboys and Dak Prescott in a nail-biting opener before taking down Drew Brees and the Saints in a surprisingly low-octane Week 2 home opener, 16-13. It took a Josh Brown field goal as time expired for the Giants to officially claim their victory, but it might not have been as close if the Giants hadn't lost all three of their fumbles to the Saints defense along the way. And the new-look Giants defense is off to a hot start: They've allowed 32 points across two games, a number each of their final three opponents in 2015 topped in 60 minutes against the Giants alone.
Is it an overreaction? Yes. The Giants started last season 0-2 after losing their opener to the Cowboys by one point and their home opener to the Falcons by four points. That was such a good gauge of their performance that they subsequently went on a three-game winning streak. This year, they beat the Cowboys in the opener by one point and just topped the Saints by three points. We know that teams will win about 50 percent of their games decided by one score or less and that the 2015 Giants, at 3-8 in those games, were unlikely to be as unlucky in 2016. They returned a blocked field goal against the Saints for a touchdown and had a number of plays narrowly go their way against Dallas.
They were an 0-2 team which looked like a 1-1 team after Week 2 last year, and they're a 2-0 team which looks like an 1-1 team after Week 2 this year. If they start racking up larger margins of victory against Washington, Minnesota and Green Bay over the next three weeks, start taking the Giants more seriously.
The story: What breakout?
After two weeks, the looming Jaguars breakout season appears to have been lost in the mail. They've started 0-2, putting up a credible fight at home against the Packers before being blown out in San Diego on Sunday, 38-14. Blake Bortles threw for 329 yards and two touchdowns, but most of the positive numbers came after the Jags were down several scores; he threw two interceptions and lost a fumble on a strip sack during the first half. Through two games, Bortles' 51.8 QBR ranks 26th in the league, which is up from ... 27th last year. Free-agent additions Chris Ivory, Prince Amukamara?and Kelvin Beachum are all injured, the expensively assembled defense has allowed 65 points in two games, and there are fans and onlookers calling for Gus Bradley's head.
Is it an overreaction? Yes. Bortles has made some bad throws, but he has also made plenty of pretty passes, especially during the Packers game. The investments on the offensive line haven't yet paid off, as Luke Joeckel has been a mess at guard, and he'll have to take over at left tackle again if Beachum's serious-looking head injury keeps him out for an extended period of time. The defense hasn't been great, but Amukamara played well in the opener, and Jacksonville's two top-5 picks on defense have shown great promise. Jalen Ramsey?has been very good as a slot corner through two weeks (although he was juked out of his shoes by Melvin Gordon on Sunday), and Dante Fowler picked up his first two NFL sacks against the Chargers.
The schedule is also about to lighten up for the Jags: They get the Ravens at home and the Colts in London over the next two weeks. Neither has looked especially impressive so far, even given Baltimore's 2-0 record. If the Jags hit their bye at 0-4 after consecutive losses, there could be fireworks, but they come out of that bye week with games against the Bears, Raiders and Titans. Jacksonville is still probably a year away, but it's too early to write 2016 off.
The story: What are they going to do without Jimmy G?
You know, the thing all Patriots fans thought they were going to say after two weeks. Garoppolo has looked incredible during his time as a starter, going 42-of-60 for 498 yards with four touchdowns, no interceptions and a league-best QBR of 90.8. He was carving up the Dolphins on Sunday before suffering a sprained AC joint in his shoulder, which will likely keep him out against the Texans on Thursday and could cause him to miss the Week 4 matchup against the Bills.
The Patriots were forced to turn to rookie third-rounder Jacoby Brissett, marking the first time they've had to use three quarterbacks in a season since Tom Brady tore his ACL in 2008. (I am making the bold assumption that the Patriots will turn to Brady in Week 5.) Brissett was inconsistent, going 6-of-9 for 92 yards, almost all of which was yards after catch from screens. He took two big sacks, losing the football on one of them, and led one scoring drive against a defense which had no hope against Garoppolo. Brissett looked like a raw rookie with limited practice reps, which isn't his fault, but an acknowledgement of the situation. The Dolphins were able to get interior pressure on him; now he'll face J.J. Watt, Jadeveon Clowney and the Texans on a short week. Can he hang?
Is it an overreaction? I don't think so. The difference between Brady and Garoppolo was a few points on paper, and it's fair to wonder if the difference between Garoppolo and Brissett is even bigger. Garoppolo had two months to prepare for his run with the starting gig and got regular preseason reps. Brissett is a much more inexperienced player, didn't get those practice snaps and will only have a couple of days to prepare for a game against Houston. I'm not saying the Patriots will definitely lose -- Bill Belichick will have a game plan ready to attack Brock Osweiler, who has been inconsistent so far -- and LeGarrette Blount may be able to run the Pats out of trouble, but it'll be a much tougher task without Garoppolo. And overall, it's a 2-0 in a division where every other team has a loss, and Brady is back in two weeks.
The story: The defense is really great.
It didn't help matters for the Chiefs that they were without both of their starting guards for Sunday's loss to the Texans, but Alex Smith simply didn't have a prayer against what has been the league's best pass rush through two weeks. The Texans have nine sacks and 21 quarterback knockdowns after Week 2, and that's with just 1.5 sacks from Watt. It's a group project. John Simon, of all people, has 2.5 sacks and five knockdowns. Clowney, in a critical season, has a sack and four knockdowns. They are fifth in the league, pressuring quarterbacks 31.2 percent of the time, and have the league's best sack rates. Opposing passers have posted a 22.4 QBR against the Texans this season, the best figure in the league pending the Monday night game.
Is it an overreaction? Not really. Watt is not 100 percent yet, and you can imagine the sort of anguished reactions you'll get from opposing quarterbacks when he finally does make it to full form. You can argue that they've played two average passers in Smith and Jay Cutler, and they won't continue to hold teams to converting less than 26 percent of their third-down tries, but barring a serious injury to Watt (which might not even be possible without the lava pit from "Terminator 2"), the Texans should continue to be one of the better defenses in the league.

The story: Our offense was so bad that Greg Roman needed to go.
This and its reaction already happened! The Bills were ninth in offensive DVOA last season, despite starting a castoff quarterback making the veteran minimum. Roman, who had been much maligned for his work as an offensive coordinator in San Francisco, built a run-intensive scheme around the skills of Tyrod Taylor and turned his quarterback and Richie Incognito into Pro Bowl-caliber contributors. The Buffalo offense ranked 26th the previous year. This was a huge turnaround, and if Rex Ryan hadn't taken a second-ranked defense and pushed it down into 24th in 2015, the Bills might have been a playoff team last year.
Is it an overreaction? Yes. Buffalo's offense was not off to a hot start, but if Roman was two bad games away from being fired, Buffalo should have just fired him during the offseason and used that time to find a better replacement. In addition, the game plan and results against the Jets weren't as bad as people have suggested. Fans who wanted more running plays should remember that the Jets had the league's best run defense last season. The Bills offense did score two long touchdowns before adding a third late in garbage time, but again, the Jets defense is very good. Taylor's top receiver, Sammy Watkins, is also clearly hobbling around and less than 100 percent after undergoing offseason foot surgery. Nobody was saying the Bills should fire Roman even a month ago.
Now, despite Rex suggesting that he would be the first off of the sinking ship, he chose to fire Roman instead. I'm not getting into the politics of who fired who and when, because it's already embarrassing to even type that sentence. What Rex said was typical head coach bluster, and it's what he did which was far more disappointing. It's right to be let down by Buffalo's start, but given what he accomplished last year, firing Roman was far too premature. If ownership pushed on him to make a panic move and satiate the fans, Rex should have pushed back. Roman wasn't the problem.

The story: They can't protect Andrew Luck or keep any defensive backs healthy.
Week 1 was supposed to be a sign of things to come, with the Colts limiting the Lions to two sacks and five hits. Week 2 was far more par for the course for the oft-hit quarterback, with Luck taking five sacks and a whopping 11 knockdowns. The Colts repeatedly tried to block Von Miller and DeMarcus Ware one-on-one in passing situations and found that the Joe Reitz's of the world were not up to handling All-Pro talents mano a mano. Even worse, the Colts lost more defensive backs during the game: Antonio Cromartie went down with a hamstring injury, Darius Butler appeared to pull a hamstring on what should have been a pick-six interception of Trevor Siemian, and Rashaan Melvin was sent to the locker room with a thigh injury. This is bad!
Is it an overreaction? A bit. Vontae Davis will be back in October, and that should make things easier for all the other cornerbacks on the field. The pass rush is still theoretical at best, having produced two sacks in two games, but the Colts can get better on defense. As for Luck? Be at least a little worried. They haven't managed to protect him or keep him upright for years now, so why start in 2016? In all seriousness, Indy isn't going to be playing Miller and Ware (or Ziggy Ansah, for that matter) every week. Of their next five games, just one -- the Week 7 trip to Houston -- is against a team projected to post a winning record this year. It's not pretty, but let's see what the Colts do against the Chargers, Bears, Jags and Titans before we start writing them off in 2016.