— -- The Baltimore Ravens terminated Ray Rice's contract Monday after a video emerged of the running back punching his then-fiancee in an Atlantic City hotel elevator.
The NFL followed up by suspending Rice indefinitely, which would prevent another team from picking him up. Earlier in the day, the NFL said it had never seen the violent video before it suspended him for two games for domestic abuse earlier this summer.
"We requested from law enforcement any and all information about the incident, including the video from inside the elevator," the NFL said in a statement. "The video was not made available to us and no one in our office has seen it until today."
Ray Rice Apologizes Again, Says 'Wife Can Do No Wrong'
The NFL's Domestic Violence Problem
Fans Trade Ray Rice Jerseys for Pizza, Bar Tabs
Within hours of the video's appearance on TMZ.com, Rice's team, the Baltimore Ravens, tweeted, "The Baltimore Ravens terminated the contract of RB Ray Rice this afternoon."
The video shows Janay Palmer, now Rice's wife, being hit in the face in the elevator. Palmer then lunges at the running back before he delivers a blow that knocks her out. When the elevator doors open, Rice drags Palmer's body outside, leaving her face down on the floor, her legs still inside the elevator.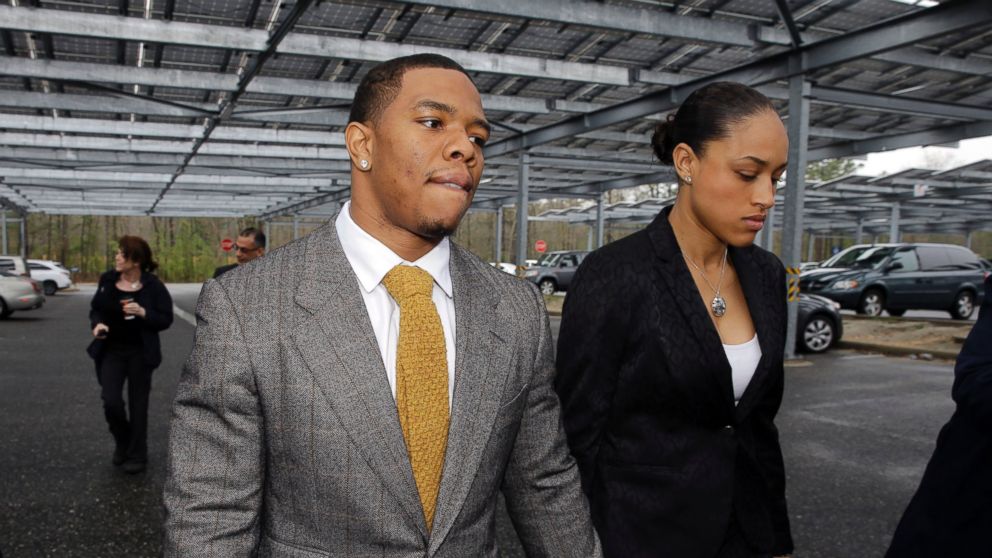 Ravens coach John Harbaugh said he and team officials had not seen the video before today, but after seeing it they quickly came to the decision that Rice had to be released.
"It's something we saw for the first time today," Harbaugh said. "It changed things of course. It made things a little bit different."
White House press secretary Josh Earnest said he spoke with President Obama about the news that the Ravens terminated Rice's contract.
"The president is the father of two daughters. And like any American, he believes that domestic violence is contemptible and unacceptable in a civilized society," Earnest said. "Hitting a woman is not something a real man does, and that's true whether or not an act of violence happens in the public eye, or, far too often, behind closed doors. Stopping domestic violence is something that's bigger than football -- and all of us have a responsibility to put a stop to it."
The clip sparked outrage from fellow football players, coaches and fans, and many called for the NFL to cut Rice sooner. Herm Edwards, a former coach for the New York Jets, said he would have taken action before the video was released.
"I thought and I said this early, when this incident took place: If I was the head coach, obviously, he would have been deactivated for a while," Edwards told ESPN before the Ravens and the league acted. "More than two games."
"I've always felt this way, that I understand there is a policy, they have to go through the procedure of the law and you have to go through all that. I also know that you, as a coach, have enough information ... that you can decide your own fate of the player even before the league gets involved."
Edwards added, "This could be a one-time incident, but it's one-time too many."
Revel Casino Hotel in Atlantic City, where the fight happened, said it released the video to police. Atlantic City police did not respond to requests for comment by ABC News. A prosecutor told ABC News he refused to discuss what might have been submitted, viewed or cited by the grand jury.
An earlier clip showed the scene from outside the elevator, but not the violent blow that originally earned Rice a two-game suspension. The NFL has been criticized for what some considered to be a light punishment.
Some time after hotel security arrive, Palmer gets up and she and Rice walk away.
Both Rice and Palmer were arrested after the incident. Charges against Palmer were quickly dropped. Rice, who was indicted by a grand jury, entered a pretrial diversionary program, avoiding jail time. He has apologized for the Feb. 15 incident.
Kyle Flood, the football coach at Rice's alma mater, Rutgers University, called Monday a "sad day" for the school.
"The video I saw this morning was difficult to watch as a husband and as a father," Flood said. "There is nothing that can justify what I saw on that video. This is a sad day for Ray and a sad day for Rutgers."
After outrage from Rice's suspension, the NFL announced last month that players accused of domestic violence would face tougher punishments. Players get six games of suspension for a first offense, and at least a year for a second offense, according to the new policy.
The hotel has since shut down for unrelated reasons. TMZ said it cleaned up the video to remove reverse frames and make the time frame clearer.