When will the voters get it through their thick, impenetrable skulls that they need to finally elect all the deserving candidates into the Hall of Fame rather than those who simply meet their own very personal, arbitrary and inconsistent standards?
No, I'm not complaining that Barry Bonds, Roger Clemens, Mike Piazza, Jeff Bagwell, Tim Raines and Jack Morris will probably fall short of baseball's Hall of Fame again this week.
I'm wondering why Jimmy Buffett isn't in the Rock and Roll Hall of Fame. The 2014 induction ceremony is on April 10; and once again, Buffett isn't being enshrined.
Granted, Buffett's music can hardly be described as classic rock. But I wouldn't classify the music of Donna Summer as classic rock, either, and she was inducted into the Hall last year.
For that matter, why isn't Chicago in the Hall? Or The Guess Who? Or Bon Jovi? Or Dire Straits, Pat Benatar, Cheap Trick or the Smiths? And why is Donna Summer in it?
Which just goes to show you that the baseball and rock halls share the same eternal and frustrating debate over who belongs and who doesn't belong.
There is one critical difference between the two, though. There appears to be no concern whatsoever in the Rock and Roll Hall of Fame about drug use. I mean, if some baseball writers aren't voting for Bagwell simply because they think that maybe he might possibly have taken something though there is no evidence he did, how would they treat Keith Richards?
Then again, the question is whether you consider marijuana, cocaine, alcohol, etc. to be (a) performance-enhancing drugs; (b) concert tour enablers; or (c) career destroyers.
"It's unknown what performance enhancers really do. The results are so varied," Jeff Katz says. "Acid enhanced the Beatles' performance -- they said as much. On acid, they created 'Sgt. Pepper,' perhaps the greatest album of all time. The Stones also took acid and created 'Satanic Majesties,' perhaps their worst album.
"By the same token, Barry Bonds is implicated in PEDs and so are many others. But the others didn't perform like Bonds. He's one of a kind."
Katz is the mayor of Cooperstown, N.Y., a SABR member and the author of the upcoming book "Split-Season" about the 1981 strike year. He also wrote the rock history blog "Maybe Baby," so he has some interesting insight into the two halls. Like me, he sees many similarities in how players and performers are elected to the two halls.
Both votes are generational and personal. (Rock is very personal.) We tend to treat the players and performers we grew up with as special and better than those who came along later. If you came of age in the 1950s or '60s, no one is ever going to be as good as Willie Mays or Mickey Mantle. Nor is any band going to compare to the Beatles or the Stones. Those of us who came of age in later decades will have similar opinions about George Brett, Ken Griffey Jr. and Derek Jeter, or Springsteen, U2 and Nirvana.
Voting, therefore, is always going to be subjective and often inexplicable. If you're wondering why the BBWAA voters didn't consider Jim Rice a Hall of Famer until his 15th year on the ballot, consider that the Rock Hall didn't vote Paul McCartney in until five years after John Lennon was inducted.
A significant difference between the two halls is that while the main debate for the Baseball Hall of Fame is whether a player was good enough to qualify for induction, the Rock and Roll Hall has to wrestle with whether a candidate's music can rightfully be described as rock.
For example, Johnny Cash, the Shirelles, Sam and Dave, Joni Mitchell, Leonard Cohen, the Supremes, James Taylor and the Drifters were/are all great musicians. But were/are they rockers? They've all been inducted, so how can the Hall keep Buffett out?
Buffett is the Don Sutton of candidates. He's had only one Billboard Top 10 hit ("Margaritaville" made it to No. 8 in 1977); but even if you aren't a Parrothead, you have to admit the man has had one long, successful career. At age 67, he not only still sells out concert dates, he has two restaurant chains. Plus, he wrote No. 1 best-sellers on both the New York Times fiction and nonfiction lists. Isn't his longevity and all that commercial success the equivalent of 300 wins?
There is still hope, though. After all, the Hall finally elected Rush last year. Katz compares Rush to Bert Blyleven, saying that just like Bert, the very successful group was overlooked for years before fans mounted a campaign that eventually swayed the voters.
Anyway, here's the takeaway: Regardless of whether it is the Baseball Hall of Fame or the Rock and Roll Hall of Fame or the Mascot Hall of Fame (yes, there is such a thing), fans are always going to disagree with whom the members vote in or keep out. Someone is always going to think someone got shafted and that someone else doesn't deserve a vote.
The more important thing is that people care so much. Especially the Baseball Hall of Fame, which we care about most of all.
No one debates the football, basketball or hockey halls the way we do the Baseball Hall of Fame. While baseball writers and fans argue nonstop over whether or not players who took PEDs were cheaters who damaged the game, I never hear anyone even bring up that subject in connection with the Pro Football Hall of Fame. Fans and writers not only constantly debate who belongs in the Baseball Hall of Fame, we argue over what cap they should wear.
Simply put, fans are nowhere near as passionate about the other sports halls as they are about baseball's.
So through the exasperating, constant, angry debates, the name-calling and the inconsistent application of standards among the voters, we should pause this week and be happy that people actually care enough about the Baseball Hall of Fame to have such impassioned opinions.
(Meanwhile, I still would like to see Buffett in the Rock and Roll Hall of Fame. After all, rather than just giving a long and usually boring speech thanking everyone imaginable, the Rock Hall of Famers also perform at their induction ceremonies.)
CSI: Box Score
Each week, I provide a fragment from an old box score and challenge you to determine what game it is from and why it's significant. I give this one a difficulty rating of 5. Answer below:
Baseball Card of the Week
Here's a card from a pack available at the Wrigley Field Pearl Jam concert last summer.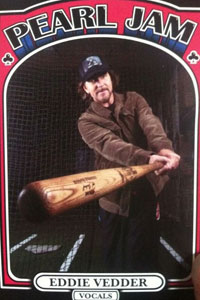 Eddie Vedder will be eligible for the Rock and Roll Hall of Fame in 2016, but he's such a big baseball fan he probably wishes he were eligible for Cooperstown as well. Actually, he probably would be satisfied if Cooperstown simply housed a Cubs world championship banner/trophy that is less than a century old.
Yeah, Well, That's Like, Just Your Opinion, Man
Did I Mention The Rock And Roll Hall Of Fame Elects About A Half-Dozen Acts Each Year? It took awhile. And I'm not proud of my ballot. But as colleague Jayson Stark noted, the BBWAA's 10-man limit means no one is happy with his or her ballot. So here's who I voted for: Craig Biggio, Barry Bonds, Roger Clemens, Tom Glavine, Greg Maddux, Edgar Martinez, Jack Morris, Tim Raines, Frank Thomas and Alan Trammell. Left off my ballot were several players I've voted for in the past (Jeff Bagwell, Mark McGwire and Mike Piazza), along with several others I still want to find room for ( Mike Mussina and Curt Schilling). But until the 10-man limit is lifted -- a move the BBWAA is considering -- I won't be happy with my vote. The limit forces many writers to vote an agenda rather than our complete opinions.
For instance, I voted for Morris because this is his last year on the ballot, though I don't think he's as good as several players I left off. (And in case I haven't made it clear in the past, the reason I vote for PED suspects is because the substances allegedly taken were not banned at the time, which makes their use no different from taking greenies, which so many Hall of Famers did.)
There Is No Debate Over What Cap These Guys Wear Because I'm Not Sure Our Hall Has Plaques. While the BBWAA ballot will be revealed Wednesday at 11 a.m. PST, the Internet Baseball Writers Association of America announced its vote earlier this week. I'm a member of both and am happy to say the IBWAA voted Greg Maddux, Tom Glavine, Frank Thomas and Craig Biggio into our hall. I would have preferred more inductees, but four is definitely better than none. Fingers crossed the BBWAA follows our lead. Learn more about the Internet writers group at IBWAA.com.
Yet Another Loss For Padres Fans. We lost a Hall of Fame broadcaster over the weekend with the passing of Jerry Coleman, who was the voice of the Padres for four decades, and their manager in 1980. He also won four World Series as a second baseman with the New York Yankees during a playing career that was limited by his military service in both World War II and Korea. I didn't know Coleman or get to hear him much, but I do fondly recall one spring training encounter when a fellow writer asked him whether Marilyn Monroe -- who married Coleman's old teammate, Joe DiMaggio -- was really as attractive as her reputation. "Nah," Coleman said sarcastically. "We just had really bad eyesight in those days." Coleman was the reliable eyes and ears for fans in the broadcast booth, and he also had a long and distinguished career on the field and in the service of his nation. It's just a shame that in addition to all he accomplished, he never got to tell listeners, "And the Padres win the World Series!"
Rest in peace, Jerry.
CSI: Box Score Answer
The only clue you needed was the name Mulder in the very short pitching line, along with the news last week that Mark Mulder has begun a comeback attempt by signing a minor league contract with the Angels. This fragment is from the last game Mulder pitched in the majors, back on July 9, 2008. A bad shoulder forced him to retire as a player -- he's been an analyst on ESPN since 2011 -- but he's trying to return at age 36.
Is Mulder kidding himself? Well, he's younger than former teammate Tim Hudson, along with several dozen other active pitchers. Plus, one appearance in 2014 would give him 10 seasons in the majors, making him officially eligible for the Hall of Fame. (The Baseball Hall of Fame, that is, not the Rock and Roll Hall of Fame.)
So, best wishes to Mark, and here's hoping we see his name in more box scores.