Rory McIlroy tumbles down leaderboard at Masters
— -- AUGUSTA, Ga. -- Body language often tells the story for Rory McIlroy, so seeing a scoreboard or watching wayward shots into the woods was not necessary to figure out his mood on Saturday afternoon at Augusta National.
The purposeful stride and bounce in his step had gone missing, replaced by slumped shoulders and an indifferent disposition. Putts failed to drop. McIlroy's contorted face showed a look of disbelief.
His seemingly excellent chance at winning the Masters was slipping away with the afternoon breeze; the place many expected to be his ultimate stomping ground was turning into a house of horrors, again.
McIlroy started Saturday with high hopes. He was just a shot behind 36-hole leader Jordan Spieth and looking to pounce on an opening to complete the career Grand Slam. Instead, McIlroy walked off the 18th green having failed to make a single birdie, his chances at victory left to a Sunday miracle.
"Just one of those days,'' said McIlroy, whose 77 put him in a tie for 11th place, 5 shots back of Spieth. "You have to try to forget about it and move on.''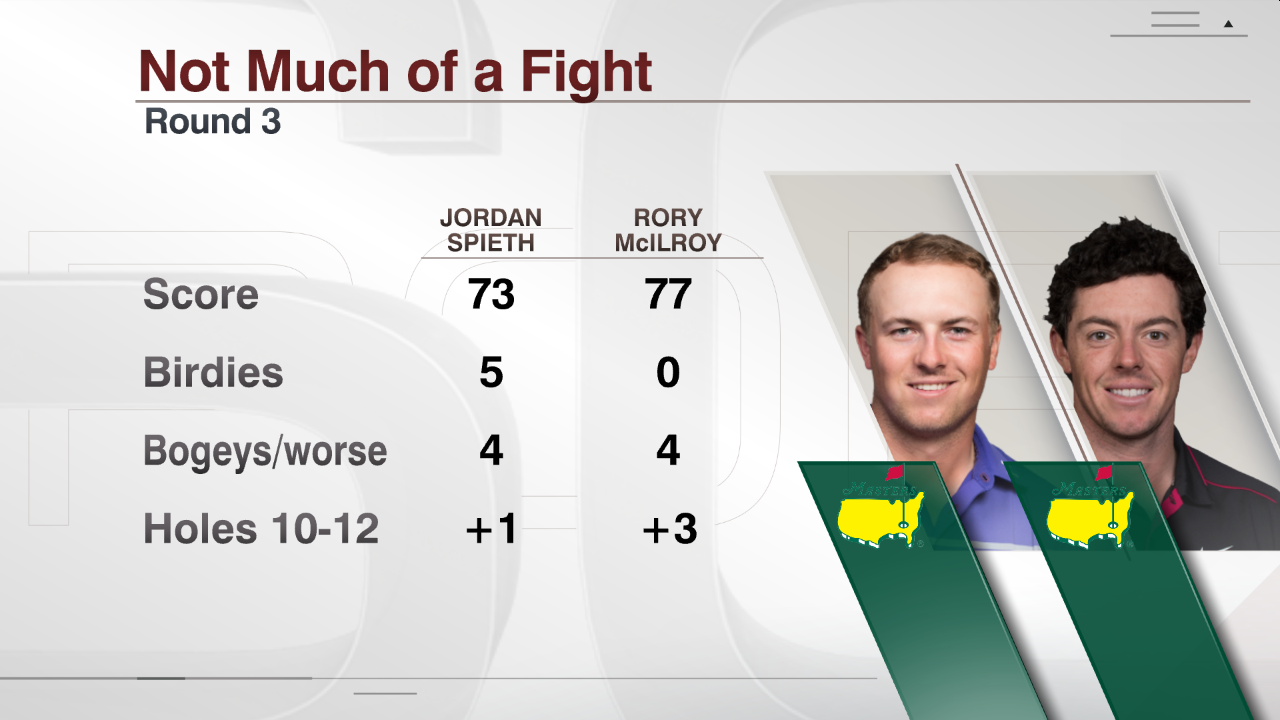 McIlroy could chalk it up to difficult conditions that saw just five players break par. And certainly the course was a bully -- with strong winds, cool temperatures, slick, baked-out greens and major championship nerves all playing their parts.
But the truth is, the wind that caused fits for a majority of the field had died down as thousands upon thousands of spectators lined the fairways and surrounded the greens over the closing holes.
And McIlroy couldn't get anything to go, unable to narrow the gap and failing to make a birdie for the first time in 80 major championship rounds, dating to the 2010 Open at St. Andrews -- where he followed an opening-round 63 with an 80.
It didn't help that he witnessed numerous occasions where Spieth holed unlikely putts, getting to 2 under par for the day at one point.
"After 15, I said, 'How the hell is he 2 under par today?'" McIlroy said. "But it's his most impressive asset. And as much as it could be annoying to his competitors, it's very, very impressive.''
McIlroy only has a chance on Sunday because Spieth did him the favor of playing the last two holes in 3 over par.
"To be honest with you, I would be feeling a lot worse about myself if I hadn't have just seen what Jordan did the last two holes,'' McIlroy said. "I sort of take a bit of heart from that; I'm still in this golf tournament. Standing on 17 tee, I didn't feel I was. I was 8 back. But it just shows you how fast things can happen on this golf course, especially when the conditions are like they are.''
They sure happened quickly to McIlroy, who had a double-bogey and three bogeys and was continually frustrated by his inability to make a birdie, despite several chances.
A turning point came at the 7th hole, where he hit an excellent approach to set up a birdie putt, only to see it slide six feet past before missing the par putt.
"Jordan was making bogey there anyway and to not at least pick up a shot there, it sort of killed all momentum that I maybe would have gotten,'' McIlroy said. "Then to hit it in the bunker on [No.] 8 from there, I was just making life very difficult for myself. I didn't feel like anything was off, but it was just ... sort of playing upstream, I guess you can say. I was always trying to get something going and I just couldn't.''
Augusta National seems to frustrate McIlroy more than he lets on. He has said on more than one occasion that he figured the Masters would be the easiest of the majors for him to win, given the big ballpark and his skills on such layouts.
And yet, it is turning out to be the most difficult. He captured the U.S. Open in 2011, at the very next major after blowing the Masters when he had a 4-shot lead and tallied a final-round 80. He of course added two PGAs and an Open since then, leaving the Masters for him to become just the sixth player in history to hold all four major championship trophies.
But McIlory has not been close on a back nine since he shared the lead on the 10th tee in 2011. He tied for eighth two years ago and was fourth last year, but that was after a closing 66 helped him reduce a 10-shot deficit to 6.
And then there are those troubling big numbers. Saturday's 5-over-par effort was the sixth time in 29 Masters rounds -- over eight tournaments, including one missed cut -- that he has shot 77 or higher.
McIlroy tried to find positives in parring the last seven holes -- after what was a crushing double-bogey at the 11th. He gave himself some chances, albeit ones he didn't convert, and managed to avoid the last-hole disasters that Spieth encountered.
Now he is banking on a more benign Augusta National and the opportunity to fire at pins and play aggressively, with the feeling that the pressure is on those in front of him, especially Spieth.
But the bottom line is, he turned a 1-shot deficit into 5, had Spieth in his sights in the last group and now has far more players blocking his path to the green jacket.
One thing is certain: You'll know how that quest for McIlroy goes on Sunday just by looking at him.