James Harden ran away with the MVP award last season. Can he win it back-to-back?
The Beard will surely have stiff competition with many of the usual suspects. Will  LeBron James lead the Los Angeles Lakers to the playoffs and earn his fifth MVP award? Or could this be the season Anthony Davis or Giannis Antetokounmpo capture the crown?
We asked the ESPN Forecast panel to rank its top three choices for the 2018-19 NBA MVP, with a first-place vote receiving five points, a second-place vote receiving three and a third-place vote receiving one.
Here are the players who received the most votes: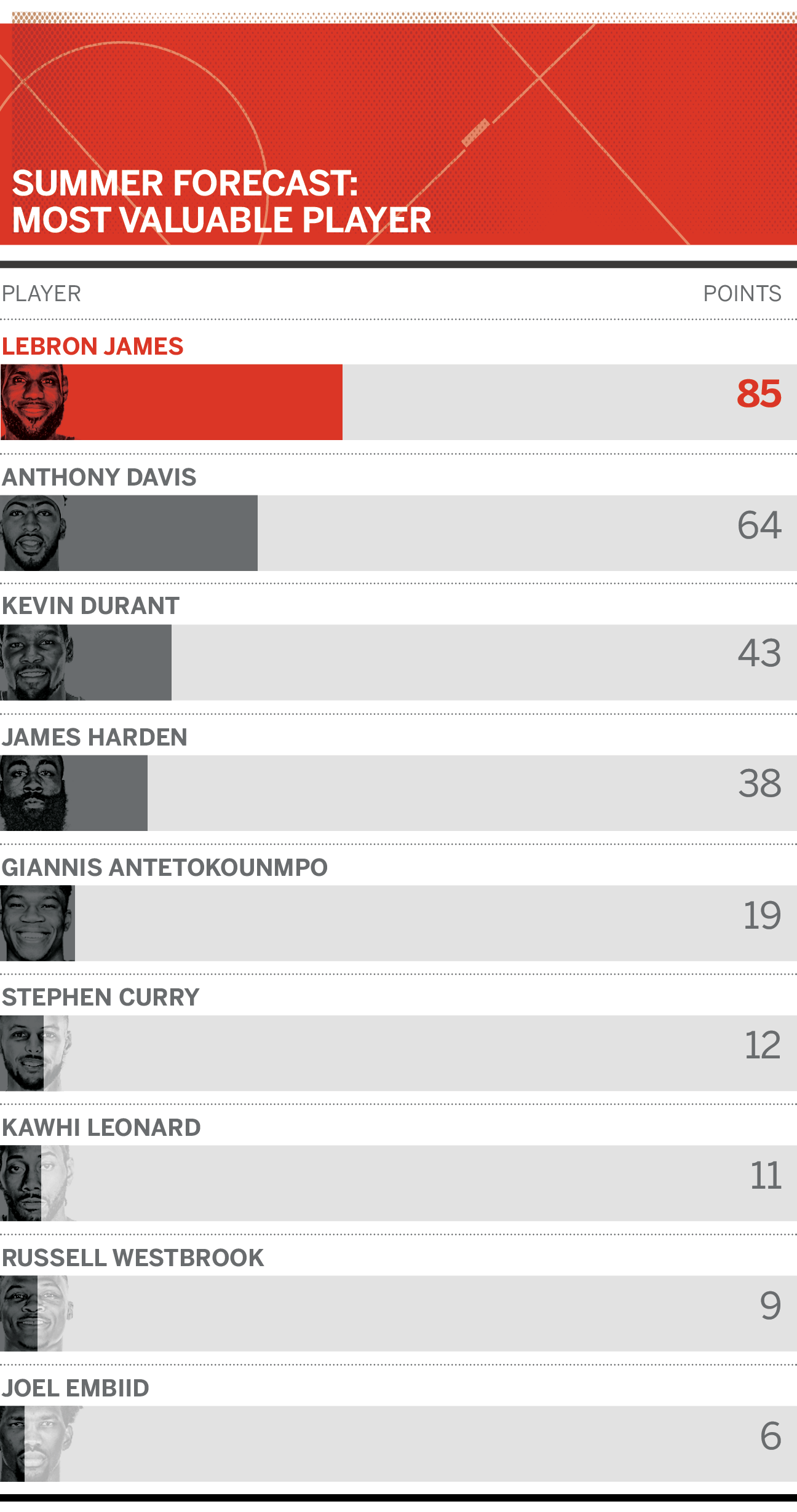 1. LeBron James | SF | Lakers
First-place votes: 39.4 percent
Total points: 85
Despite being widely considered the best basketball player in the world, LeBron hasn't won an MVP award since the 2012-13 season. But what if James and the Lakers surprise everyone and make a run to a top-four seed in the Western Conference? James would have a compelling narrative in leading the NBA's glamour franchise back to the playoffs after a six-year drought. 
James is coming off a monster season in which he led the NBA in games and minutes played, producing some of his best box score stats in years. If he replicates that effort while leading the young Lakers to success, he has a great chance to earn the fifth MVP award of his career. -- Andre Snellings
---
2. Anthony Davis | F/C | Pelicans
First-place votes: 30.3 percent
Total points: 64
Davis played masterfully down the stretch last season, averaging 29.8 points (52.0 FG%, 84.5% FT), 11.8 rebounds, 3.5 blocks, 2.1 assists and 2.0 steals in 24 games after the All-Star Game without running mate DeMarcus Cousins. 
Entering his seventh NBA season at age 25, Davis is entering his prime on a Pelicans squad built around his strengths. New Orleans replaced Cousins and Rajon Rondo with younger, less ball-dominant players this offseason, such as  Julius Randle, while Jrue Holiday is enough of an offensive threat to open up space for Davis. Health is the key: If Davis matches last season's 75 games played, he will be an MVP frontrunner. -- Snellings
---
3. Kevin Durant | SF | Warriors
First-place votes: 12.1 percent
Total points: 43
Durant has won back-to-back NBA Finals MVP awards for the two-time defending champion Golden State Warriors, cementing his status as an all-time great. While James is the consensus best player in the game today, Durant is often considered his biggest challenger. 
The Warriors are huge favorites to have another monster season, and Durant is likely to have the best box score stats on the team. He could carry the narrative that he has surpassed James as the best player in the league to his first MVP award since the 2013-14 season. -- Snellings
---
4. James Harden | G | Rockets
First-place votes: 6 percent
Total points: 38
Harden won his first NBA MVP award last season, capping his third top-two finish in the MVP vote in the past four seasons. He led the Rockets to the best record in the NBA and, perhaps, was one Chris Paul hamstring injury away from the NBA Finals. Despite that, the Warriors will enter this season as massive favorites to win the championship again.
But if the Rockets topple the Warriors in the regular season, with Harden leading the way, he will gain serious consideration as a repeat winner. -- Snellings
---
5. Giannis Antetokounmpo | F | Bucks
First-place votes: 0 percent
Total points: 19
Antetokounmpo is coming off a magical season in which he averaged 26.9 points (52.9 FG%, 76.0% FT), 10.0 rebounds, 4.8 assists, 1.5 steals and 1.4 blocked shots, leading the Bucks to the playoffs and finishing sixth in the MVP voting.
Antetokounmpo has made noticeable leaps in each of his five NBA seasons to date, from a raw rookie, to the Most Improved Player in 2016-17, to two consecutive All-NBA second-team nods. He is still only 23 years old, and if he makes another leap this season, he'll be in the conversation as the best player in the NBA. -- Snellings
---
6. Stephen Curry | PG | Warriors
First-place votes: 3 percent
Total points: 12
Curry has to deal with splitting the vote with his teammate, Durant, and the perception that he may not be the best player on his team. On the other hand, Curry still has the game he had when he won two MVP awards and perhaps a bit of added motivation after being passed over for the Finals MVP award for the third time.
A healthy season from Curry paired with another dominant Warriors run will keep him in the running for MVP. -- Snellings
---
7. Kawhi Leonard | SF | Raptors
First-place votes: 6 percent
Total points: 11
Leonard finished in the top-three in the MVP vote in both of the 2015-16 and 2016-17 seasons, before his well-publicized quad injury forced him to miss all but nine games last season. Meanwhile, the Raptors quietly turned in the second-best regular-season record in the NBA last season with 59 wins.
Leonard represents a significant talent upgrade in Toronto. If he leads the Raptors to the best record in the NBA while playing his dominant brand of offense and defense, Leonard will have a strong case to win his first regular-season MVP award. -- Snellings
Also receiving votes: Russell Westbrook (9 points), Joel Embiid (6), Kyrie Irving (5), Chris Paul (3), Ben Simmons (1).
---
More Summer Forecast
Rookie of the Year
First-time All-Stars