Thomas Brandsma's journey with coach Chris Beard ends at Texas Tech
— -- It was an impromptu, ordinary workout in which new McMurry University coach Chris Beard walked out of the gym thoroughly unimpressed, even forgetting the 6-foot-3 kid's name.
Thomas Brandsma?had just graduated from Colleyville Heritage High near Dallas. He didn't receive a single Division I or Division II scholarship offer. He'd been up until 3 a.m. the previous night playing pingpong with a friend, completely unaware he would soon have an opportunity that could change his life: a last-minute workout in front of a college coach.
Colleyville Heritage coach Stephen Hamrick had arranged the workout without Brandsma's knowledge, and Hamrick didn't tell his former player until they met at the gym that morning. Brandsma was there to earn a few extra bucks as a counselor for Hamrick's basketball camp,?and was getting a few minutes of shut-eye on the locker room floor when Hamrick informed him Beard was in town.
Initially, Brandsma spurned the opportunity, telling his coach that he had already made up his mind on his destination: Division II Harding University in Arkansas as a walk-on. But Hamrick was incessant, and after a call home to his father, Brandsma relented.
"What are you doing this summer?" Beard asked Brandsma, trying to generate some small talk following the workout in 2012.
"I'm a beer vendor," Brandsma answered after wondering whether it was in his best interests to admit his part-time job. "I sell beer in the outfield at Texas Rangers games."
That was followed by a smirk from Beard.
"My assistant, Cinco [Boone], loves the Rangers," Beard said. "And well, I love beer."
A bond was born, a connection that went beyond beer, one that would take Brandsma and Beard on a journey that did not include any Rangers games, but saw them climb the rungs of college basketball. Together they went to four -- almost five -- different schools.
Brandsma had planned to walk on at Harding University. After talking to Beard, he told Harding he would instead be playing for Beard, a former Bob and Pat Knight assistant who began his coaching career living out of his car as a graduate assistant at Incarnate Word.?Beard had just taken over at McMurry and needed players any way he could get them. ?
"He's truthful, he's blunt and there's no bulls---," Brandsma said of the decision to play for Beard.
Beard, with some prodding from Hamrick, was the only coach who saw a basketball player instead of just a beer guy in Brandsma. So Brandsma headed to McMurry, a school he had never heard of, in Abilene, Texas, where he received some academic scholarship money to ease the blow of tuition. The plan was to redshirt the "beer vendor," as Beard affectionately referred to him. But Brandsma played 10 minutes in the opener, wound up starting three games, and averaged 2.0 points and 2.5 boards in 12 minutes per game for a team that went 19-10.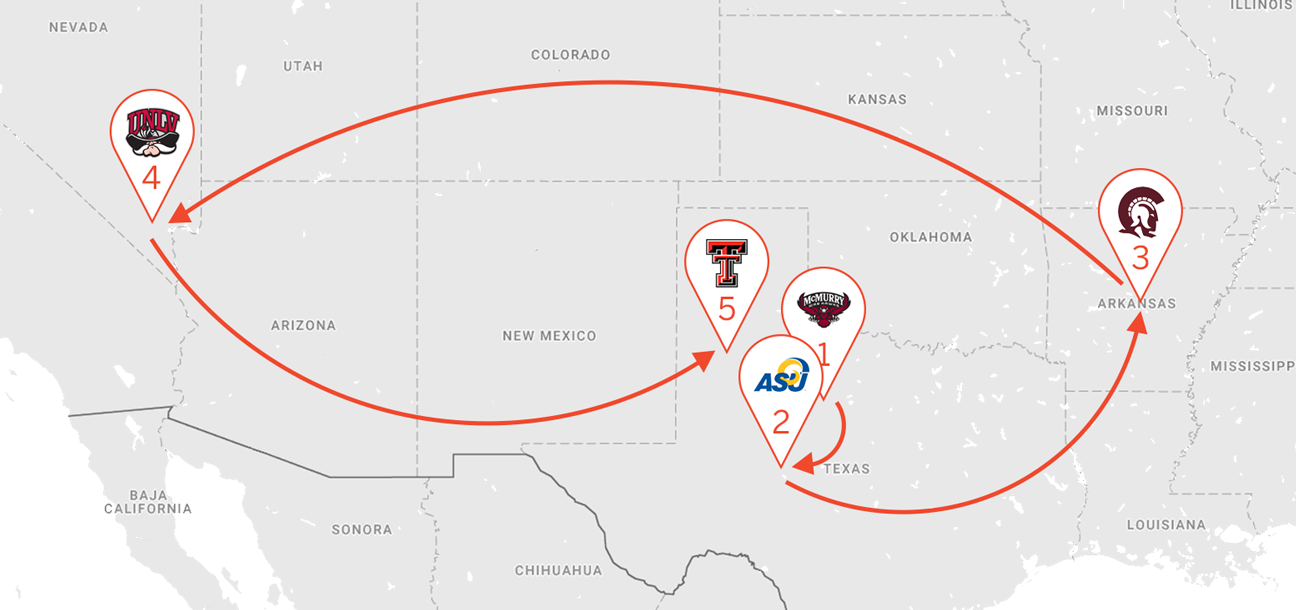 "I was happy," Brandsma said. "It was a small school, I had great friends, good teammates, and as far as I knew, I was going to be there for four years."
Then, a couple of weeks after the season ended, Beard called Brandsma into his office. He had taken a job at Angelo State, one of the top Division II schools in the country, which came with a raise of $40,000 annually.
If Brandsma stayed at McMurry, he would be on track for a scholarship. Nothing at Angelo State was guaranteed, but Beard offered him a chance nonetheless.
Brandsma knew all about Angelo. His dad and brother had both played Division II hoops. The school had far better facilities than McMurry, and the competition would be stiffer.
"It was another step up," Brandsma said. "It was an absolute no-brainer."
The decision was made without hesitation, though, due to the connection he quickly formed with Beard that went well beyond just player-coach level.
"The word is genuine," Brandsma said. "He's a real guy, a real person. People just gravitate to him. I just trust him. He held me accountable in every phase, more than just basketball. In life."
Angelo State was a bigger school, about 10,000 students compared to 1,000 at McMurry. When Brandsma got there in August with another former McMurry teammate named Kenny Williams, there were 20 players trying out -- returnees, recruits and other students just trying to make the team.
"Every day was competitive," said Brandsma, who had grown to 6-5 and nearly 200 pounds. "I'm trying to beat people out."
Early on, the talk again was about redshirting. But by now, Beard knew what he had in Brandsma: a tough, hard-nosed, high-IQ player whom he could trust -- on and off the court.
Again, Brandsma wound up starting three games. Again, he put up role-player numbers (3.1 points and 2.6 rebounds in 14.8 minutes per game).
"I played every game and earned minutes," he said. "Some games it was 25, other games it was five."
Most notably, the team was successful (19-9), and after the year at Angelo, Beard had more options. Kelvin Sampson had just taken the head job at Houston and offered Beard a spot on his staff. Everyone -- including Kansas coach Bill Self, a longtime coaching friend -- told Beard to take the job and get back into the Division I ranks with a proven winner. Beard declined.
"I stayed true to myself and the team," he said.
Brandsma, meanwhile, wound up getting a little scholarship money for his junior season. Beard again considered redshirting him. Instead, he played a key role on a 28-6 team that went to the Division II version of the Sweet 16.
"That was a special team," Brandsma said. "My role expanded, and we had better players. I was sixth on the team in minutes. It was big-time. I loved it. Great school, great team."
Better things were just over the horizon for Brandsma.
"[I was] looking forward to expanding my role even more as a senior, and I was a year away from getting my business degree," he said. "[I was] going to be the captain of the team."
Knock, knock.
Beard had come to deliver Brandsma a bit of news, and it wasn't exactly unexpected. Brandsma had discerned from Twitter that Beard was in the running for the vacant Arkansas-Little Rock job, a Division I position.
Again, Beard told Brandsma he was leaving. Again, Brandsma considered the time-honored notion of hitching his wagon to a rising coaching star.
Brandsma was a year away from graduating at Angelo State, and a move to Division I would mean a mandatory year on the bench per NCAA rules and no scholarship money.
The decision was brutal for Brandsma, who slept on it for nearly a week. He would be walking away from what would finally be his time to shine as a senior at Angelo State, especially after Boone was named the replacement for Beard.
"It would have been a great situation for me," Brandsma said.
"Do I want to do this again?" he remembered asking himself. "Go to a new team and a new school? Ultimately, I wanted to be a part of his program. I believe what Beard stands for, and that's what it came down to for me. That was the deciding factor for me, along with trying to prove myself as a Division I player. I didn't have any interest [from other coaches] out of high school, and this was my way of trying to stick it to people."?
Brandsma took a visit to Little Rock. He landed at noon and flew back out at 6 p.m. He didn't need to see the dorms or the library. He knew he was destined to be with Beard -- again.
Now, Brandsma was a 22-year-old senior. Finally, the long-threatened redshirt stuck for the 2015-16 season. Brandsma bided his time as a walk on and drove for Uber to make a few extra bucks. Beard brought in a slew of new faces to the program, nine in all.
The Trojans shocked everyone, Beard included, by starting out 10-0 with wins over San Diego State, Tulsa and DePaul. The Trojans swept the Sun Belt regular-season and tournament titles and set a school record with 30 wins after pulling an upset over Purdue in the first round of the NCAA tournament.
"It was very fulfilling for Coach Beard to have success," Brandsma said. "But it was hard for me, as a player, not to be out there and helping the team."
Brandsma was still working off the court. When he left high school, he was 190 pounds. He was now up to 220, and even though Brandsma was still stuck somewhere between a backcourt and frontcourt player, he had completely transformed his body in preparation for playing at the Division I level. He was confident he would get minutes at Little Rock in 2016-17 because he knew the offense, played hard and accepted his role.
After the NCAA tournament, with the redshirt lifted, he was eager to start offseason workouts.
Then, Beard's name started circulating again. Shortly after an apparent deal between UNLV and Cincinnati coach Mick Cronin fell apart at the 11th hour, Beard became one of the front-runners to take over the once-storied program in Las Vegas. Brandsma turned to social media and intently followed anyone with any insight.
"Deep down, I knew he was going to get it," Brandsma said.
Beard delivered the all-too-familiar call, this time as Brandsma was walking to class. He let Brandsma know he could stay at Little Rock with Wes Flanigan, the assistant who would be taking over, or follow him to UNLV.
"Same situation," Brandsma said. "Another step up."
But there was a lack of clarity as to how Brandsma could make this move work, or whether he'd be eligible.
The ability to transfer and play immediately as a part of the NCAA's graduate transfer provision was dependent on whether Brandsma could actually graduate from Little Rock, but with credits now colliding from three different schools, it wasn't going to be easy.
Brandsma called his adviser at Little Rock and said he'd change his degree to whatever necessary to be able to make the move legally. His adviser said the only way would be a business major, but Little Rock didn't offer the business classes that were essential to the program in the summer.
"I'm done," Brandsma remembers thinking.?
But there was another way. Brandsma, a 3.5 student, could return to Angelo State, sleep on his friend's couch and take three classes in order to get his degree from Angelo State and be able to play at UNLV. He would transfer from his third school back to his second school, in the interest of playing for his fourth school.
But there was one more wrinkle. And a fifth school.
Brandsma's phone rang. It was Beard.
He wasn't going to UNLV after all. After holding the job for a week or so, Beard awoke to see that Tubby Smith had left Texas Tech for Memphis, thus creating an opening in Beard's old stomping grounds.
Though it would open him up to criticism and be profoundly difficult to leave UNLV in the lurch, Beard's daughters lived two hours from Lubbock, and he couldn't pass up an opportunity to be closer to them. Also, he'd been an assistant for a decade at Texas Tech (2001-2011), and Beard knew the school and town were a better fit for his style and personality.?
"I was happy for him, rooting for him to get it," Brandsma said. "Plus, I love West Texas."
Less than eight months after he sat on the bench at Little Rock, Thomas Brandsma played 10 minutes in Texas Tech's season opener against Houston Baptist, and he later took a plane to play in a game for the first time. He's averaging 7.3 minutes per game on a 12-3 team that recently knocked off No. 10 West Virginia in Lubbock?and is currently projected to be the last team in the NCAA tournament field, according to Joe Lunardi.
"I laugh every day," Brandsma said. "It still hasn't sunk in. When I hear ESPN talking about the Big 12, it took me a second to realize I'm in that."
And to think: Brandsma is four years removed from being told he wasn't even good enough to play Division II basketball.
"I've learned as much from Thomas as I could ever give him as his college coach," Beard said. "Thomas is everything that our teams and culture strive for: unselfish, a great teammate, humble but confident, competitive, has the love of the game, physically and mentally tough, positive, always improving, and a winner. I get emotional when talking about my daughters or the end of Thomas' career."