Tiger's aim is to rejoin Tour mix 'with a chance to win'
— -- DUBLIN, Ohio -- Making his first tournament appearance in a month and just his second since the Masters, Tiger Woods said Wednesday that it is time for him to get in the mix and compete for his first victory in 22 months.
Woods, 39, is playing just his fifth tournament of 2015 at the Memorial, and he played the pro-am at Muirfield Village Golf Club after two days of U.S. Open preparation at Chambers Bay in University Place, Washington.
"It's about peaking at the right time, getting everything organized,'' Woods said. "The main thing is I want to be able to start playing well again, be in contention with a chance to win. I was there at Augusta with a chance, I'd like to get there more often and give myself more opportunities to win.''
That, of course, is difficult when you don't play, and Woods' tournament starts have been so sporadic that it is hard to get a sense for where his game is at this point.
After a surprising tie for 17th at the Masters following a nine-week break to work on his game, Woods took a month before he returned at the Players Championship, where he made the cut on the number before tying for 69th.
Now another month has passed, and Woods has dropped to 172nd in the world. This will be his 15th start at the Memorial, a tournament he has won five times. But two years ago, he tied for 65th when he was No. 1 in the world. He missed the Memorial last year while recovering from back surgery.
"[I'm] a lot more comfortable coming into this week than certainly the Players,'' Woods said. "We had to do some pretty good work going into the Players. But this one's a little bit easier.''
Still, he took a jab at himself when asked about his 6-year-old son Charlie's golf swing. "He's got some parts in his swing that I'm trying to do,'' Woods said. "It's a little frustrating at times.''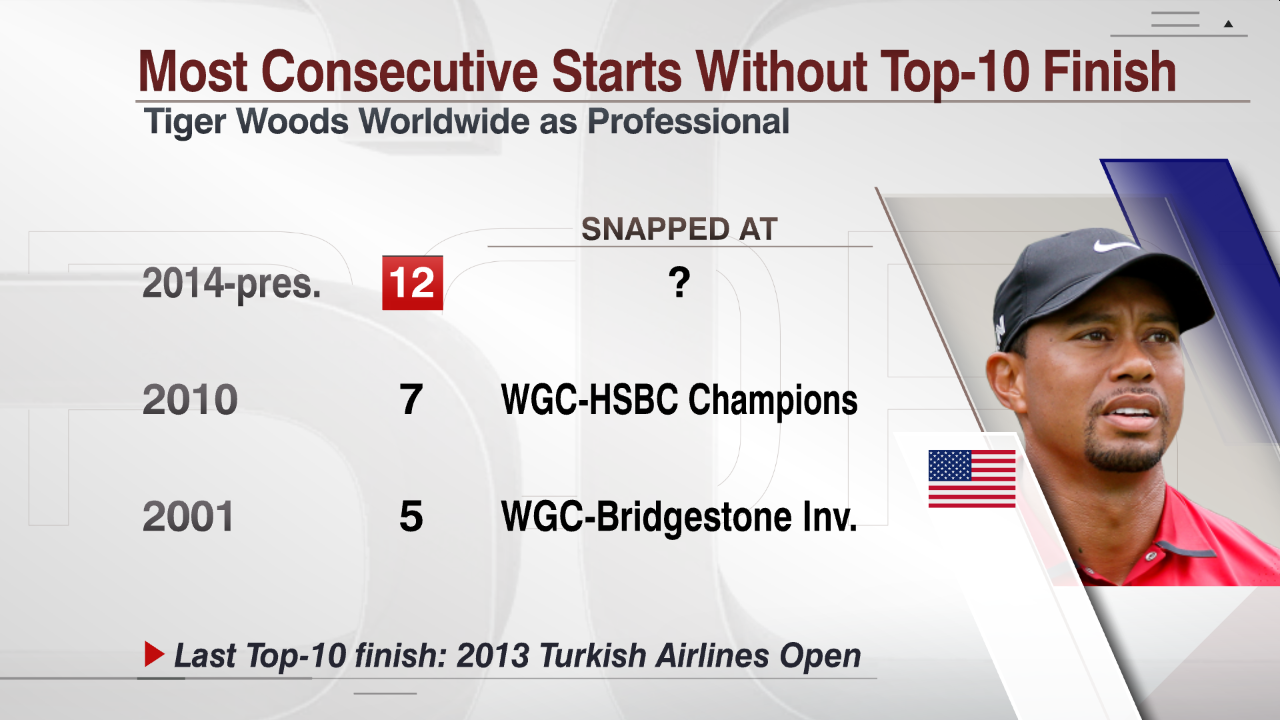 Familiarity with the Muirfield course should help, but Woods said he had to make some big adjustments on the greens Wednesday after spending two days at Chambers Bay. Muirfield's greens are some of the fastest on the PGA Tour, and Woods said he was practicing 40- and 50-yard putts on the unique layout in Washington State.
Woods said he spent 3½ hours on the front nine at Chambers Bay on Monday, and he did the same thing on the back nine. After getting a bit of a feel for the course, Woods said it went faster Tuesday.
"It's very challenging in the sense that Mike [Davis, the USGA's executive director] has so many different options that he can present us as challenges,'' said Woods, who has won the U.S. Open three times. "There are so many different numbers [yardages] that you have to know off the tees and how that's going to play.
"Generally you look at old-school U.S. Opens, it is narrow fairways, high rough, miss it, hack it out, try and make a par from the fairway.
"At Chambers, there's so many different landing areas and aggressive or passive lines, run the ball up, 40 feet, 50 feet, even sometimes 30 yards right of the green or left of the green, and it comes back 10 feet. It's a different type of golf course. We don't even see this in British Opens because they're not banked like this.''
Woods said he played from the back of the back tees each day and the course measured more than 7,900 yards.
Asked if he liked the course, Woods said, "Depends on how it's set up.''
Woods begins play in the Memorial on Thursday morning at 8:15 ET with Patrick Reed and Jason Day.