SpaceX announced on Monday night that its first moonshot passenger will be Yusaku Maezawa, a billionaire estimated by Forbes to be the 18th-richest person in Japan.
He'll be the first private passenger to visit the moon in the company's much hyped Big Falcon Rocket -- if the launch happens.
"I choose to go to the moon!" said the 42-year-old Maezawa, who founded Japan's largest online fashion mall and is worth almost $3 billion.
The announcement was made at the company's headquarters in Hawthorne, California. The launch is scheduled to happen in 2023.
"I love the moon," Maezawa told ABC News' David Kerley following the announcement. "I like to do the things that never have been done before. So I want the challenge to go to the moon."
The announcement was a relief for the Japanese billionaire, who punctuated a question about the announcement with "finally." He told ABC News he's long dreamed of going to the moon.
"It's always been there, it's always been inside of me," Maezawa said, before transitioning to Japanese to say the moon has always "felt like it's protecting me."
"In Japan, you look up at the moon, and it looks like a rabbit," he said, noting that 2023 is the Year of the Rabbit in the Chinese zodiac.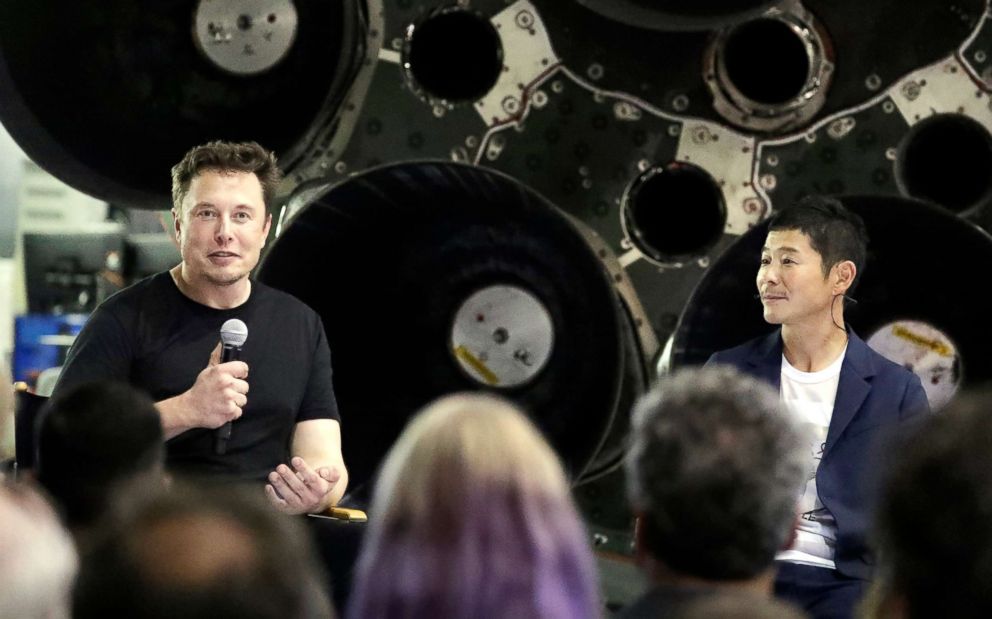 It's not the first time the company has made this kind of announcement. In February 2017, SpaceX founder Elon Musk announced the first two paying customers had put down a deposit to fly around the moon without landing in the smaller Falcon Heavy rocket sometime this year. In June, the company announced that wouldn't happen.
Earlier this year, on Feb. 6, the Falcon Heavy rocket successfully launched from Kennedy Space Center in Florida, launching a red Tesla Roadster driven by a Starman mannequin.
Earlier in the day, Musk was sued for defamation by the British driver he had accused of being a "child rapist" and pedophile via tweets and emails to media.
SpaceX has succeeded in its goal of building reusable rockets.