'God Particle': The Higgs Boson One Year Later
Physicists have plans for the future of the Higgs boson.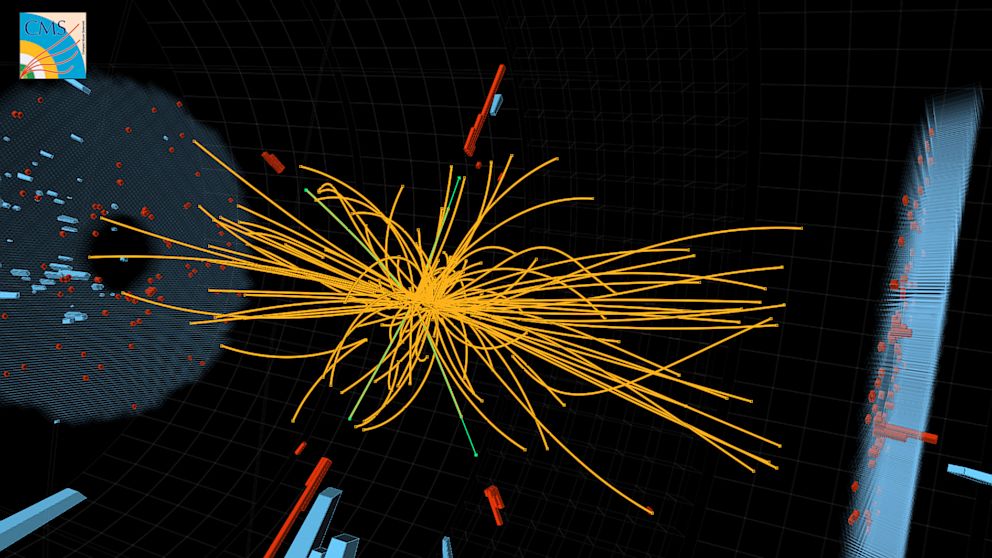 July 4, 2013— -- One year ago, several hours before cities across the United States started their annual fireworks displays, a different type of fireworks were set off at the European Center for Nuclear Research (CERN) in Switzerland. At 9:00 a.m., physicists announced to the world that they had found something they had been searching for for nearly 50 years: the elusive Higgs boson.
Today, on the anniversary of its discovery, are we any closer to figuring out what that particle's true identity is?
The Higgs boson is popularly referred to as "the God particle," perhaps because of its role in giving other particles their mass. However, it's not the boson itself that gives mass. Back in 1964, Peter Higgs proposed a theory that described a universal field (similar to an electric or a magnetic field) that particles interacted with. Don Lincoln, a physicist at Fermilab in Illinois, explained to ABC News, "It's the Higgs field that gives particles their mass."
The boson itself is more like evidence that the Higgs field exists. Lincoln says to think of the Higgs field and boson as water and waves. "Because you see the waves themselves, you know there's water," he said. "If we didn't see waves, we'd always wonder if there was actually water or not." Since physicists have seen a particle that looks a whole lot like the Higgs boson, they're pretty sure that the Higgs field exists.
Higgs's original theory made very specific predictions about the boson's properties (like its electric charge and its quantum spin) as well as how it would interact with its environment (such as what types of particles it would decay into). Since last July, physicists have had their hands full, analyzing a newer and bigger set of data from CERN's Large Hadron Collider (LHC), the world's most powerful particle accelerator. It was the LHC that first provided researchers with evidence of the Higgs boson's existence, and the new data fits in line with Higgs's theory and provides even more evidence that CERN has truly found the Higgs boson.
Paul Tipton, a professor of physics at Yale University, sees the boson's discovery as less of a surprise and more like a waiting game. "We see a little bump in the data, so we take more data. The bump gets bigger and bigger, until we know that it could no longer be attributed to random chance."
The existence of the Higgs boson fills in an important blank for the Standard Model, a theory that explains the behavior of particles. Without proving its existence, mass could not be explained. "For a theory that describes matter, that's a pretty big deficiency," said Tipton.
CERN is looking to do more with the Higgs boson than simply confirm its existence. Lincoln says that there's a very large discrepancy that still needs to be addressed. The Higgs-boson-like particle observed at the LHC a year ago has about 100 trillion times less than energy than what the Standard Model predicts.
Unfortunately, he will have to wait awhile until he sees that issue resolved. The LHC is currently turned off for maintenance issues and is not scheduled to be turned back on until late 2014 at the earliest. However, when it comes back online, he hopes that they'll start tackling that question quickly. "It's like the screaming gorilla in the room," he said.