Twenty-three-year-old college student Hans Smith has never swung a bat on a baseball diamond, but that hasn't stopped him from playing baseball in the virtual world.
Bound to a wheelchair by cerebral palsy, which makes it impossible for him to grip a bat or throw a ball, Smith has spent hours upon hours playing "MLB: The Game" on his PlayStation while his friends play ball on an actual baseball diamond.
But Smith was so grateful that a game existed that allowed him to experience baseball even a little bit, he wrote a letter to PlayStation thanking the company.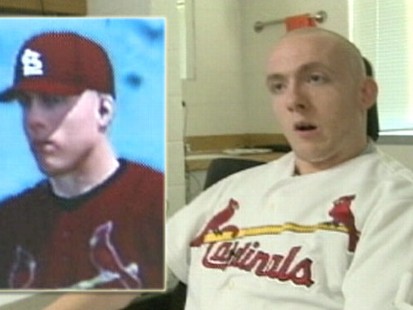 As a result, he's now experiencing the virtual game more completely than his friends could ever dream. The game's developers were so moved by Smith's story that they modeled a character in the game after him -- placing his virtual likeness alongside such Major League Baseball superstars as Albert Pujols and Derek Jeter.
"I said that I know this might sound strange, but I'm a 22-year-old college student who is also a baseball fanatic, and I absolutely love your game," Smith said, quoting the letter he sent to PlayStation in 2008. "I have cerebral palsy, and I'm unable to step foot on a baseball diamond, but you guys have really given me the experience of playing baseball.
"[The game] is so real I am able to experience the same adrenaline rush, the same nervousness, the same frustration and the same excitement as [the real thing]," Smith wrote to PlayStation, which is owned by Sony Computer Entertainment America.
Jennifer Kacizak, a licensing specialist who works closely with PlayStation's development team, received Smith's letter and said that everyone was moved to tears.
"The team really took it to heart. We never get letters like this," said Kacizak. "He is just so inspirational, humble and grateful, he keeps telling me that he never expected us to do this, he never asked us to."
Hans Smith Is Transformed Into Video Game Character
Kacizak invited Smith to come to San Diego and stop by the PlayStation facilities at the first chance he got. The two kept in contact over the coming months, and in November 2009, right before the deadline for the 2010 version of "MLB: The Game" was to be released, the game's designers began the work of turning Smith into a video game character.
The developers had Smith imagine what he thought he would look like if he could stand up so they could create a body for his character. Smith said that was the easy part -- his brother and father are both more than 6 feet tall and much heavier than his own 97-pound weight.
"I figured if I wasn't handicapped, I'd be pretty tall. I'm only 5 feet now, so they created my body as if I could stand, and then they did a 360-degree scan of my head,' said Smith." They used all of these special cameras and lights."
"I can't explain to you or express to you how amazed I felt. I'm just a typical baseball fan. Why would they care about what I think about their game? It was truly special to me because they could have simply written back and said thank you for your nice comments, but here I was in the middle of a board meeting talking to the designers of the game," he said.
"I really feel like I'm getting a dream that if you asked me 15 years ago if I'd receive I would have told you that you were crazy," said Smith.
The 2010 version of 'MLB: The Show' featuring Smith hit stores earlier this month, and as the No. 1 baseball video game franchise, is likely to place Smith's character in the living rooms of many other loyal fans.
The game allows anyone playing to select a player -- from a group that includes every player on a Major League Baseball roster -- and work up from the Minor Leagues to the Major Leagues, accomplishing tasks along the way.
Another mode of the game allows you to play your favorite position on a Major League team of your choice. In this part of the game, Smith's character is a catcher for the St. Louis Cardinals, his favorite team.
"If someone had asked me if I'd be a ballplayer, I'd say no way, but this game has been a miracle worker," said Smith. "This game has allowed me to experience a part of my life that otherwise I would not be able to experience."
Hans Smith Overcomes Cerebral Palsy, Goes to College
When Smith isn't playing video games, he's a busy junior at Brigham Young University-Idaho in Rexberg.
Majoring in communications with an emphasis on broadcasting and public relations, Smith said he might be "dreaming big," but he wants to be a baseball commentator one day.
Smith can't feed himself and requires help to do such everyday things as shower, but despite the challenges, he said he maintains a pretty normal life for a college student.
"I live in a dorm. My family is 1,500 miles away in Illinois, and I'm taking 13 credits," he said. "I go on dates and have a paper due this week.
"I call myself a very independent dependent person," he said. "I may have to have help doing a lot of things, but I'm not shy, and I ask people for help when I need it."
Smith credits his strong belief in God for giving him the strength that he said has helped him remain optimistic about life.
"I believe God has given me a lot of the strengths and talents that I can use in a positive way," he said. "So yes, there have been moments where I wished I could go out on the field and play catch, but I've lived a very happy life."
He hopes other young adults like him learn from his experience with PlayStation.
"This whole story just goes to show the power of gratitude," he said. "All I did was say thank you.
"It just goes to show that within reason, and I know I won't be able to be an astronaut because I don't have the physical ability, but within reason, but you can find other ways to do the things you want."