— -- They say good things are worth waiting for.
Apple and Samsung unveiled a slew of new products within a week of each other, but the new technology will be available at different times.
The Apple Watch is on target for an early 2015 debut while the Samsung Gear S smart watch is expected to be available in certain global markets starting in October.
Apple's iPhone 6 and giant new iPhone 6 Plus, which is viewed as a competitor to Samsung's large phones, will be in the hands of the first users on Sept. 19. Samsung has said its latest big phone, the Galaxy Note Edge, will be available later this year but did not specify an exact date.
Which one is right for you? Here's a quick breakdown of what to expect before you make a purchasing decision.
Apple Watch
Apple Watch, which starts at $349, will be available in early 2015. The watch requires iPhone 5 or newer, meaning 200 million people can already use the device, Apple CEO Tim Cook said today.
The device's functionality uses the crown of the watch -- the knob that has been on time pieces for decades. The crown can be used to navigate through app "neighborhoods," making the process strikingly simple. Cook said a "pinch to zoom" gesture covers the content and obstructs your view -- something that doesn't work on a tiny screen.
At Apple's media event in Cupertino, California, executives said the presentation did not begin to even scratch the surface of the endless capabilities the watch offers. One of the most exciting aspects, though, is the potential for health. Cook said the Apple Watch can help users track exercise, daily movement, amount of time standing and can also help them set fitness goals.
The Apple Watch, which Cook called the company's most personal product yet, is just as much about technology as it is about style. Users can choose watch faces that include minute and second hands, digital time and more options for personalization. For people who don't want to wear a large device, Apple developed a smaller watch. Best of all, fashionistas can switch out their watch straps to match their outfits and activities.
Samsung Gear S
The biggest selling feature of the Samsung Gear S is that the smart watch doesn't require a companion mobile device, as is the case with the Apple Watch.
Samsung's sixth smart watch in the past year features a curved display, customizable screen faces and changeable straps.
With a screen measuring two inches diagonally, the watch is big but also boasts plenty of capability, including a tiny digital keyboard.
Like the Apple Watch, the Gear S also puts a focus on health, offering a pedometer, heart rate monitor and exercise trackers.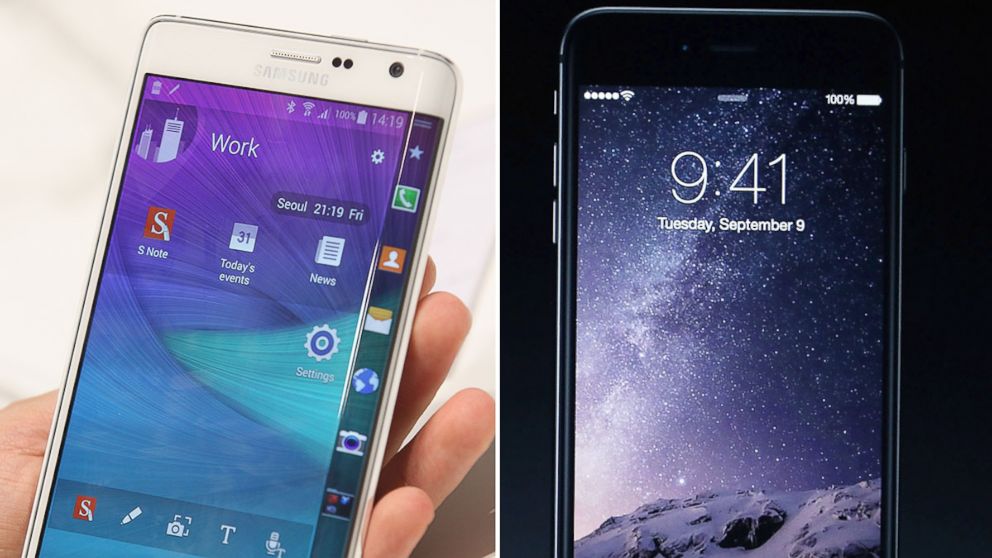 iPhone 6 Plus
Is bigger really better? Apple unveiled the iPhone 6 today, which comes in two sizes. The iPhone 6 Plus seems designed to give Samsung, the market leader in giant phones, a run for its money.
The iPhone 6 Plus is 5.5 inches diagonally. It's also thin, measuring just 7.1 mm. The phone comes in three colors: gold, silver and space gray.
Phil Schiller, Apple's senior vice president of worldwide product marketing, introduced a "brand new gesture" for the iPhone 6 and 6 Plus, called "reachability." Schiller said a double-touch, "not even a press," slides the whole display down so you can reach "anything" at the top of the phone, making it a dream for multi-taskers.
The phone also comes with Apple Pay -- Apple's new payment service that could very well be a credit card killer.
The iPhone 6 Plus starts at $299 (16 GB), $399 (64 GB) and $499 (128 GB).
Galaxy Note Edge
While Samsung has stuck with what it does best -- making gigantic smartphones -- the curved screen on its Note Edge appears to be an effort to differentiate it in the crowded smartphone market.
The screen measures 5.7 inches, making it slightly bigger than Apple's new offering.
The right side of the phone's screen folds past the edge, which makes that side essentially frameless. At that curved edge, you can customize a menu bar with different background colors and app orders.
The experience offers more aesthetic value than practical advantages, though the tactile experience may be unique to people who want to quickly tap an app that's set apart from the others.
The phone also comes with a stylus, making it ideal for users who may want the feel of using a pen. Samsung began offering a software developers kit (SDK) for the Edge starting last week so users can come up with curve-worthy features. The phone will be available later this year in "Charcoal Black" and "Frost White."
ABC News' Susanna Kim contributed to this report.