A new report from the International Telecommunication Union, a United Nations agency, has found that by the end of this year, 3.2 billion people -- about 44 percent of the world's population -- will have used the Internet by the end of this year.
The number is incredibly staggering considering in 2000 there were just 400 million estimated Internet users in the entire world, according to the report, which measures progress made on the United Nations' Millennium Development Goals.
"These new figures not only show the rapid technological progress made to date, but also help us identify those being left behind in the fast-evolving digital economy, as well as the areas where ICT [information and communications technology] investment is needed most," said Houlin Zhao, secretary-general of the International Telecommunication Union said at a press conference today in Geneva, Switzerland.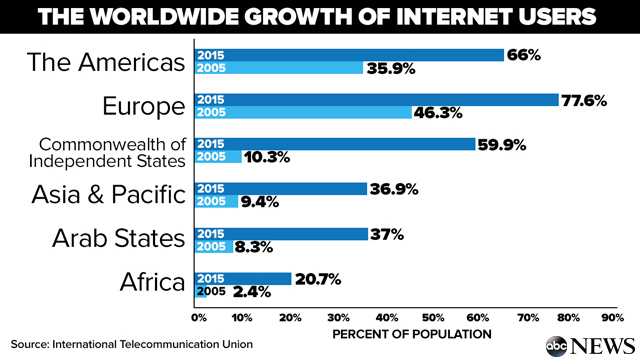 While Internet penetration has increased eight-fold in the past 15 years, the report states there are still four billion people in the developing world without access to the Internet.
Of the one billion people's in the world's least developed countries, only 15 percent use the Internet, according to the International Telecommunication Union.
The push to get the world online has never been greater, with some of technology's biggest companies leading the charge to find innovative ways to connect people who are still without Internet access.
Google's Project Loon is edging closer to its dream of sending a fleet of Internet beaming balloons into the sky.
The Project Loon balloons can float through the sky for more than one hundred days as they cross the globe and beam Internet down to the billions of people in the world who are not yet online.
A control center will help guide each balloon to an area to ensure Google's fleet is providing the best coverage where Internet is needed, while an operations team will be dispatched to collect the balloons when they land.
Google hasn't said when Project Loon could make its official debut. Facebook showed off its high profile and high flying Internet project in March.
Mark Zuckerberg revealed last month Facebook has completed its first test of an unmanned aircraft that could be used to bring Internet connectivity to the most remote parts of the world.
Running on solar power, Zuckerberg said it's expected the Internet drone could fly at altitudes of more than 60,000 feet for months at a time.
The Facebook CEO has also been running his pet project, Internet.org, since 2013, bringing a suite of free mobile Internet services to people in selected countries. Earlier this month, Zuckerberg announced he is opening up his Internet.org platform to developers to help bring new types of content.
The move comes weeks after several Indian firms decided to pull out of the project due to concerns that the app does not provide equal access to information, one of the principles of net neutrality.