Deja vu, anyone?
Just a few weeks after the tech blog Gizmodo made headlines with an exclusive story about a leaked prototype of a next-generation Apple iPhone, a Vietnamese tech blog has published pictures of what it says are another leaked iPhone 4G prototype.
The newest photographs and video of the new Apple iPhone surfaced on the Vietnamese forum Taoviet.vn and quickly spread across American tech blogs today.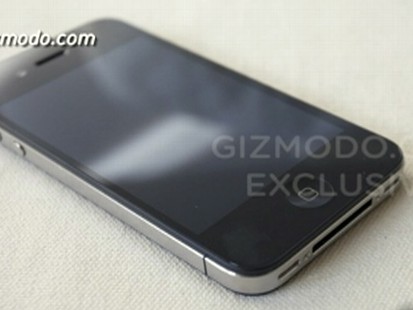 "The kids at Taoviet have really outdone themselves. From the looks of these images, the Vietnamese site has nabbed an honest to goodness 4th generation iPhone," said the
tech blog Engadget
.
Taovet did not say where the allegedly-leaked phone came from, but the tech blog MacRumors said the person who sent them the link to the Vietnamese post told them a businessman had purchased it in the U.S., along with an iPad. According to the translation of a commenter on Engadget, it was purchased for $4,000.
Allegedly Leaked iPhone Resembles iPhone Described by Gizmodo
The latest "leaked" phone resembles the phone depicted in photos on Gizmodo's site. Similar to the phone described by Gizmodo, the sleek, black device has sharper edges than previous versions. In the pictures showing the phone's innards, MacRumors spotted what appears to be an Apple-branded processor.
But MacRumors noticed that the latest found phone is identified as a 16GB model, while the Gizmodo version only said "XXGB" on the back. The phone allegedly found by the Vietnamese site also does not have screws on the bottom, MacRumors said.
The new photos have set tongues wagging once again, with bloggers wondering how notoriously-secretive Apple managed apparently to lose two iPhones in a matter of weeks. Whether the phone is indeed a leaked Apple prototype is unknown. Apple did not immediately respond to a request for comment.
In mid-April, Gizmodo published the first story about a leaked prototype of the next generation of Apple's iPhone -- scheduled for release this summer.
Another Leaked Next-Gen iPhone?
After the phone was left behind in a bar by an Apple engineer named Gray Powell, Gizmodo said it paid $5,000 to the person who found the phone.
A week after Gizmodo published its story, California police entered the home of Jason Chen, the editor who wrote the story, and seized four computers and two servers.
The investigation has set off a lively debate online, with some technology bloggers and reporters wondering if the authorities were out of line in raiding Chen's home. Some are also debating whether this case will provide clarity as to whether the law sees bloggers as journliasts.
The Associated Press, Wired.com, the Los Angeles Times and other news outlets have asked a California judge to unseal the search warrant affidavit that led to the seizure of Chen's property.
A hearing on the matter will take place Friday in the San Mateo Superior Court.